IT HAS BEEN a refrain at Liverpool matches and events for 27 years: justice for the 96.
Today, after two inquiries and 28 years of fighting, that justice for 96 Liverpool fans killed at an FA Cup semi-final at Hillsborough on 15 April 1989 came close to realisation.
Britain's Crown Prosecution Service announced it has decided to bring charges against six people referred to it over the Hillsborough disaster.
Those charged are:
David Duckenfield – the police officer was the match commander on the day
Graham Mackrell – Sheffield Wednesday's safety officer
Peter Metcalf – a solicitor who acted for the South Yorkshire Police in the initial inquest
Donald Denton – former Chief Superintendent of South Yorkshire Police
Alan Foster - Detective Chief Inspector of South Yorkshire Police
Norman Bettison – former South Yorkshire Police officer
In 2016 news, a jury at the inquests into the deaths ruled that the 96 were unlawfully killed.
The jury also found that the behaviour of the fans did not cause or contribute to the disaster.
But, who were The 96?
Here is the list of those killed:
Ronnie Gilhooley, whose son John Paul was the youngest victim of the Hillsborough disaster. Source: Neil Jones
The youngest victim, he was a cousin of former Liverpool captain Steven Gerrard. 
Philip Hammond, 14
Thomas Anthony Howard, 14
Paul Brian Murray, 14
Lee Nicol, 14
Adam Edward Spearritt, 14
Peter Andrew Harrison, 15
Victoria Jane Hicks, 15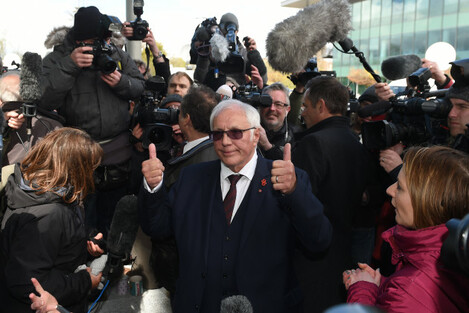 Trevor Hicks, whose daughters Sarah and Vicki died in the Hillsborough disaster, gives a thumbs up outside the Hillsborough Inquest in Warrington. Source: PA Wire/Press Association Images
Went to the game along with her sister Sarah, who also died. The inquests heard they held on to each other as the disaster unfolde.
Philip John Steele, 15
Kevin Tyrrell, 15
Kevin Daniel Williams, 15
Kester Roger Marcus Ball, 16
Nicholas Michael Hewitt, 16
Martin Kevin Traynor, 16
Simon Bell, 17
Carl Darren Hewitt, 17
Keith McGrath, 17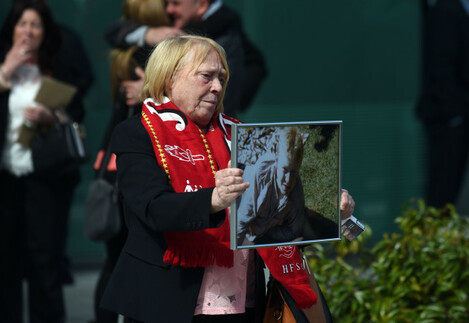 A relative of Keith McGrath holds a picture of him. Source: PA Wire/Press Association Images
Keith's mother told the inquest that she felt that had she and her husband not bought Keith a Liverpool season ticket, he would be safe. 
"Of course I know that is not true," said Mary Corrigan, "but it is there in the back of my mind."
Stephen Francis O'Neill, 17
Steven Joseph Robinson, 17
Henry Charles Rogers, 17
Stuart Paul William Thompson, 17
Graham John Wright, 17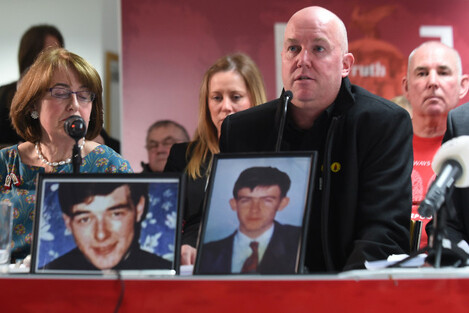 Stephen Wright, whose brother Graham died in the Hillsborough disaster, speaks during a press conference in Warrington after the Hillsborough Inquest jury concluded that the 96 Liverpool fans who died in the Hillsborough disaster were unlawfully killed. Source: PA Wire/Press Association Images
Graham Wright's brother Stephen told the inquests that his younger brother was "always with him" and that he was active in karate until his death. He was friends with James Aspinall.
Steve Rotheram MP (left) and shadow home secretary Andy Burnham talk to Margaret Aspinall. Source: Owen Humphreys
James Aspinall 's mother Margaret today said she was "so proud of her city" after being a leader of the justice fight for 27 years. She told a CNN documentary that James was "a wonderful son". 
Carl Brown, 18
Paul Clark, 18
Christopher Barry Devonside, 18
Gary Philip Jones, 18
Carl David Lewis, 18
John McBrien, 18
Jonathon Owens, 18
Colin Mark Ashcroft, 19
Paul William Carlile, 19
Gary Christopher Church, 19
James Philip Delaney, 19
Sarah Louise Hicks, 19
David William Mather, 19
Colin Wafer, 19
Ian David Whelan, 19
Stephen Paul Copoc, 20
Ian Thomas Glover, 20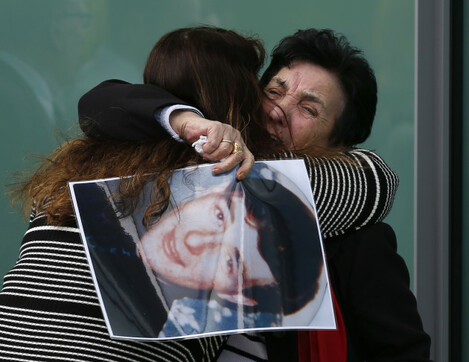 A relative holds a photo of Ian Thomas Glover. Source: PA Wire/Press Association Images
Ian's brother Joe was alongside him in the Leppings Lane end. He would survive and come home, Ian would not. His dad John became a tireless campaigner for justice for the Hillsborough victims. He died in 2013, however, after 24 years campaigning. 
Gordon Rodney Horn, 20
Paul David Brady, 21
Thomas Steven Fox, 21
Marian Hazel McCabe, 21
Joseph Daniel McCarthy, 21
Peter McDonnell, 21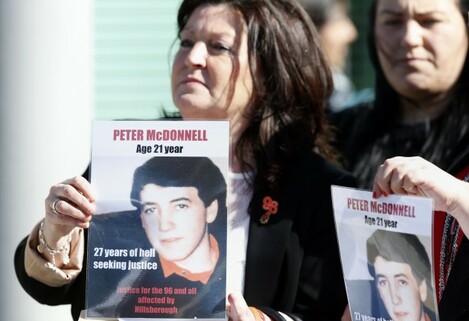 Relatives of Peter McDonnell, who died in the Hillsborough disaster, arrive at the Hillsborough Inquest. Source: Owen Humphreys
At the inquest, Peter's family recalled a young man who loved Genesis and worked as a builder in London, before returning home.
Carl William Rimmer, 21
Peter Francis Tootle, 21
David John Benson, 22
David William Birtle, 22
Tony Bland, 22
Gary Collins, 22
Tracey Elizabeth Cox, 23
William Roy Pemberton, 23
Colin Andrew Hugh William Sefton, 23
David Leonard Thomas, 23
Peter Andrew Burkett, 24
Derrick George Godwin, 24
Graham John Roberts, 24
Graham was a gas board engineer whose sister Sue Roberts called him a "protective big brother" and a "wonderful son".
David Steven Brown, 25
Richard Jones, 25
Barry Sidney Bennett, 26
Andrew Mark Brookes, 26
Paul Anthony Hewitson, 26
Paula Ann Smith, 26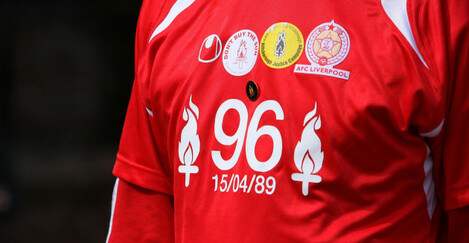 Source: PA Archive/Press Association Images
In the week after the tragedy, Paula's brother Wally said "Liverpool was her life." She "never tired of talking about football".
Christopher James Traynor, 26
Barry Glover, 27
Gary Harrison, 27
Christine Anne Jones, 27
Nicholas Peter Joynes, 27
Francis Joseph McAllister, 27
Alan McGlone, 28
Joseph Clark, 29
Christopher Edwards, 29
James Robert Hennessy, 29
Alan Johnston, 29
Anthony Peter Kelly, 29
Doves are released from the pitch during the Hillsborough 27th Anniversary Memorial Service at Anfield this year. Source: PA Wire/Press Association Images
Anthony was an unemployed father of three who travelled to the game with friends, who all survived. His mother told the inquests that he was "a sickly baby but pulled through everything that hit him" and grew into "a grand lad".
Martin Kenneth Wild, 29
Peter Reuben Thompson, 30
Stephen Francis Harrison, 31
Eric Hankin, 33
Vincent Michael Fitzsimmons, 34
Roy Harry Hamilton, 34
Patrick John Thompson, 35
Michael David Kelly, 38
Brian Christopher Mathews, 38
David George Rimmer, 38
Inger Shah, 38
A giant banner is unveiled at St George's Hall in Liverpool after the inquest jury ruled the 96 victims in the Hillsborough disaster had been unlawfully killed. Source: PA Wire/Press Association Images
Originally from Denmark, she travelled from London to the game with her 13-year-old son Daniel, who survived, and friends including fellow victim Marian McCabe. Her children were taken into care following her death. 
David Hawley, 39
Thomas Howard, 39
Arthur Horrocks, 41
Eric George Hughes, 42
Henry Thomas Burke, 47
Raymond Thomas Chapman, 50
John Alfred Anderson, 62
Gerard Bernard Patrick Baron, 67
Source: AP/Press Association Images
The oldest victim, he travelled to the game with his son Gerard, who told the inquest his last words to his father were "you will be ok".
- Comments are now closed for legal reasons