STAFF AT HMV stores in Tallaght and Cork have become the latest to stage sit-ins, pledging to remain on the premises until they are paid wages they say they are owed from the troubled music retailer.
Sit-in protests are now taking place at four HMV stores across the country after staff in the Crescent Shopping Centre and Cruise's Street branches in Limerick started their protests late on Wednesday.
Staff at the HMV store in Tallaght, the smallest in the country, spent a rough night on the floor of the premises but plan to remain there until they have assurances they will be paid.
"All we want is our wages, what we're due to be paid," Terry Conlon from the Tallaght store told TheJournal.ie today. "All we want is what we're owed."
Negotiations between staff and the receiver from Deloitte Ireland have been ongoing since HMV went into receivership in Ireland on Wednesday the day after it went into administration in the UK, putting over 4,300 jobs in the UK and Ireland at risk.
Staff had initially been told they would be put on temporary lay-off with no pay and no guarantee that wages due to them next week would be paid.
But discussions with David Carson, the receiver from Deloitte in Ireland have, according to Conlan, secured an agreement that staff will be paid next week.
Conlan said: "He [Carson] is saying he will pay us on Friday but he can't give us written conformation over the weekend. He wants us to leave the stores today, but once we walk we think it's 'good luck'."
Staff at the HMV store in Cork city are also holding a sit-in protest until they are paid or at least get an assurance that they will receive their money. Cork's RedFM tweeted this picture of them yesterday: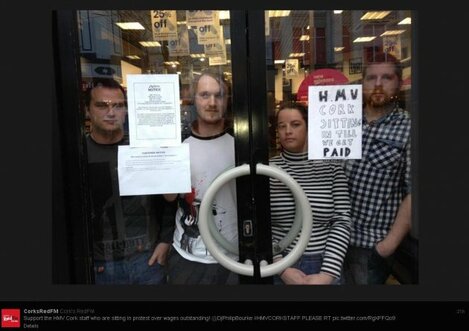 Conlan said that the Tallaght store's 12 staff are all behind the sit-in and plan to work out a roster later today to ensure that there are people in the store at all times while the sit-in protest continues.
He said that the demise of HMV this past week had come as somewhat of a surprise as he and fellow staff now face the prospect of looking for new jobs once they are paid by management.
"You look at the industry in general and it's down year-on-year but you don't expect a bang just like that. It was very, very sudden and to be told no wages? That's all we want," he said.