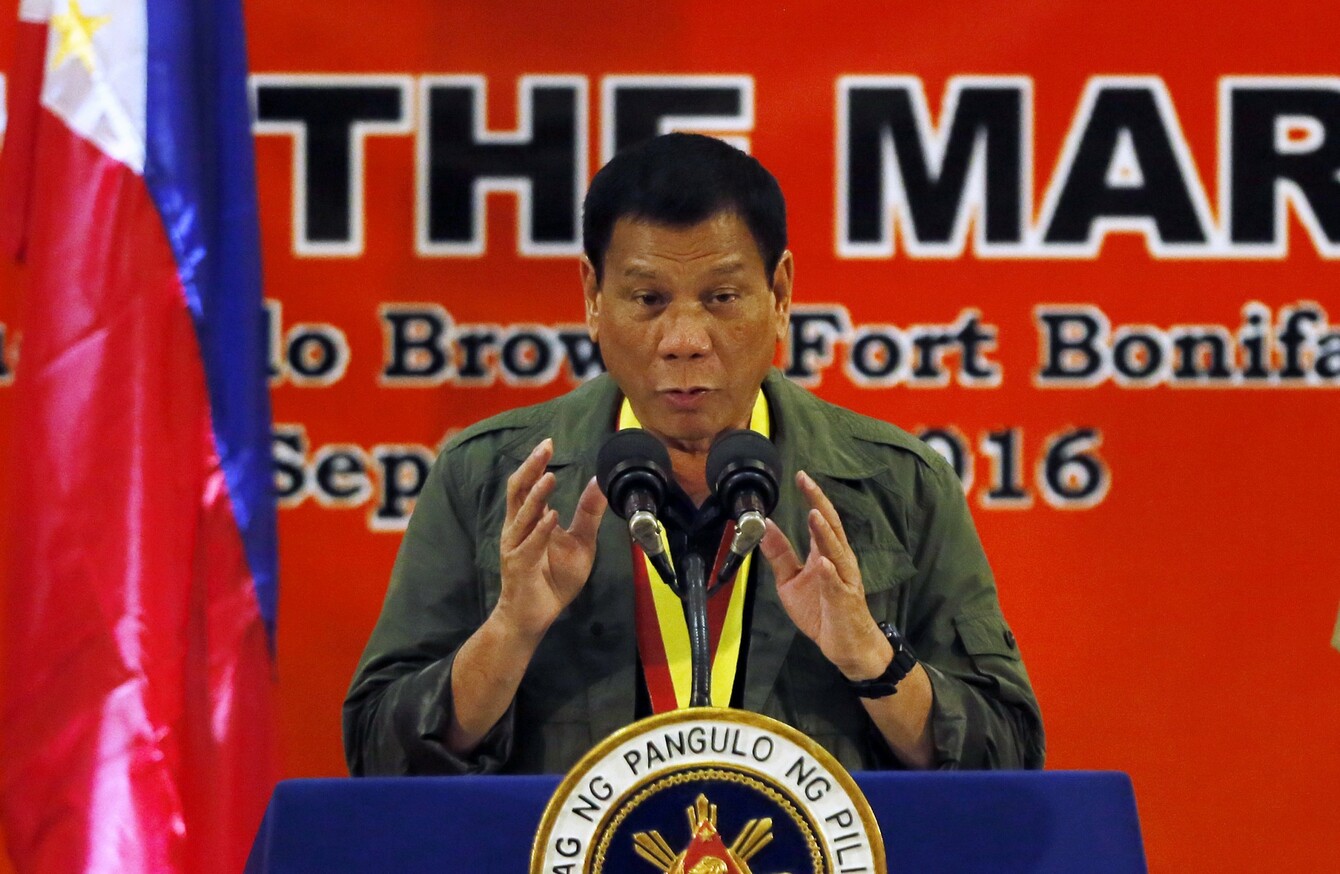 Image: Bullit Marquez/PA
Image: Bullit Marquez/PA
PHILIPPINE PRESIDENT RODRIGO Duterte has said he is "happy to slaughter" millions of drug addicts as he compared his country's drug war to the Holocaust.
Duterte also railed against Western critics of his unprecedented law-and-order crackdown, which has left more than 3,000 people dead in three months.
The president today told reporters in his home city of Davao shortly after returning from Vietnam:
"Hitler massacred three million Jews. Now there are three million drug addicts (in the Philippines). I'd be happy to slaughter them."
"At least if Germany had Hitler, the Philippines would have," he said, then paused. "But you know, my victims, I would like to be (sic) all criminals to finish the problem of my country and save the next generation from perdition."
Duterte, 71, won elections in May in a landslide after a campaign dominated by his pledge to eradicate drugs in society by killing tens of thousands of people.
The lawyer and former city prosecutor promised immunity for security forces if they were charged with murder, and on his first day in office urged residents of a Manila slum to kill drug addicts within their own community.
His police chief also urged addicts to burn down the homes of drug traffickers and kill them.
Cardboard justice
Since Duterte came to power on June 30, police have killed more than 1,200 people and about 1,800 others have died in unexplained circumstances, according to official figures.
A piece of cardboard, with "drug peddler" or "drug addict" written on it, is frequently placed on corpses that are left on streets. This has led to the war on crime becoming known as "cardboard justice".
Duterte has branded US President Barack Obama a "son of a whore", called UN chief Ban Ki-moon a "fool" and said "fuck you" to the European Union while raising his middle finger.
Outburst
In his latest tirade on Friday, Duterte said he was under threat of being brought before an international court for genocide, but again insisted he was breaking no laws in the Philippines.
He said: "You are portrayed or pictured to be some, a cousin of Hitler. And you do not even bother to find out, to investigate. Imagine that, I will be facing… even the international court for genocide. That's foolish."
With reporting from AFP