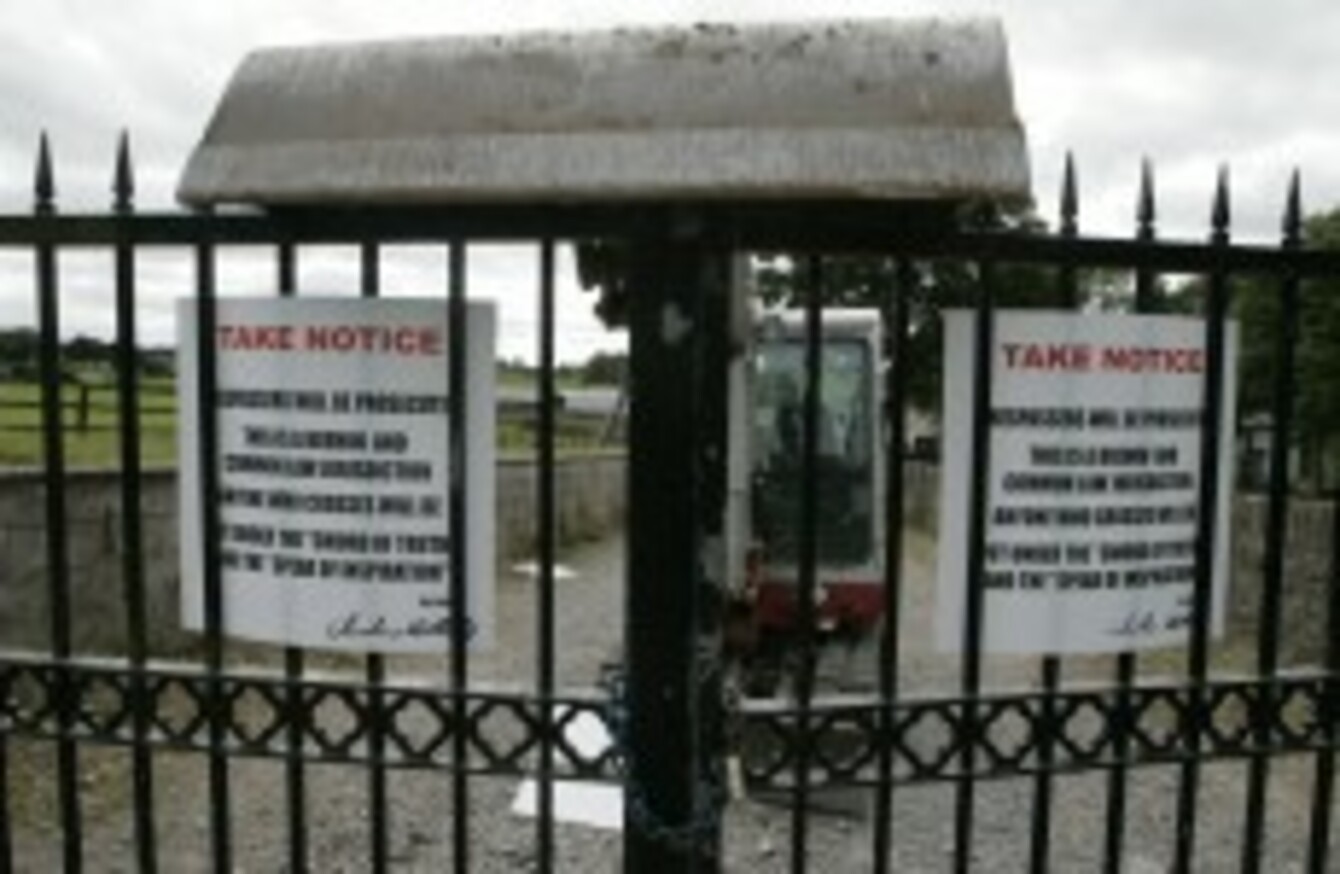 The scene of a disputed repossession in County Kildare
Image: Eamonn Farrell/Photocall Ireland
The scene of a disputed repossession in County Kildare
Image: Eamonn Farrell/Photocall Ireland
LENDERS HAVE TAKEN possession of 281 residential properties so far this year, new statistics from the Central Bank show.
The amount of homes, as distinct from buy to let properties, repossessed by banks climbed to 1,116 at the end of the first quarter, up from 1,014 at the end of 2013.
The banks repossessed 54 homes on foot of a court order, while 227 were voluntarily surrendered or abandoned.
During the first quarter legal proceedings were issued on a total of 3,093 occasions, resulting in 232 court cases and 69 instances where the court granted permission to repossess the home.
A total of 73 buy to let properties were repossessed during the first quarter, bringing the amount of properties in possession to 568.
Arrears decline, but long term issues remain
The total number of mortgages in arrears for principal dwelling houses declined for the third consecutive quarter to stand at 132,217, or 17.3 per cent.
The majority of the gains were concentrated in the short-term arrears category of less that 720 days, with signs that the number of people in deep trouble with their mortgage has increased.
An additional 1,729 mortgages slipped into the long-term arrears category, an increase of 5.1 per cent to 35,314 at the end of the quarter.
Arrears associated with Buy to Let properties remained stubbornly high, increasing slightly to 39,361, or 27.2 per cent of the total.
The total value of Buy-to-Let mortgages in arrears of 90 days or more is €8.8 billion, of which €4.2 billion is classed as long-term arrears of 720 days or more.
Restructuring
Progress continues to be made on restructured home loans, with a ten per cent increase in primary residential loans in some sort of debt settlement arrangement with their lender.
Of the 92,442 restructured loans, eight out of ten were judged to be meeting the terms of their restructuring agreement. The Central Bank warned, however, that meeting targets in an agreement "is not a measure of sustainability".
Split mortgages were the most popular new instrument for mortgage arrears resolution, with over 5,000 agreements put in place up to the end of March this year.