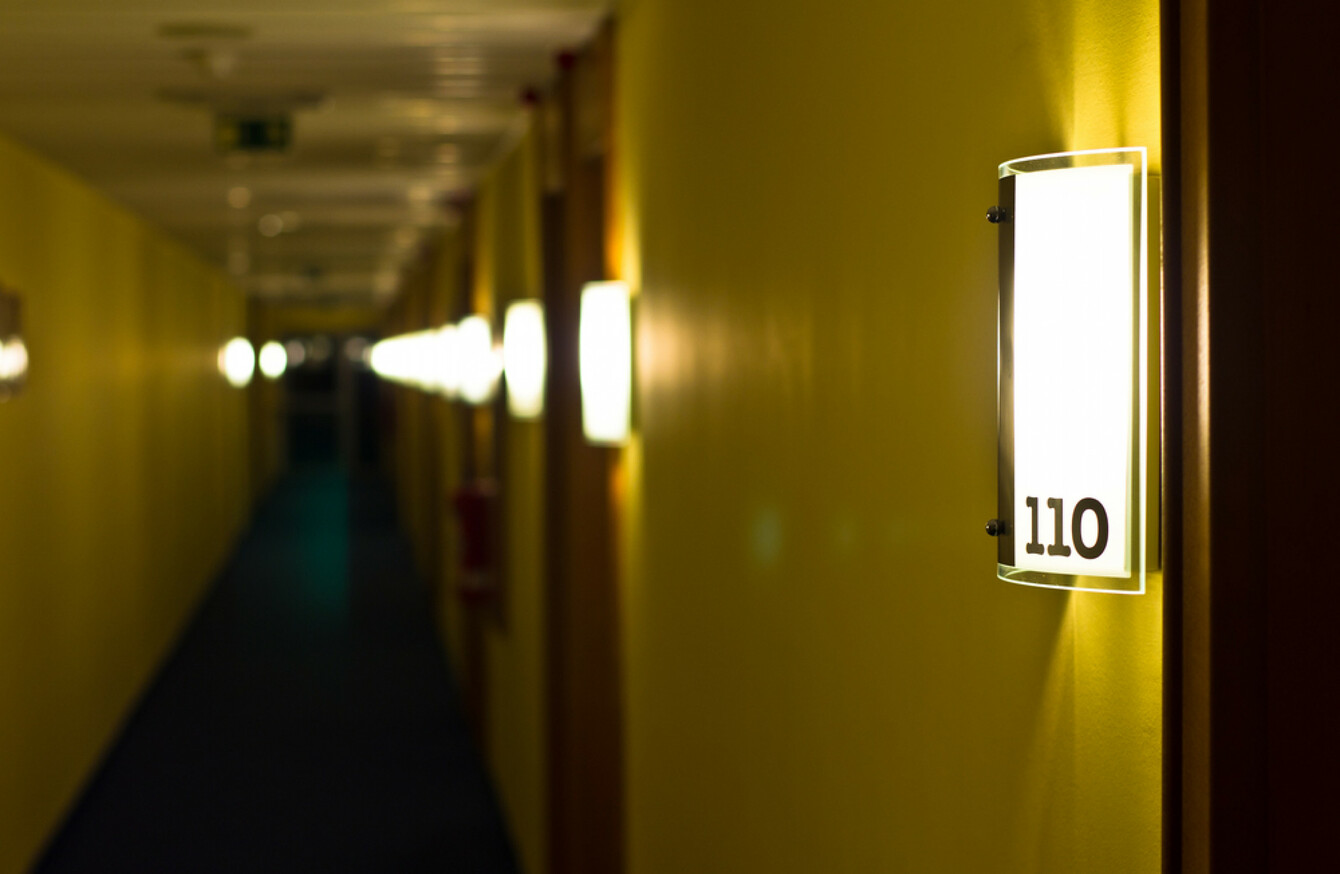 Image: Shutterstock/Banet
Image: Shutterstock/Banet
A HOMELESS SCHOOL student has spoken out about the difficulties of living in a hotel with her family, fearing her peers will judge her.
In a situation like thousands of others, the student and her mother spoke to RTÉ Radio One's Morning Ireland about how the family of four ended up homeless.
The family chose to take part in the interview anonymously. The mother used the name Theresa and her daughter, a secondary school student, used the name Amanda.
When her marriage broke down, Theresa could no longer keep up to date with her mortgage payments. Eventually, the family lost the home they had lived in for 20 years.
Last August, the family had no other option but to declare themselves homeless in Dublin. Theresa and two of her children moved into a hotel room. Theresa's eldest daughter lives in Galway.
Breaking down in tears during the interview, Theresa said: "Everybody should have a home, where they can walk in the door and smell their mother cooking their dinner. If anything, that's what we miss.
They should be making more [social housing]. It's not the hotels, it's not landlords, it's the government's responsibility to supply these houses.
In total, there were 1,365 families with 2,895 children staying in emergency accommodation in June. This marked a rise of 118 children from the numbers from May.
There were 5,046 homeless adults in emergency accommodation in June, a small rise on the previous month.
Speaking to the RTÉ reporter at the end of her school day, Amanda said that the past year has been a "huge eye-opener".
"It's been a huge culture shock and a huge change to how it was for us," she said.
It's hard to fit in and to find someone who will accept you and your troubles. If you get to the stage where you can open up about this situation and the homelessness, there's still this sense of 'will they be your friend, will they find you scum?'.
"It's hard to pick the good people from the bad people and then finding it hard to come out to teachers you never met before. It took me five or 10 minutes earlier to say I was homeless to my deputy teacher. It's very hard," she said.
When asked if there is one thing she would like to change about her life, Amanda said that she would just like "to get a home, to get our space back".
"Even if it's… I don't know… to get our privacy back, it would be 10 times better than what we have now. There's no privacy here. There's no peacefulness."
Minister response
Minister for Housing Eoghan Murphy reacted to the homeless family's story on RTÉ's News at One, earlier today.
"The piece that was broadcast this morning on Morning Ireland is probably one of the most important contributions to this debate that we've heard in the past number of months," he said.
"The bravery that they had this morning to come out and tell the country about their particular circumstance was very brave but very important for people to understand what these families are facing."
Murphy credited the government's ability to provide more resources to ensure fewer families are sleeping rough on the street, claiming they have been able to "put them into hotels and put the different wrap around services on these hotels".
"We have to build more social housing homes and we're doing that," he said.
"At the moment, I'm in discussions with Paschal Donohoe about how we're going to scale up our ambition in that regard.
There's not much I can say at the moment because we're at the sensitive stage of those negotiations but in a few weeks time, I'll be announcing my review of Rebuilding Ireland.
Calls for action
Last week, three homeless people died in Ireland.
On Saturday, a 30-year-old homeless woman died after being found in a residential area of Cork city.
On Wednesday, a 26-year-old homeless mother was found dead in the hotel she was staying at in Co Kildare, in what is believed to be a personal tragedy.
On Tuesday, homeless man Stephen 'Jack' Watson – who had been sleeping rough – was found unconscious outside a Superdry shop close to Grafton Street in Dublin city. He was later pronounced dead.
Speaking to RTÉ News on Saturday, Murphy said: "These three separate deaths, in very different circumstances and for very different reasons, are tragedies for the families involved. I want to again extend my sympathies to them.
"It's also been a very difficult few days for the emergency homeless services and I want to thank them for all their efforts.
Sinn Féin's housing spokesperson Eoin Ó Broin said the deaths were the "direct result of a broken housing system that does not meet the needs of some of society's most vulnerable people".
The housing and homeless crisis needs action, not words. More importantly, there is a need for a radical change of policy direction.
"Government is not doing enough to stem the flow of people into homelessness, nor are they doing enough to source the permanent homes that people in emergency accommodation so desperately need."