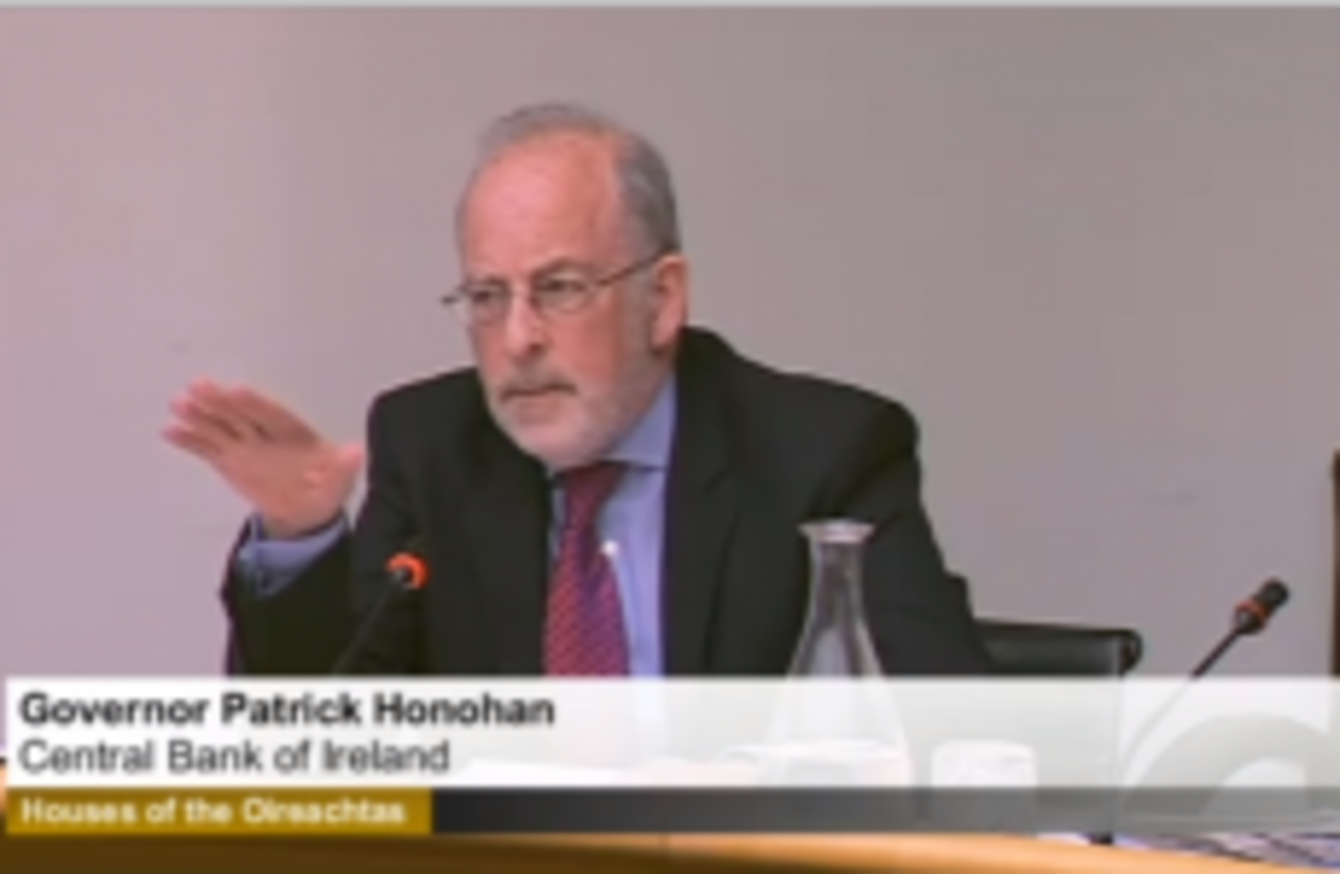 Image: Screengrab/Oireachtas.ie
Image: Screengrab/Oireachtas.ie
THE GOVERNOR OF the Central Bank has said that he is "not happy" about the sale of mortgage books to non-regulated 'vulture funds'.
Patrick Honohan said that he had raised his concerns with the Government on the matter.
Speaking to the finance committee today, he said:
"I am not pleased with this development…it has been the position of the Central Bank, communicated to government, that equivalent amount of protection should be applied to people moving out of regulated entities."
Loan Books
Much of the loan books of the former Anglo Irish Bank and Irish Nationwide Building Society have been sold on to international financial players as part of the liquidation of the Irish Bank Resolution Corporation.
Such bodies are not regulated by the Irish authorities and as such are not subject to regulations like the code of conduct on mortgage arrears.
Honohan said: "I am not pleased with this development. It seems to me that the code of conduct on mortgage arrears has been a very important protection for borrowers."
He continued:
It's out of our control, but we will do what we can to ensure that the code of conduct should also apply. A borrower that falls out simply because their institute has been liquidated and the loans sold should not suffer.
Professor Honohan was responding to questions from Fianna Fail finance spokesman Michael McGrath.
Maple 10 'could not happen again'
Commenting on the recent trial of former executives at Anglo Irish Bank over loans provided to purchase shares in the bank, Honohan said that he was happy such a situation would not be repeated.
"This particular episode certainly couldn't happen, nothing like this could happen again, I can't conceive of it happening."
He said that expanded supervisory functions, new approaches and new behaviours within the Central Bank would prevent such a situation re-occurring.
Legal Letters
Honohan said that he sympathises with borrowers that have received letters from banks threatening legal action, but said it showed that the banks were making steps towards deploying solutions to the mortgage arrears crisis.
He argued that the letters were part of a process of banks trying to get in touch with those in arrears so they could get a better idea of the size of the problem they face.
He said: "Most of us agree that getting to grips with the problem is essential, even if the process of getting to grips with the problem is initially unpleasant."
He defended himself from allegations of flippancy and a 'hands off' approach regarding legal letters from Sinn Fein's Mary-Lou McDonald.
Honohan said: "I too am not satisfied with the letters being sent but I accept responsibility for a process that is accelerating the conclusion of sustainable solutions."