WARNING DISTRESSING IMAGES BELOW
THE DUBLIN SOCIETY for the Prevention of Cruelty to Animals (DSPCA) is calling on the public to provide more information about a horse that was found mauled to death yesterday in Dublin.
Lorna Swift call-coordinator with the DSPCA told TheJournal.ie that they believe the dark brown horse (pictured below) may have been attacked by dogs.
In distressing scenes, its mauled body was found in the Darndale area of North Dublin yesterday evening.
Meanwhile, another horse was also found dead in Darndale yesterday.
The black and white animal was found roaming unattended on a road when it was hit by a car.
The driver of the car, which was badly damaged, called the DSPCA and the an inspector later found the horse had died from its injuries.
"People cannot leave horses unattended in public areas. They can be attacked, hit by cars, bitten by dogs, fall down holes, basically anything can happen to them. There are so many hazards," Swift said. "They should be on private land."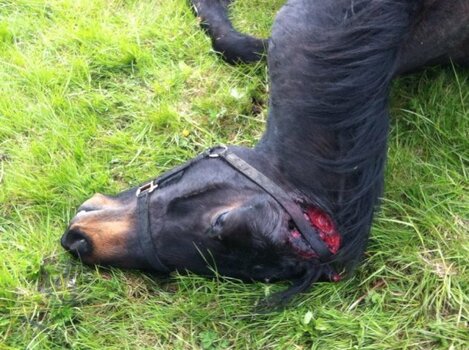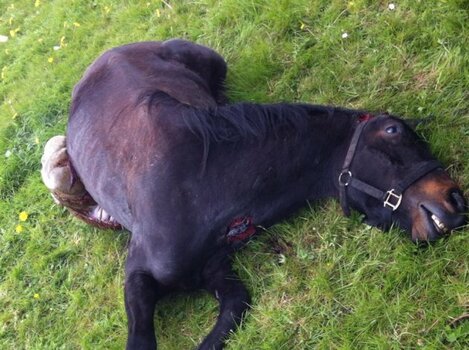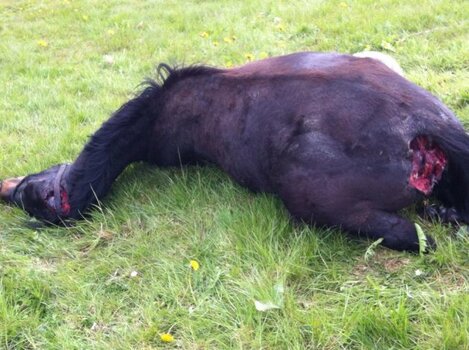 (All images: FM104 Phoneshow)