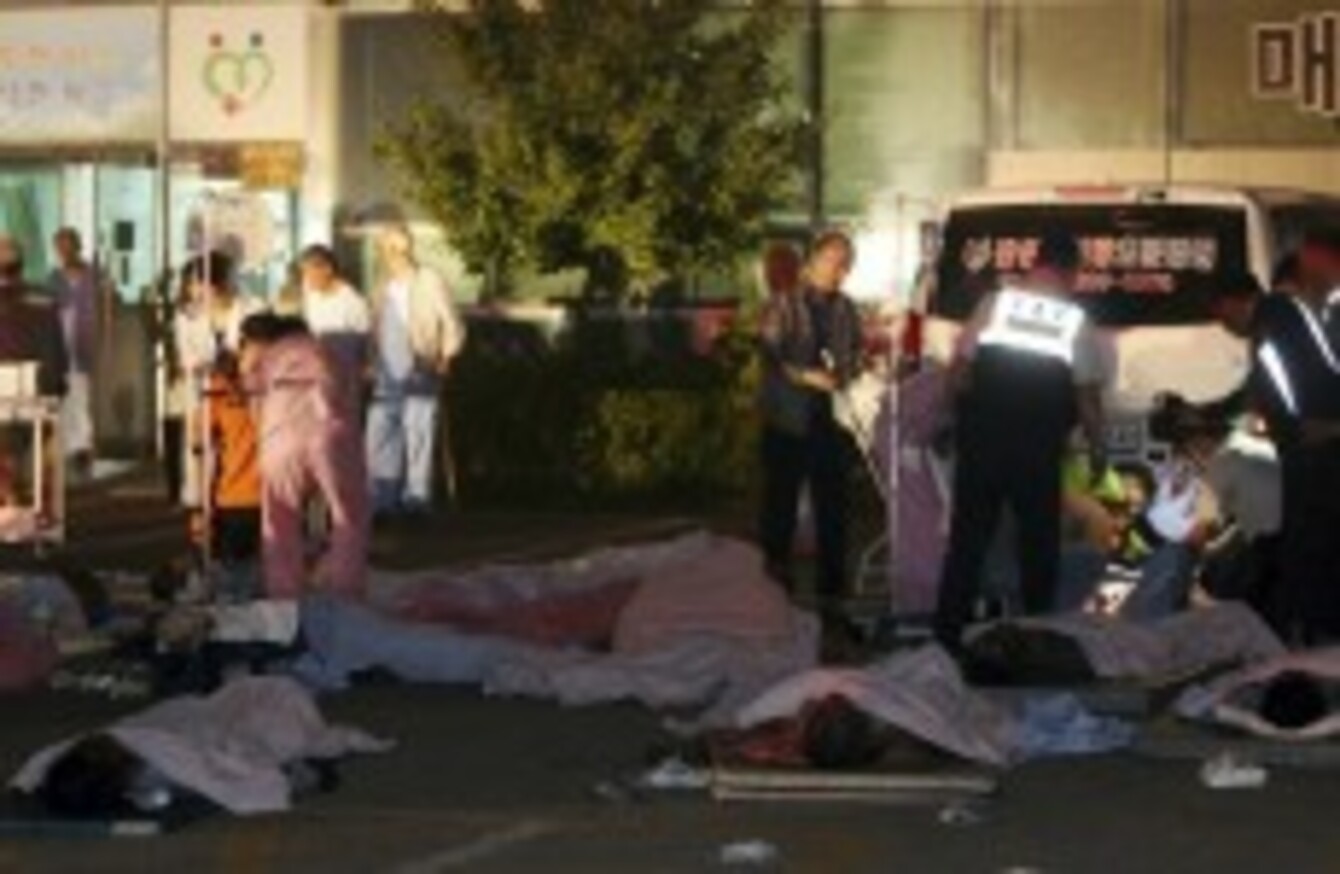 Rescued patients are placed on the ground outside the hospital.
Image: Hyung Min-woo/AP Photo
Rescued patients are placed on the ground outside the hospital.
Image: Hyung Min-woo/AP Photo
A FIRE SWEPT through a South Korean hospice for elderly, infirm patients early this morning killing 21 people, as police investigated an 81-year-old suffering from dementia who may have started the blaze.
Most of the victims died from asphyxiation, rescue officials said, as the fire on the upper floor of the three-storey facility filled the rooms and corridors with toxic clouds of choking smoke.
Another seven people were injured, six of whom were in a critical condition as the result of excessive smoke inhalation.
The fire broke out shortly after midnight at the hospice in Jangseong county about 300 kilometres south of Seoul.
The facility cared for close to 80 chronically ill, often bedridden patients, including stroke victims and advanced Alzheimer's sufferers.
Local police chief Roh Kyoo-Ho said an 81-year-old male patient with dementia had been taken into custody after CCTV footage showed him entering a storage room where the fire was believed to have started.
"We are focusing on the possibility of arson," Roh said, while adding that the man, identified only as Kim, had denied any involvement.
"We found a cigarette lighter at the scene and forensic experts are examining it," he added.
Although the blaze was brought under control within 30 minutes, the physical condition of many patients on the upper floor meant they were unable to evacuate before being overcome by the smoke.
One of three nurses on duty died as she tried to douse the flames with a fire extinguisher.
It was the second deadly fire in two days after seven people were killed in a blaze at a bus terminal near Seoul on Monday, and came as South Koreans were still reeling from a ferry disaster last month that claimed the lives of around 250 schoolchildren.
The ferry tragedy triggered a heated national debate as to whether South Korea's rapid economic development has come at the expense of basic safety standards.
'Terrible thing' 
Lee Hyung-Seok, chief administrator of the Jangseong hospice, knelt and touched his forehead to the ground in a display of contrition.
"I'm sorry. I apologise for this terrible thing," Lee said.
#Open journalism No news is bad news Support The Journal

Your contributions will help us continue to deliver the stories that are important to you

Support us now
In the wake of the Sewol ferry disaster, President Park Geun-Hye vowed harsh penalties for any acts of criminal negligence that resulted in fatal accidents.
Investigations have suggested the Sewol tragedy was almost wholly man-made: the result of cut corners, regulatory violations, poor safety training and a woeful lack of oversight — all, or nearly all, attributable to a desire to maximise profits.
Park has ordered a radical overhaul of national safety procedures, including dismantling the coastguard, whose response to the ferry disaster was widely criticised.
The 20 patient fatalities in Wednesday's fire were among 34 people in wards on the upper floor, only seven of whom managed to escape the fire by themselves.
Both hospital staff and firefighters denied initial reports that some of the patients had been tied to their beds.
South Korea has a rapidly ageing population and the number of nursing homes and other facilities catering to the elderly has doubled to nearly 1,300 from just 690 in 2008.