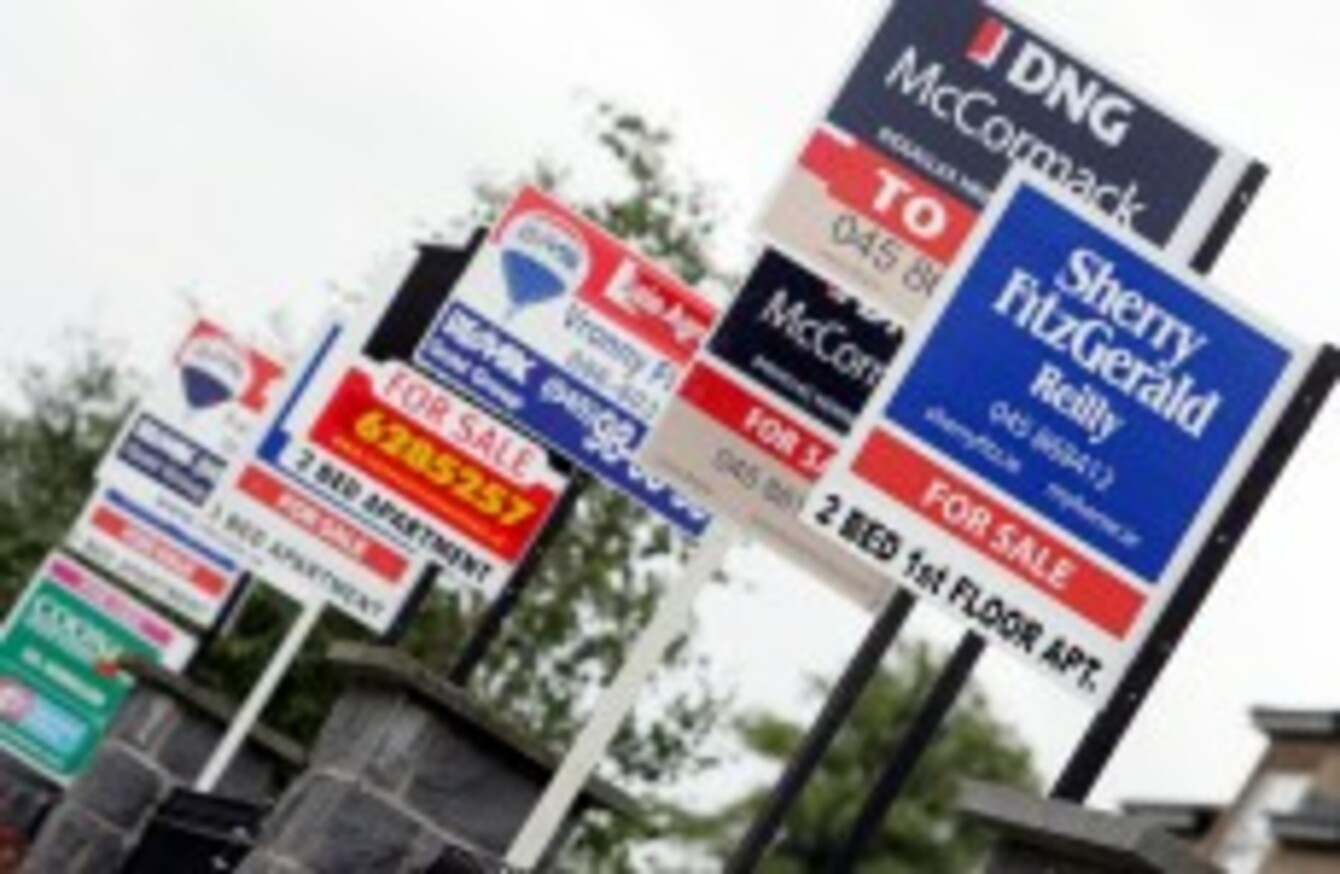 For sale signs.
Image: Eamonn Farrell/Photocall Ireland
For sale signs.
Image: Eamonn Farrell/Photocall Ireland
Updated 1:43 pm
HOUSE PRICE RISES in Dublin have reached double-digit levels with property prices in the capital now 10.6 per cent higher than a year ago.
Prices are up by 2.8 per cent nationally as Dublin continues to outpace the rest of the country in the upward trend.
The Central Statistics Office's residential property price index showed that prices were up on  a monthly basis by 0.9 per cent in August, marking the fifth consecutive month of increase.
The 2.8 per cent yearly rise is in stark contrast to the 11.8 per cent decrease seen in the year to August 2012.
The growth in the property market could be driven by cash-only buyers with new research showing that cash sales now account for 57 per cent of all residential property transactions.
Property experts Savills Ireland said today cash sales are being driven by a mix of private investors seeking alternatives to poorly performing deposits, cash-rich international buyers and institutional investors who have snapped up 2,000 housing units since the beginning of 2012.
The figures are for the first half of this year and are based on analysis of figures from the Irish Banking Federation, the Property Price Register and Savills' own residential branch network.
Cash sales
John McCartney, economist and director of research at Savills Ireland said cash sales have helped to drive house prices up, particularly in Dublin. McCartney warned that cash buyers could actually be crowding out the more traditional mortgaged buyer. He said:
Our intelligence is that many mortgage-approved homebuyers are being frustrated in their attempts to buy.  This is because, faced with a choice of bids from cash and debt-financed buyers, vendors will tend to opt for the convenience and the certainty of cash.
Speaking about the 57 per cent of all residential purchases in the first half of this year being cash-only purchases, he said it's up "from fewer than 5 per cent in 2010. When one considers that many of the remaining mortgaged purchasers are buying at relatively low loan-to-value ratios, cash is very clearly a dominant factor in the market at present".
Two years ago, mortgage draw-downs were running at around 90 per cent of total mortgage approvals, he said, adding that the figure has fallen to just 65 per cent, as buyers with ready-to-go finance are experiencing difficulty closing deals.
Savills predicts that cash-buys will fall over the next 12-18 months.
Additional reporting by Rónán Duffy