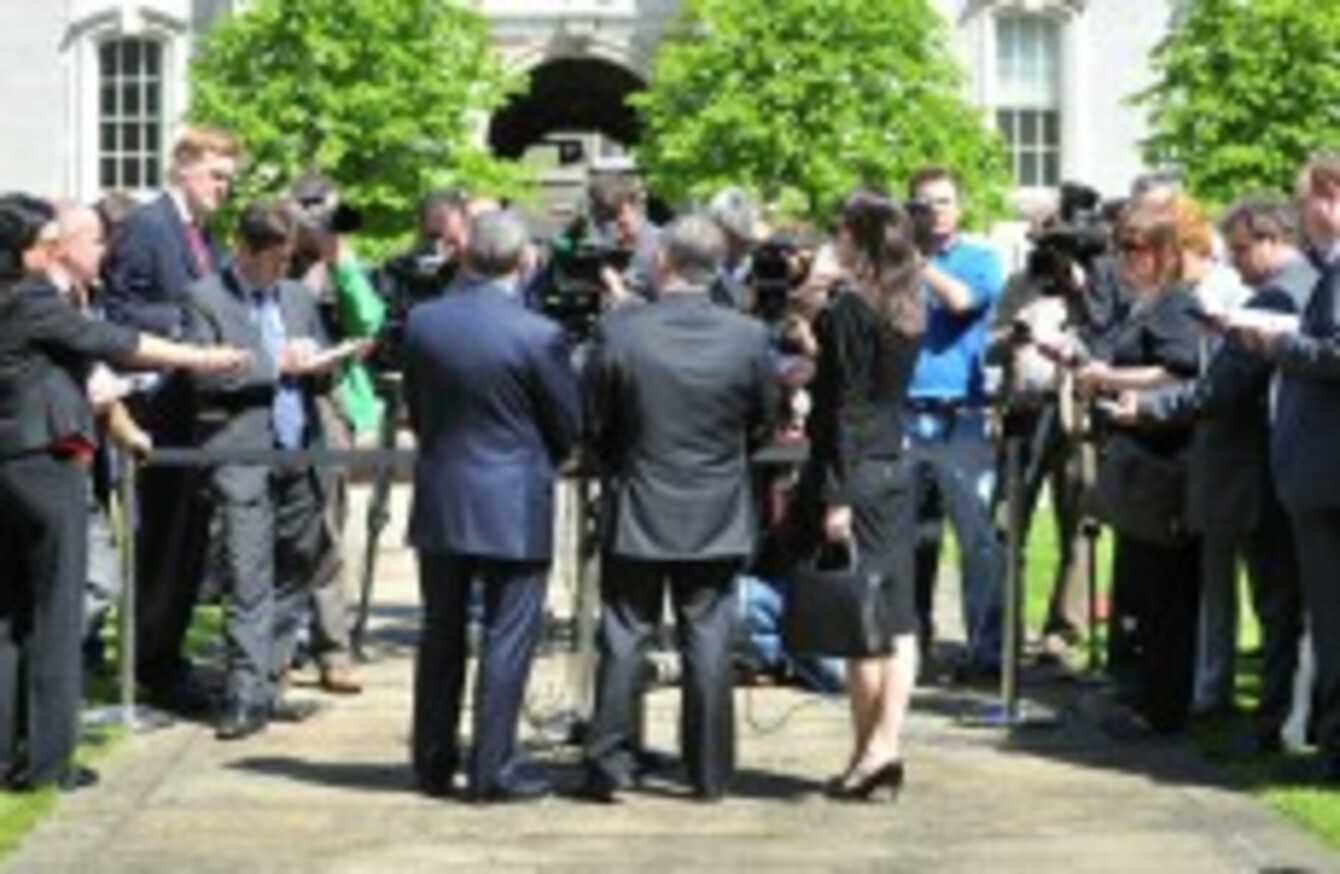 Brendan Howlin making the announcement at Leinster House.
Image: Laura Hutton/Photocall Ireland
Brendan Howlin making the announcement at Leinster House.
Image: Laura Hutton/Photocall Ireland
MINISTER FOR PUBLIC Expenditure and Reform, Brendan Holwin, began his announcement in the Taoiseach's courtyard at Leinster House this afternoon by thanking all "unions who came with an open mind to engage in the talks".
He told waiting media that public sector negotiations between unions and the the Labour Relations Commission were completed and now up for consideration by the 300,000 public servants.
"I'm glad that the structure is there but I'm not taking anything for granted in relation to the ballot that's still out there," Minister Howlin said. "It's now a matter for each union to bring back the document to their own members either through their executive or through ballot."
Despite comments on the contrary by Junior Finance Minister Brian Hayes, Howlin said he believes that the €300 million target saving for 2013 will be met.
Howlin said although "figures are important, maintaining peace within the public sector and confidence that people can invest in security in this country" is more important.
Public servants have given a huge amount on the path of recovery and this is a significant further ask and I make no bones about that… But this is the last ask.
If the public sector accept the deal that will be put before them "they can make plans for the next three years and know that the State won't be knocking on their door," added Howlin.
The deal proposed will be different for each sector. There will be no "overarching document" for all "because each sector is so unique," he explained.
On the issue of compulsory redundancies, he hopes if we reach an agreement there will be none but "that's on condition of people signing up to the deal".
Troika
Every part of the talks were conveyed to the troika. "The troika trusts us. They knew we would embarking on a challenging agenda. They never expressed a view that they weren't confident we would get there," the minister said.
"We're asking public servants to walk with us on this final leg of the path, I think its very important," concluded Howlin.