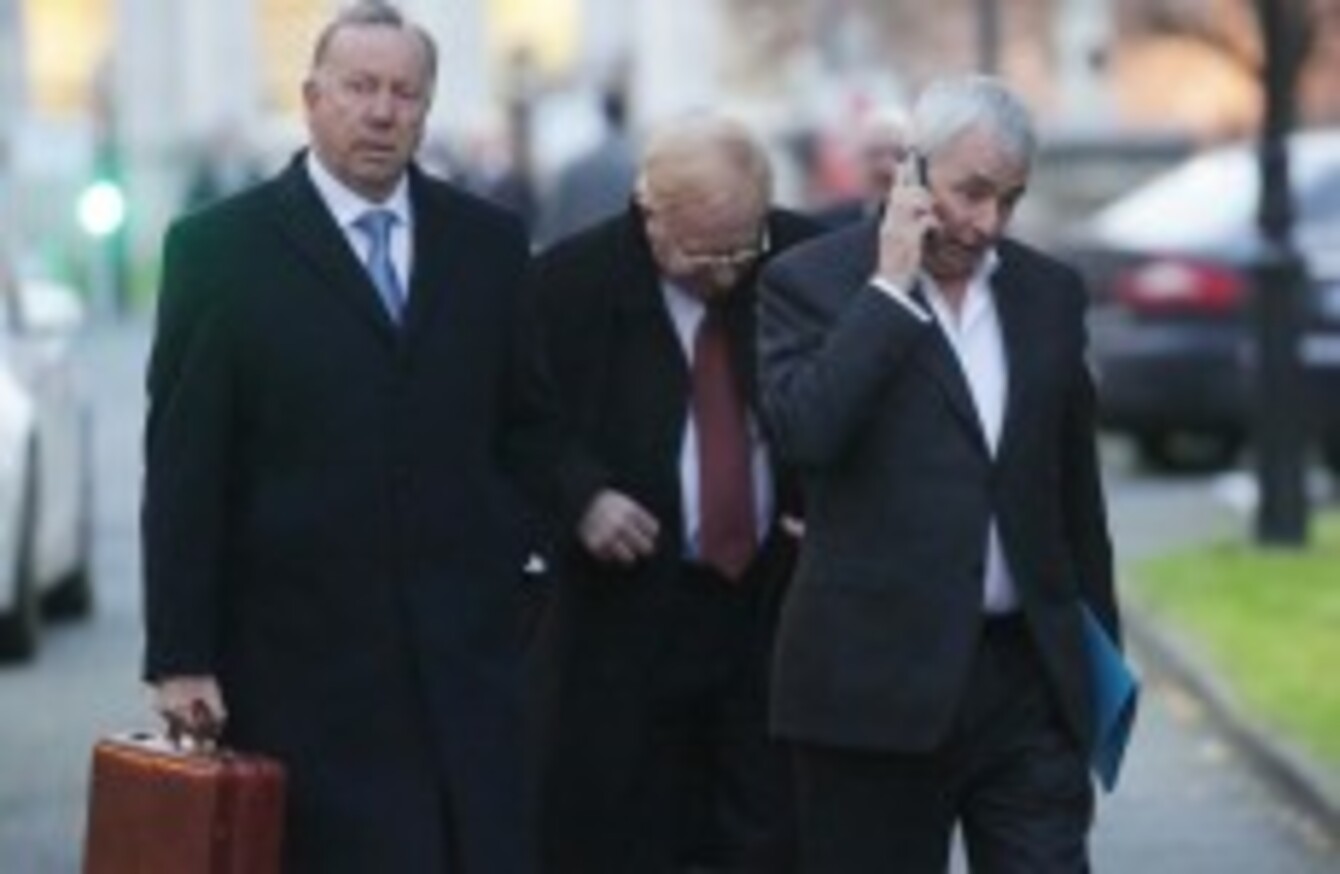 CRC director David Martin (lefft), chairman James Nugent (centre behind) and former CEO Paul Kiely (right) leaving Leinster House earlier this month
Image: Laura Hutton/Photocall Ireland
CRC director David Martin (lefft), chairman James Nugent (centre behind) and former CEO Paul Kiely (right) leaving Leinster House earlier this month
Image: Laura Hutton/Photocall Ireland
THE CENTRAL REMEDIAL CLINIC (CRC) would have had all of its public funding cut from 1 January next year if the board did not resign as it did just over a week ago.
Health Service Executive director general Tony O'Brien told RTÉ's This Week programme today that the board of the clinic was "cocking a snook" in refusing to cooperate with their obligations to comply with public sector pay policy.
The resignations followed directors David Martin and Jim Nugent, and former CEO Paul Kiely, appearance before the Public Accounts Committee earlier this month to discuss revelations that salary top-ups at the clinic were paid using charitable donations.
O'Brien said clearly today that other bodies who do not comply with obligations under public sector guidelines would face familiar sanctions to those the CRC could have faced.
"The threat, if it is a threat, is much more fundamental than that," he said. "Where we got to with the Central Remedial Clinic, and the reason why that board exited stage left, was that we made it absolutely clear that there would be absolutely no public funding going into that body from 1 January while that board of governors remained in place."
Transparency
He said that other entities who go down that same road "will up in that situation" but added that he did not believe they will, saying that neither he nor the Health Minister James Reilly intend to let the issue pass.
O'Brien said their needed to be "hygiene" brought to the area of top-ups and added: "We need absolute clarity."
He said that if an institution takes a "deliberate and wilful" decision to breach public sector pay guidelines with certain executives then they are obliged to either provide justification or else bring the arrangement to an end.
"They have to cooperate fully and transparently or there will be a fundamental problem," he said.
Medical cards
In a lengthy interview, O'Brien also said that the government's original target of €113 million in medical card savings was never doable which is why it was removed from the service plan published this week.
The Budget announced in October set down a target of €113 million in savings from medical card probity, but this was changed to €23 million in the HSE service plan published this week, with O'Brien saying "everyone agrees that it wasn't doable".
He said that €140 million in pay and pension savings being targeted within the HSE next year "should be deliverable" under the Haddington Road Agreement.