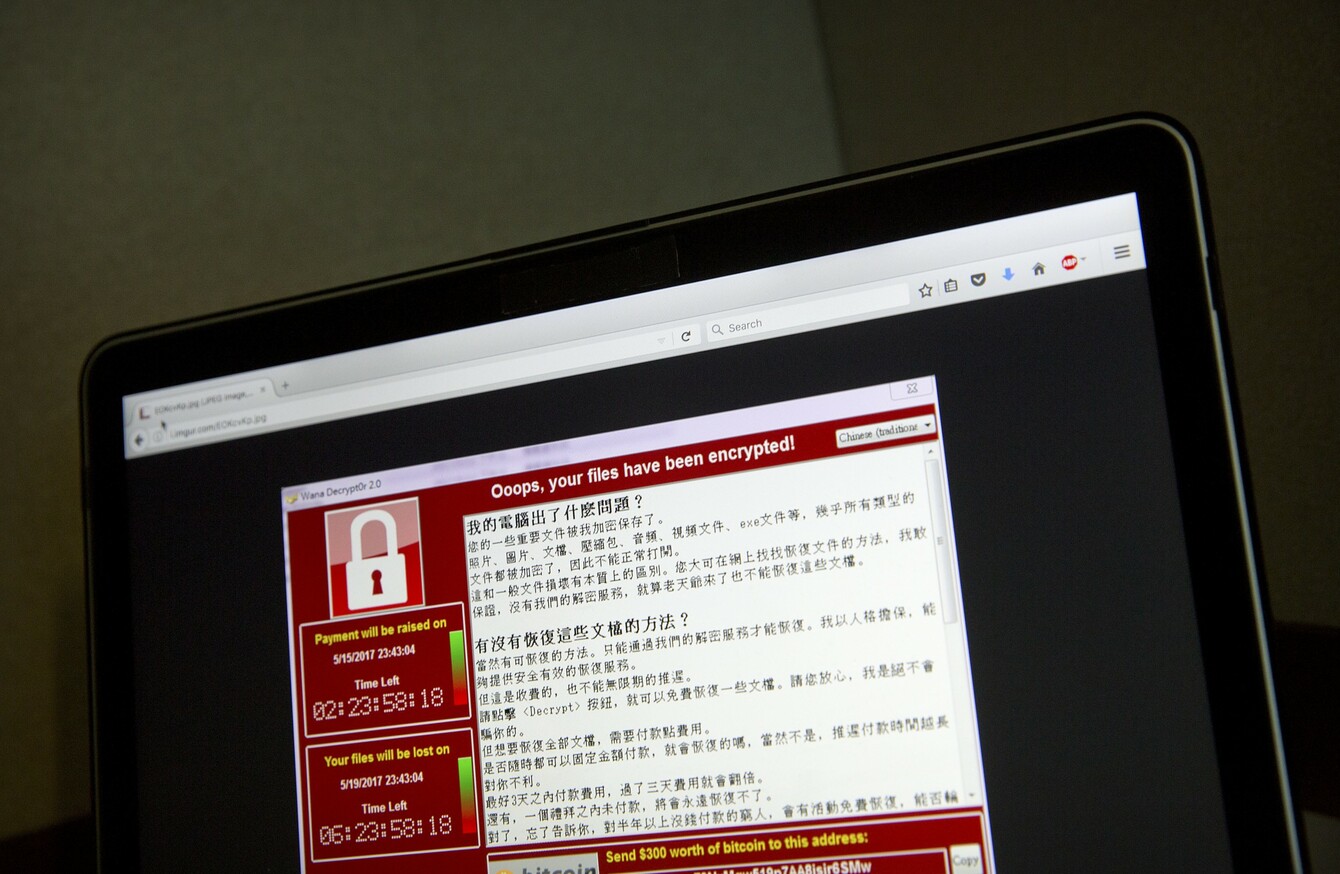 Image: Mark Schiefelbein/PA images
Image: Mark Schiefelbein/PA images
THE HSE SAYS it has found 5,000 cyber-attack attempts on one major Irish hospital between Friday and Saturday.
The executive says it is on course to re-connect services to the outside world following a four-day-long disconnection due to the WannaCry ransomware virus.
While the HSE said that medical services were minimally disrupted, it said that a number of computers had the potential to be held to ransom.
"Initial results indicate that one major hospital had over 5,000 cyber-attack attempts between Friday and Saturday. Over the weekend the HSE discovered a number of key sites that had the WannaCry toolkit on machines.
"However, the work done by the team prevented this toolkit converting into the ransom ware and causing the designed level of disruption."
The organisation made the decision to cut external communications, including emails and server connections, on Friday.
"The HSE has already commenced the technical activity to re-connect the external access to the network including email services this morning."
The decision was made after the NHS in the UK came under attack from the virus.
Staff members were unable to receive emails from internal and external sources, access the internet or external based servers.
The HSE's internal email system was re-activated yesterday.
Yesterday afternoon, the HSE also confirmed that almost all the 1,200 servers that were rebooted to allow an anti-virus update to take effect were back online.
HSE chief information officer, Richard Corbridge, said that disruption to patients was minimal as the outages were expected.
"While the threat has abated for now, the team remains on a high state of alert for additional 'attack attempts' on the HSE network."
The HSE says it is "now reviewing its response and processes thoroughly to better understand the threat posed since last Friday".
"Any identified problems were not related to any security or infection issues", a spokesperson for the HSE said.
"The have been no reports of any additional suspected cases of the ransomware attack.
The HSE is continuing to monitor the situation with the six national IT helpdesks continuing to deliver additional support to the wider healthcare system.
The cyber attack by the virus WannaCry has infected over 300,000 computers in 150 countries since Friday.  The attack struck banks, hospitals and government agencies across the countries affected.
Ireland has remained mostly unaffected by the global attack. The only system in the country affected by the virus was the HSE-funded community care unit in Wexford which isn't connected to the main HSE network.

With reporting from Paul Hosford