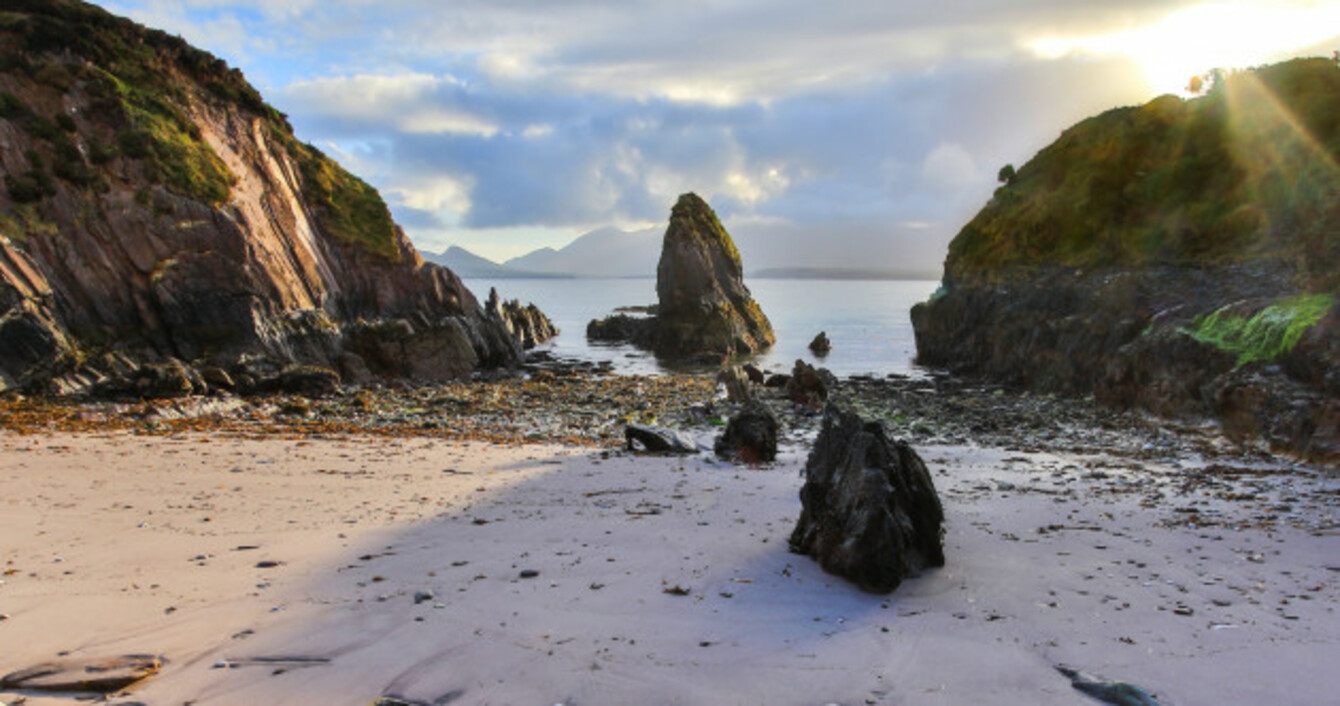 Dún an Óir, Co Kerry
Image: Richard Creagh
Dún an Óir, Co Kerry
Image: Richard Creagh
DURING THE HANDFUL of days each year that the sun actually stays uncovered from clouds, we tend to drop everything, pack up and head in our droves for… well, the same three or so beaches. 
Inevitably, it always comes as a surprise that hundreds of people have had the same brilliant idea to make a break for the likes of Brittas Bay, the Forty Foot, Garryvoe Beach or Salthill. And that precariously laying your towel between four families isn't so fun.
This summer, wander off the beaten track to some of the most unspoiled, secluded and breathtaking secret beaches around the country. We spoke to a number of insiders about where to find them – here are their favourites.
1. Ballyteige Burrow, Co Wexford
Located west of Kilmore Quay, you might have been on the eastern end of this beach but as it stretches out west for about ten kilometres, it's definitely worth exploring. As Richard Creagh, photographer of Exploring Ireland's Wild Atlantic Way explains:
If you walk out to the far end it feels quite remote, with water on three sides of you. The dunes behind the beach are also a great place to wander. And the Saltee Chipper in Kilmore Quay is a good reward if you've managed the full 20km walk out and back along the beach.
What should I know? There's plenty of parking in Kilmore Quay and a smaller car park just at the beach itself. If you're looking to get away from the crowds, Creagh advises to walk as far west along the beach as you've energy for – it's unlikely you'll meet many other visitors.
Where exactly can I find it? Right here.
2. Coves near Dún an Óir, Co Kerry
While you might have been to Dún an Óir in West Kerry, walk a little further north and you'll find a pair of sheltered, sandy coves that very few people know about. These two coves face east so are generally very well sheltered from bad weather – they're pretty special, explains Creagh:
Though there are miles of open sand to the south of them, these little coves have a very different feel. They are tucked in under steep cliffs that are framed by great views of Smerwick Harbour and Mount Brandon and have a great sense of privacy.
What should I know? Park at Dún an Óir, north of Ballyferriter and walk out to the narrow neck of land connecting the old fort to the mainland. From here, carefully scramble down either right or left to reach the beach. At full tide, the beach is covered so plan your trip for low water or you might not be able to find them.
Where exactly can I find it? Right here.
3. Furnish Island, Co Galway
On the north of Furnish Island, one of the islands that make up the Irish-speaking district of Ceantar na nOileán in south Connemara, you'll find a beautiful beach. If you visit at low tide, the beach will widen and you'll be able to see the even smaller Dinish Island. The result is breathtaking, as Creagh explains:
The whole area is a maze of rocky outcrops and shallow inlets, always changing with the tide.
What should I know? You're best to walk from the small village of Lettermullan which is connected to Furnish by a low bridge (the two islands are essentially interconnected anyway). The area is also connected to the mainland by bridge.
Where exactly can I find it? Right here.
4. Galley Cove, Co Cork
Located in Crookhaven at the edge of West Cork is a beautiful beach you may not have visited yet. When Sinead McCoy, Coastal Communities Manager at Clean Coasts spent a week assessing beaches in stunning weather, this one left a lasting impression on her.
Galley Cove is such a gorgeous area and it started my love for Green Coast Award beaches which are often hidden gems.
What should I know? Galley Cove has a carpark which during the summer months is managed by the local authorities so there are bins and other facilities nearby.
Where exactly can I find it? Right here.
5. Shelly Banks, Poolbeg, Dublin 4
Though it's not strictly a secret beach, Shelly Banks is a rarity – a beautiful beach near Dublin city that you'll often have to yourself. Though it's so easy to get to, McCoy says that "it's a hidden sandy cove in Poolbeg that people always tend to forget about".
What should I know? There's a car park right at the beach. Don't mind the industrial buildings behind you – once you wander down onto the sand you'll feel like you're nowhere near the city. Grab a coffee from the Mr Hobbs Coffee van (choose from flavours like caramel, hazelnut, mint, strawberry or gingerbread) and check out the colourful murals at Poolbeg Lighthouse while you're there.
Where exactly can I find it? Right here.
6. East End Beach, Inishbofin, Co Galway 
If you make it to Inishbofin island at one of the furthest west points of Galway, McCoy shares that there are "gorgeous beaches the whole way around the island – it's an absolute must if you're anywhere near – you'll be swept away".
What should I know? The ferry goes three times a day – you need to be over at the pier at Cleggan by 11.30am if you want to get over. Chances are you won't want to leave until 5 o'clock when the ferry returns back to the mainland. You can also rent bikes to explore the island when you get there.
Where exactly can I find it? Right here.
7. Portally Cove, Co Waterford
According to Brendan Mac Evilly, co-author of At Swim: A Book About The Sea, Waterford's Portally Cove is "probably the nicest stoney beach in Ireland" and its waters are protected by high rocky walls on either side. He explains why it's so special:
On a sunny day, the colours of the water are just unreal. Especially when seen from the clifftop above. 
What should I know? You can make your way to the cove by following the coastal walk from Dunmore East. It's roughly three kilometres from the town, with breathtaking views along the way. Keep your eyes peeled for local wildlife too – the day Mac Evilly visited, he witnessed a sea rescue of a hedgehog, brought home to the safety of a swimming couple's garden.
Where exactly can I find it? Right here.
8. Seal Beach, Co Wicklow
The rocky coastline south of Wicklow town has plenty of coves and bays and is a favourite for climbing, kayaking and snorkelling. For David Flanagan, author of Exploring Ireland's Wild Atlantic Way, it's one of his favourite secret beaches – a remote pebble cove known as Seal Beach, just north of Wicklow Head:
It's wonderfully quiet, hidden away between steep cliffs, with lots of caves to explore. The beach is often taken over by a colony of massive seals and you can walk out to Brides Head to watch them wallow.
What should I know? To get there, follow the main road south through Wicklow town. Turn left after the golf club onto a narrow lane that leads to a parking area, near the disused lighthouse. Retrace your steps a short distance along the road to the first bend and follow the signposted path north for one kilometre to the beach.
Where exactly can I find it? Right here.
9. Trá na Bád, Co Donegal
In northwest Donegal only a short distance from what was officially voted as the most scenic airport in the world, there is what Flanagan calls a "spectacular beach", and one of his favourites along the Wild Atlantic Way – Trá na Bád:
It's a sheltered crescent of sand with a small pier on one side and a grassy area where boats are stored on the other. In the middle is a steep outcrop of pink granite. The low cliffs and soft sand also make it an ideal area for bouldering.
What should I know? You'll want to visit at high tide if you'd like to swim in the sheltered bay, but if you'd prefer time to play or lay in the sand, wait to visit at low tide. To get there, follow the signs for Donegal Airport but continue past the airport to a fork where you turn left. Follow the road along Carnboy Lough and turn left at the cattle-grid. A narrow boreen will lead you down to the beach.
Where exactly can I find it? Right here.
10. Cliffoney Beach, Co Sligo
Situated near the popular surfing spot of Mullaghmore is a little-known hidden gem, especially if you'd like to get out onto the waves with your board. It's a favourite spot of Brian Patton, surf instructor at Surfworld, who explains why he loves it:
It's nice and secluded. There aren't many people down there who know about it. The waves you'll find there are small but fun. Just be careful as there are lots of currents there.
What should I know? You can park just up on the road close to Cliffoney Beach. There are a few gates you have to walk through (be careful and respectful) and it's a bit of a walk from the road. You'll want to go all the way across the field behind the sand dunes before you reach it.
Where exactly can I find it? Right here.