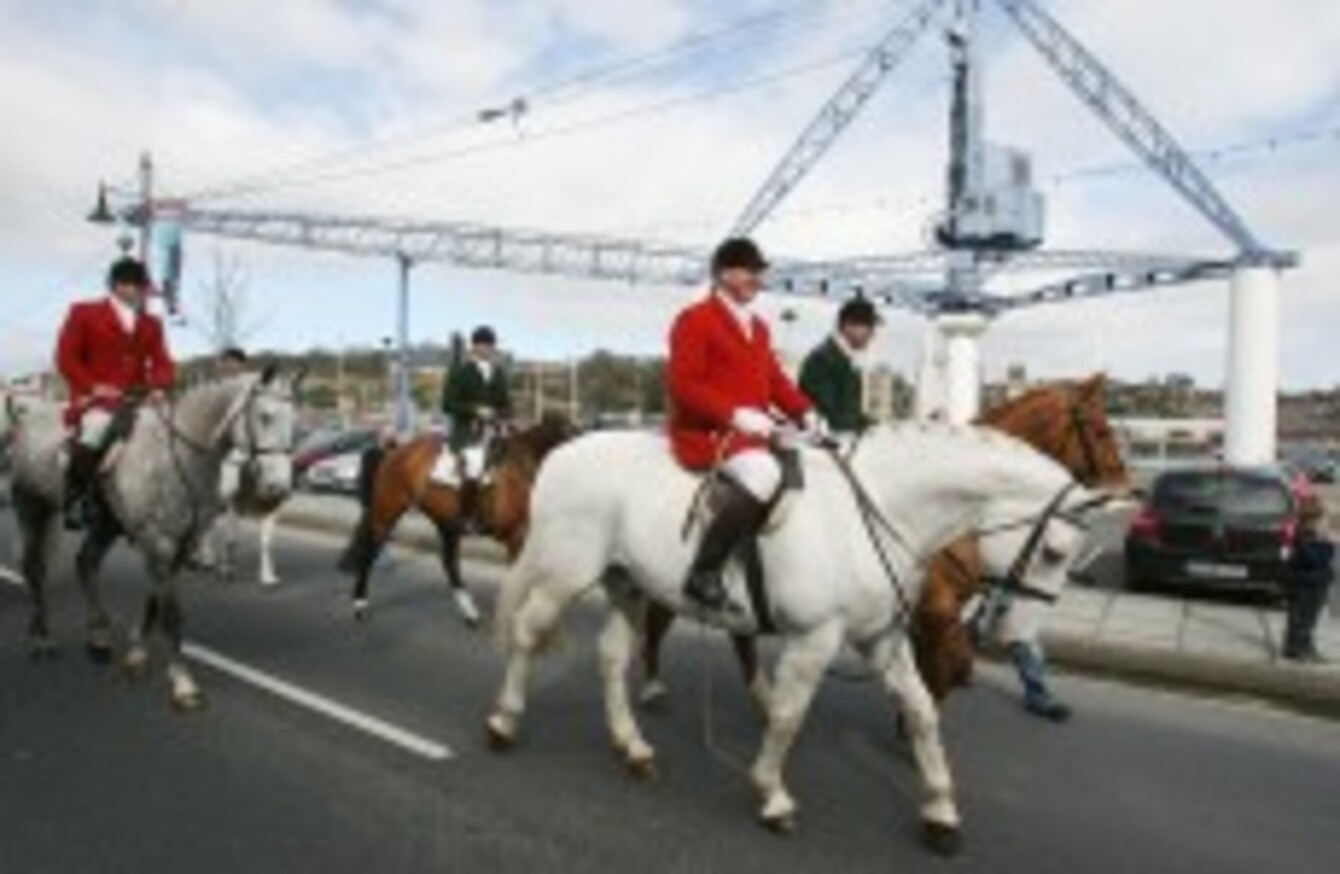 Supporters of the Ward Union hunt protest in Waterford in 2010
Image: James Horan/Photocall Ireland
Supporters of the Ward Union hunt protest in Waterford in 2010
Image: James Horan/Photocall Ireland
A PRO-HUNT group has hit out at Fine Gael for breaking what it says was a pre-election pact to reverse the ban on stag hunting, in return for votes from field sports enthusiasts.
The National Association of Regional Game Councils (NARGC) said it made a deal with Fine Gael leaders ahead of the general election. It said the party pledged to reverse the 2010 Fianna Fáil/Green coalition's ban on stag hunting, if the NARGC delivered votes from its followers.
A spokesperson for Taoiseach Enda Kenny today ruled out a reversal of the ban, saying there was "no commitment" to lift it in the Programme for Government, and adding: "The Taoiseach would not resile from what's in the Programme."
But Des Crofton, national director of the NARGC, told TheJournal.ie that this is "not in line with what we have been given commitments on." He said senior Fine Gael figures had repeatedly told him they would lift the ban, "not only before the government went into office but since."
TheJournal.ie has seen a copy of an email sent to Des Crofton from the Fine Gael Leader's Office in January 2010, which states that the party proposes to "reverse any changes made by the present Government" in regard to stag hunting. The proposal was also contained in the party's election manifesto.
'A price to pay'
Prior to February's general election, the Rise campaign against the hunt ban – which is affiliated with the NARGC – issued a statement urging followers to vote for Fine Gael due to their "consistent support for fieldsports".
Crofton said today that the commitment to lift the ban "was in return for the hunting organisations delivering their votes for Fine Gael at the last election. We delivered, we even produced a general election manifesto. They're now throwing this back in our face. There's going to be a price to pay."
He said the Rise campaign would become active "very quickly" if the government's position did not change.
A spokesperson for Fine Gael said the proposal to reverse the ban was in the party's pre-election manifesto, but did not make it into the Programme for Government struck between Fine Gael and Labour.
"I'm not aware of any deal that was struck with any group pre-election," the spokesperson said.
The Campaign for the Abolition of Cruel Sports has expressed concern at the possibility that the ban could be lifted, calling stag hunting "a despicably cruel practice".
However, Mr Crofton dismissed this criticism, saying that Department of Agriculture observers "reported nothing objectionable in the stag hunt vis-a-vis the state of the animal." He said the debate on the sport's cruelty or otherwise was "over".