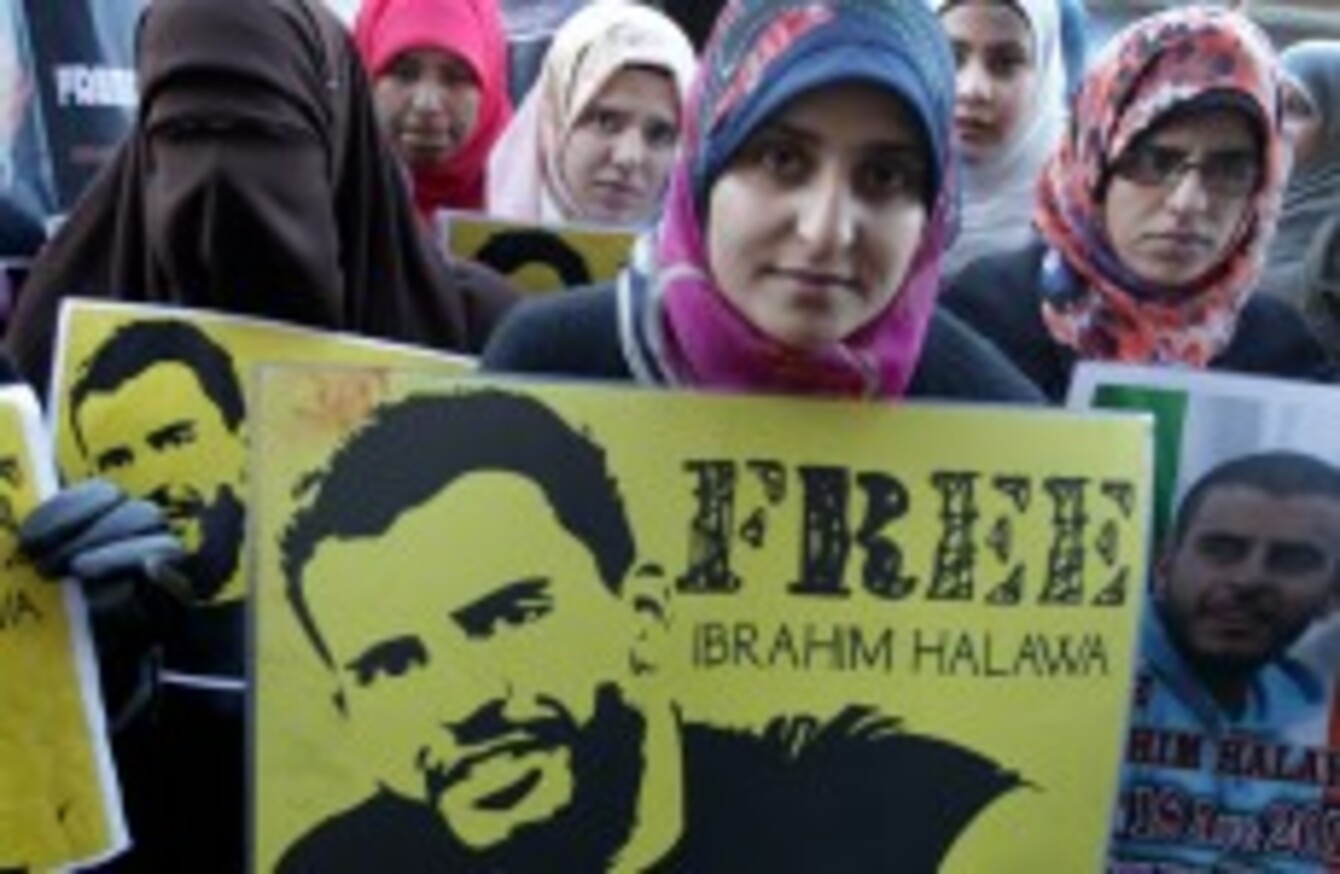 Free Ibrahim Halawa Demonstration.
Image: Mark Stedman
Free Ibrahim Halawa Demonstration.
Image: Mark Stedman
Updated 3.38pm
IRISH TEENAGER IBRAHIM Halawa is said to be considering going on hunger strike, after a scheduled court hearing in Cairo was postponed once again today.
The Government has said it is doing all it can 'to highlight its concerns' over the case.
The Dublin-born 19-year-old is charged with murder, attempted murder and taking part in an illegal protest.
Ibrahim travelled to Egypt with his sisters and took part in a protest in August 2013 against the ousting of former president Mohamed Morsi.
Mass arrest
However, he was detained in a mass arrest, and has spent the last year and a half in prison while his family campaign for justice.
A spokesperson for human rights group Reprieve, which is working with the Halawa family, said today's scheduled hearing had been postponed until 8 February.
Minister for Foreign Affairs Charlie Flanagan said he was disappointed that the trial had been postponed.
"Although Ireland is precluded from directly interfering with the ongoing judicial process in Egypt, we have raised our concern at the continued and lengthy period of detention with the Egyptian authorities in a clear and sustained manner," he said.
We continue to highlight the critical importance of due process in this case. It is the Government's strong view that Ibrahim should not be tried as part of a group trial involving a large number of defendants.
"In the coming days I will be reviewing the most recent developments in this case in consultation with the Ambassador."
493 other people face the same charges — and could face long prison terms, or even the death penalty if convicted.
It's understood most weren't transported to court today, and that Ibrahim also remained in jail.
It's the third time a scheduled could appearance for the teenager has been postponed.
A hearing in August was also cut short by the judge, who said he was uncomfortable dealing with such large numbers in on one process.
Hunger strike
"I had heard that he was considering a hunger strike," the Reprieve spokesperson said this morning.
"While the trial is completely unfair, being incarcerated is equally frustrating for Ibrahim."
The 19-year-old's sisters, Somaia, Fatima and Omaima, were arrested at the same protest in 2013 and were held for three months before being freed and allowed to return to Ireland.
Last summer, they reported that their brother had been beaten with a metal chain while in prison.
Additional reporting by Daragh Brophy and Nicky Ryan.