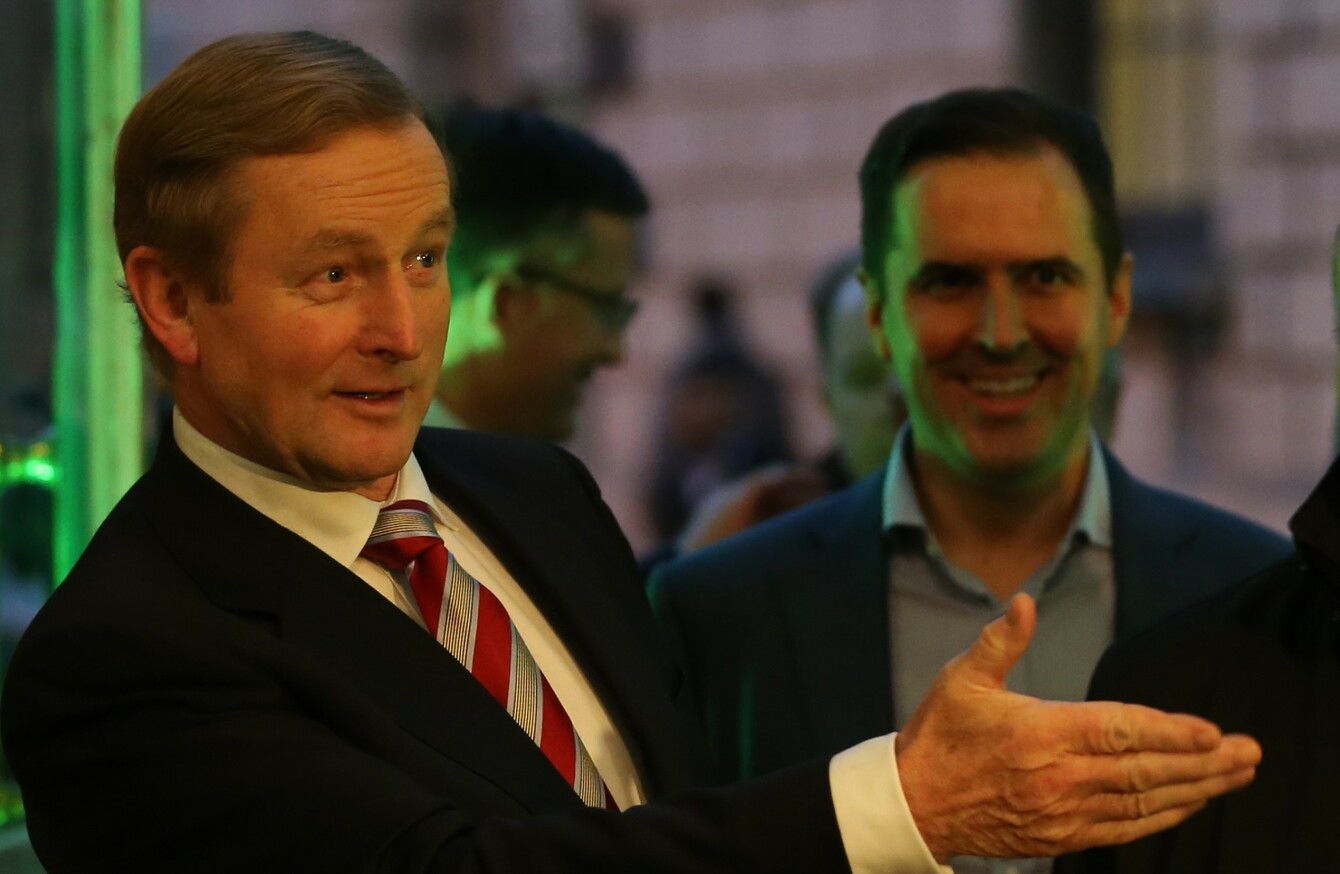 Taoiseach Enda Kenny TD and Martin Shanahan, CEO of IDA Ireland
Image: Niall Carson/PA Wire
Taoiseach Enda Kenny TD and Martin Shanahan, CEO of IDA Ireland
Image: Niall Carson/PA Wire
DESPITE THE POLITICAL and economic turmoil of the past 12 months, IDA Ireland was upbeat at the announcement of its 2016 results today.
According to the investment agency, it currently has the highest level of employment across client companies in its 67-year history.
Total employment at overseas companies now stands at a record 199,877, with 18,627 jobs created over the past 12 months.
In a statement, the IDA noted its 244 investments "came against a background of unprecedented geopolitical changes, an underperforming European economy and intense competition from other jurisdictions for foreign direct investment".
Of the 244 investments, 99 were from new name companies.
With job losses taken into account, the net job creation by FDI firms was 11,842.
Although no exact figures were given in today's report, the IDA says "losses as a percentage of the overall employment portfolio were at their lowest level in 19 years (since 1997)".
However, the positive trend came with a health warning from CEO Martin Shanahan who – citing ongoing global and political and economic uncertainty, the impact of the Brexit vote, competition from other jurisdictions being at its strongest and cost competitiveness pressure – cautioned that it is not expected to continue.
"That companies have continued to invest in Ireland is testament to the quality of the offering we have here," he added.
That being said – we absolutely cannot be complacent about this success – we have to keep an eye on our competitiveness including costs.
IDA Ireland confirmed it has received a "significant volume of specific queries to IDA offices from across the world" following the UK referendum on European Union membership last June.
"Companies are seeking to mitigate risk and ensure that the have access to the European market post Brexit," explained Shanahan.
Feedback from investors would suggest that companies are currently undertaking detailed due diligence of a small number of location within Europe. Ireland is amongst those locations.
Ireland is hoping to make the most out of opportunities arising from Brexit but the agency remains realistic about possible adverse effects on FDI companies that depend heavily on the UK market. Some of these "may need to consider their future access to the UK market in a post-Brexit environment".
#Open journalism No news is bad news Support The Journal

Your contributions will help us continue to deliver the stories that are important to you

Support us now
Regional gains
Dissecting today's results, Shanahan made clear that many of 2016′s projects were 'capital intensive' and took place outside of Dublin, a fact reiterated by Jobs Minister Mary Mitchell-O'Connor who said she was "especially pleased" to see the IDA "achieving growth in all regions".
Both the Minister and the IDA are oft-criticised for their focus on the capital and urban centres. Today, they were quick to point to the developments secured in all of its regions, creating over 6,200 jobs (net) in the west, south-west, south-east and the border and midland counties.
These included the establishment of First Data's 300 employee-strong R&D hub in Nenagh, Co Tipperary; Kellton Tech Solutions creating its EMEA headquarters in Drogheda creating more than 100 jobs; Wayfair Inc expanding in Galway, taking on 160 new people; Ballinasloe becoming home to 100 new Surmodics employees; Fazzi Healthcare Services setting up a new Irish-based coding and healthcare services company in Limerick, creating 300 jobs; and Cylance expands with the opening of a Cork office.
Although 59% of all FDI employment is outside of Dublin, the IDA concedes that there is still a "global trend towards favouring large urban centres".
It also claims that for every 10 jobs created by FDI, another seven are generated by the economy with particular positive benefits seen in the construction, retail and hospitality industries.
According to today's figures, IDA client companies spend €18.7 billion in the Irish economy annual, €10 billion on payroll and €8.7 billion on Irish-sourced materials and services.