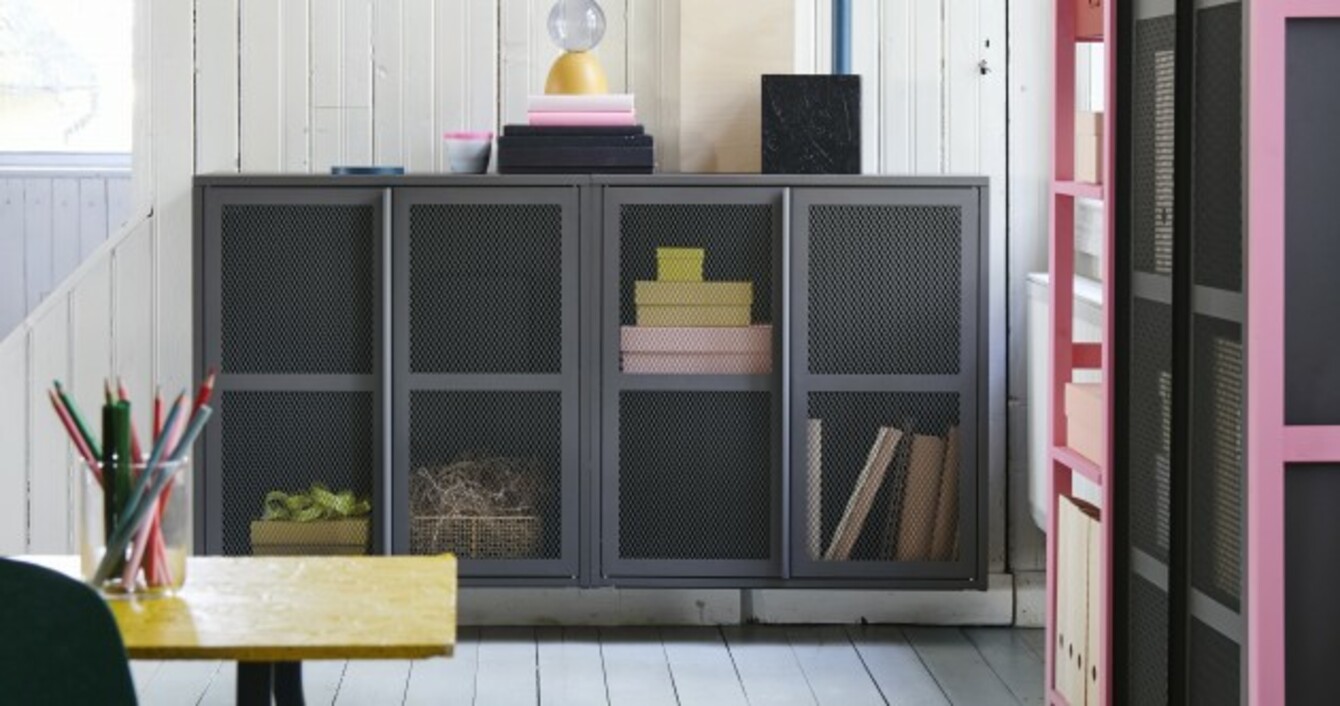 Image: IKEA
Image: IKEA
MOST OF US are pretty well-versed in the world of IKEA products. If you need storage for a playroom, you head for the KALLAX storage unit. If you've got a book collection in need of organising, the BILLY is where it's at. 
But did you know that IKEA comes out with new collections every season? And this new autumn collection is well worth exploring. From rattan magazine stands to deep, dark display cabinets, the new IKEA autumn collection has something for every interiors fan and home decor aficionado. 
Those KALLAX and BILLY units are standard favourites, but you'll inevitably run the risk of seeing them in all your friends' homes. Instead, we checked in with some of Ireland's top interior designers to get the lowdown on their top picks from IKEA's latest collection. 
1. BODARP drawers and door fronts, from €13
I'm loving the green credentials of the BODARP drawer and door fronts. Taking recycled PET plastic bottles and turning into something functional and beautiful definitely gets my vote!
I love introducing a splash of colour in the interior joinery elements of a room and this soft grey/green is neutral and soothing. BODARP would be ideal for the next storage unit I design for a playroom. Paint can chip over time, but these foil wrapped surfaces are super strong and will stand up to the high demands of young and active children.
Pairing them with the OSTERNAS leather handle will complete a soft textured look.
Eavan English, eedi Studio 
2. BUSKBO magazine stand, €19
I have a soft spot for rattan, it's such a wonderfully versatile material. It works with a huge amount of different styles and adds a perfect bit of eclecticism to any scheme.
I would be using the BUSKBO magazine stand next to my sofa in the living room or in the bedroom for my favourite magazines to read before I go to sleep. 
Lisa Marconi, Design Led 
3. FRÖSET easy chair, €80 (not yet on website)
The FRÖSET easy chair could serve many purposes, such as a window seat looking onto the garden, or a bedroom chair tucked away in a corner. It's timeless in design and adds a colour influx that sets a tone and influences the interior design of any space, unifying the best in furniture design with a touch of Bauhaus influence in style and colour.
Economically well-designed and compact, this chair would fit perfectly at the edge of my kitchen and when it's time for a coffee, I could sink right in and take some well-deserved time out.
Regina Rogers Fallon, Regina Rogers Fallon Design
4. IVAR mesh cabinets, from €80
I'd choose the IVAR cabinet with mesh doors. It's reminiscent of French country-style kitchens with chicken wire doors, but with a contemporary take. Lots of houses have simple contemporary kitchens, and, unfortunately, each one looks the same as the next.
I'd use the IVAR on a spare wall in either grey or white — two side by side or one above the other to really personalise the space. It would be better than a fridge for storing veg from the garden! 
Eily Roe, Eily Roe Interiors 
5. LOMMARP cabinet, €229 
The richness of the dark-green colour of the LOMMARP cabinet immediately caught my eye. It's a stylish update to antique dressers that instantly remind me of comforting country kitchens.
I love that it has a mix of open and closed storage, making it super functional, too. I'd use two or three, stacked side by side in a dining room or kitchen, to store all dinner and tableware. Using the glass cabinets up top to display the most colourful and precious pieces!  
#Open journalism No news is bad news Support The Journal

Your contributions will help us continue to deliver the stories that are important to you

Support us now
Elaine Verdon, Leo + Cici
6. STENMÄTARE rug, €40
The Bauhaus-inspired STENMÄTARE rug is the standout piece for us at COLLAB Design Studio from the newly launched IKEA Autumn Collection. We love the clean lines of the pattern, coupled with simple earthy tones and balanced by shades of red and rust.
This rug would look great styled with a mix of mid-century and modern furnishings, natural wood floors and an earthy paint palette which is very on trend for 2021. 
Jenny Coughlan, COLLAB Design Studio  
7. LYSEKIL panels, €35
These LYSEKIL panels mimic Carrara marble very well and do so at a fraction of the price. They will add a splash of sophistication to any kitchen or bathroom setting. They're so versatile that you can match them with any paint colour, but my preference would be blue/green or grey tonal colours, like Hague Blue, De Nimes, Hardwick White, Down Pipe, or Purbeck Stone.
Linda McNally, Clontarf Interiors 
8. IVAR bamboo doors, from €116
These bamboo weave doors would add beautiful tactility to home storage units. I love the idea of incorporating these on a small kitchen dresser or sideboard to enhance the material palette of any kitchen. They could also be easily varnished in a darker tone for a richer scheme — one of my favourite things about IKEA is how many of their products can be customised by the customer to suit their scheme.
Moya Farrell, Avenue Interior Design