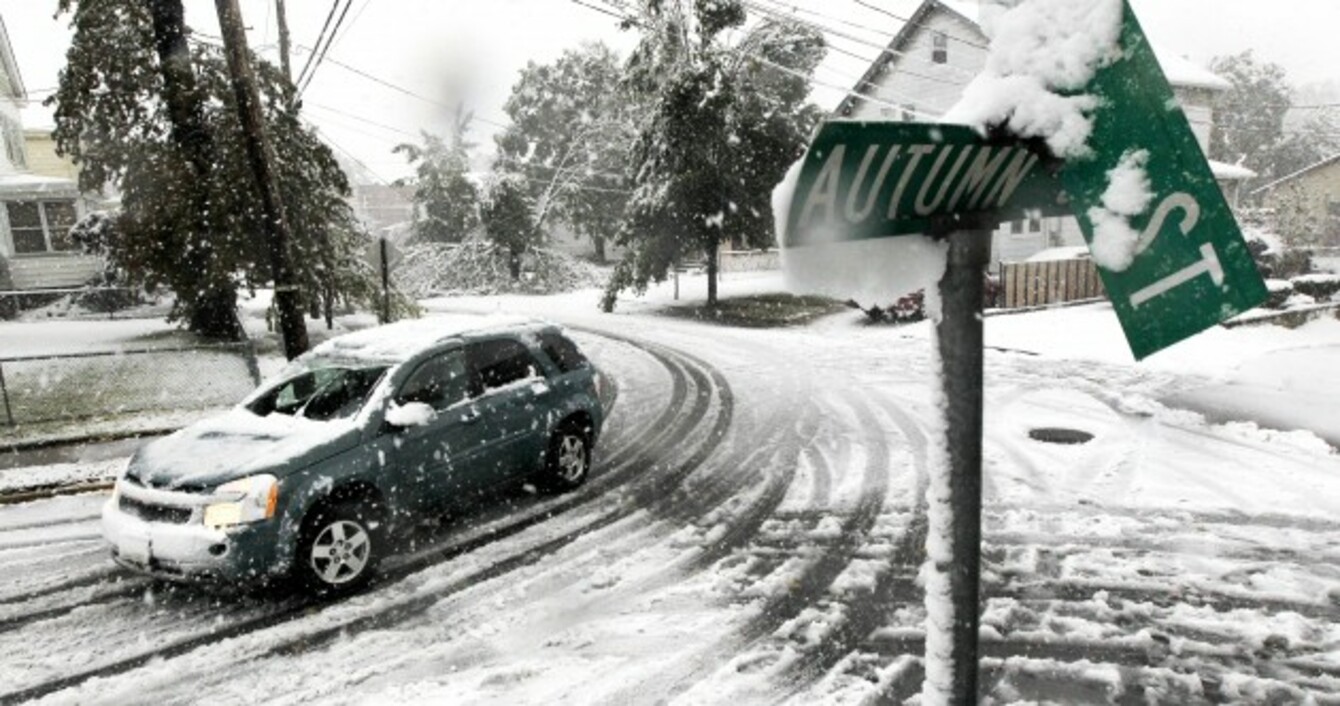 Image: Julio Cortez/AP/Press Association Images
Image: Julio Cortez/AP/Press Association Images
AROUND TWO MILLION homes have been left without power in the US after freak snowstorms hit large areas of the north-east over the weekend.
The storm has been blamed for at least 21 deaths, including one in Canada, mostly caused by falling trees, traffic accidents or electrocutions from downed wires. Eight people died in Pennsylvania alone.
One town in Massachusetts saw 81cm of snow over Saturday and Sunday, with the storm hitting areas as far north as Maine and as far south as Maryland.
More than 3 million homes and businesses lost power at the height of the storm, although by last night, that number was down to around 2.2 million.
States of emergency were declared in New Jersey, Connecticut, Massachusetts and areas of New York, according to the BBC. Local authorities have said it could be up to a week before power supplies are restored.
The storms have been especially damaging because they came so early, meaning leaves are still on the trees. A spokesman for the US national grid told Reuters: "It was like wet cement that just adhered to trees, branches, leaves and power lines. That's what really caused the damage."
Early snowstorms hit US

Roads in New Britain, Connecticut (AP Photo/Bettina Hansen, Pool)

Early snowstorms hit US

The snow-covered intersection of Autumn and Grove Streets in Lodi, New Jersey (AP Photo/Julio Cortez)

Early snowstorms hit US

Penn State fans in the stands at a college football game in Pennsylvania (AP Photo/Gene J. Puskar)

Early snowstorms hit US

A snowplough truck backs away from a street blocked by downed power lines in North Andover, Massachusetts (AP Photo/Elise Amendola)

Early snowstorms hit US

A portion of road in Newton, New Jersey (AP Photo/Rich Schultz)

Early snowstorms hit US

A sign announces a safe Halloween party to be hosted at the fire department in Paramus, New Jersey (AP Photo/Julio Cortez)

Early snowstorms hit US

Mary Lou Wilder clears off her car in Cornwall on Hudson, New York (AP Photo/Lee Ferris)

Early snowstorms hit US

Tracy Ward, of Wilbraham, Massachusetts, prepares dinner by the light of lanterns for her family during a blackout in their home (AP Photo/Steven Senne)

Early snowstorms hit US

A tree is split in two due to heavy snow in Belmont, Massachusetts (AP Photo/Michael Dwyer)

Early snowstorms hit US

Stranded passengers rest on cots a day after a storm at Bradley International Airport in Connecticut (AP Photo/Jessica Hill)

Early snowstorms hit US

Route 2 in Belmont, Massachusetts (AP Photo/Michael Dwyer)

Early snowstorms hit US

Snow is on an NYPD car in Times Square (AP Photo/Tina Fineberg)

Early snowstorms hit US

The Roxbury Mall in Roxbury, New Jersey is darkened and closed due to a power outage (AP Photo/Rich Schultz)
- Additional reporting from AP