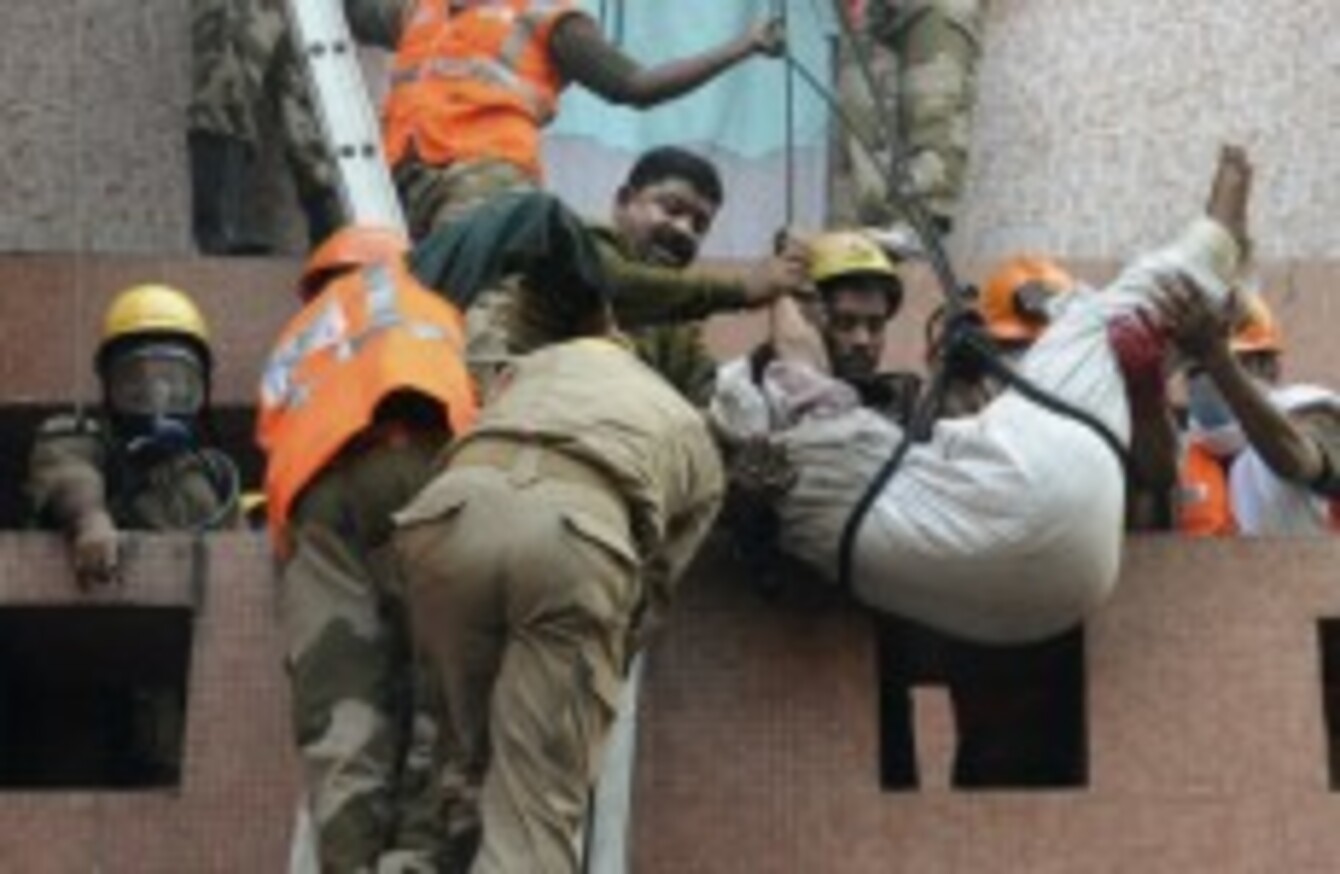 Rescue workers evacuate people from the hospital during today's fire.
Image: AP/Press Association Images
Rescue workers evacuate people from the hospital during today's fire.
Image: AP/Press Association Images
A FIRE SWEPT through a hospital in the Indian city of Calcutta (Kolkata) early today, killing 61 people and sending emergency workers scrambling to evacuate survivors from the smoke-filled building, officials said.
Government officials accused the hospital staff of abandoning the patients and fleeing the building after the fire broke out.
"It's a very serious offence, and we will take the strongest action," West Bengal Chief Minister Mamata Banerjee said at the scene.
Firefighters on long ladders smashed windows in the upper floors of the AMRI Hospital to pull trapped patients out before they suffocated, while sobbing relatives waited on the street below. Rescue workers took some patients on stretchers and in wheelchairs to a nearby hospital.
Banerjee said 61 people died in the fire, many of them from suffocation.
[caption id="attachment_300504" align="alignnone" width="511" caption="The scene of today's fire as patients and staff are evacuated from the hospital. (AP Photo/Bikas Das/PA Images)"]
[/caption]
Engulfed
The blaze erupted in the building's basement, and heavy smoke quickly engulfed the hospital. The cause of the fire was not immediately known.
S Upadhay, a senior vice president of the AMRI hospital company, said there were 160 patients in the 190-bed hospital annex at the time of the blaze.
It took firefighters more than an hour to arrive after the blaze started, said Pradeep Sarkar, a witness. His uncle was hospitalised hours earlier after suffering a heart attack at home, and he was moved to a nearby hospital for treatment.
The narrow streets in the neighbourhood apparently made it difficult for the unwieldy fire trucks to get close to the building.
Banerjee said that while the fire brigade was delayed, police arrived quickly to help with the rescue effort.
Dozens of fire engines eventually arrived at the hospital. By midmorning, the fire was under control and most of the patients had been evacuated to other hospitals in the area, said Javed Khan, the state fire services minister.
But state officials said the hospital staff did nothing to aid in the rescue operations.
"It was horrifying that the hospital authorities did not make any effort to rescue trapped patients," said Subrata Mukherjee, state minister for public health engineering. "Senior hospital authorities ran away after the fire broke out."
Sirhad Hakeem, a minister in the West Bengal government, said the hospital basement was being used as a storage area, although it was originally planned as a parking lot.