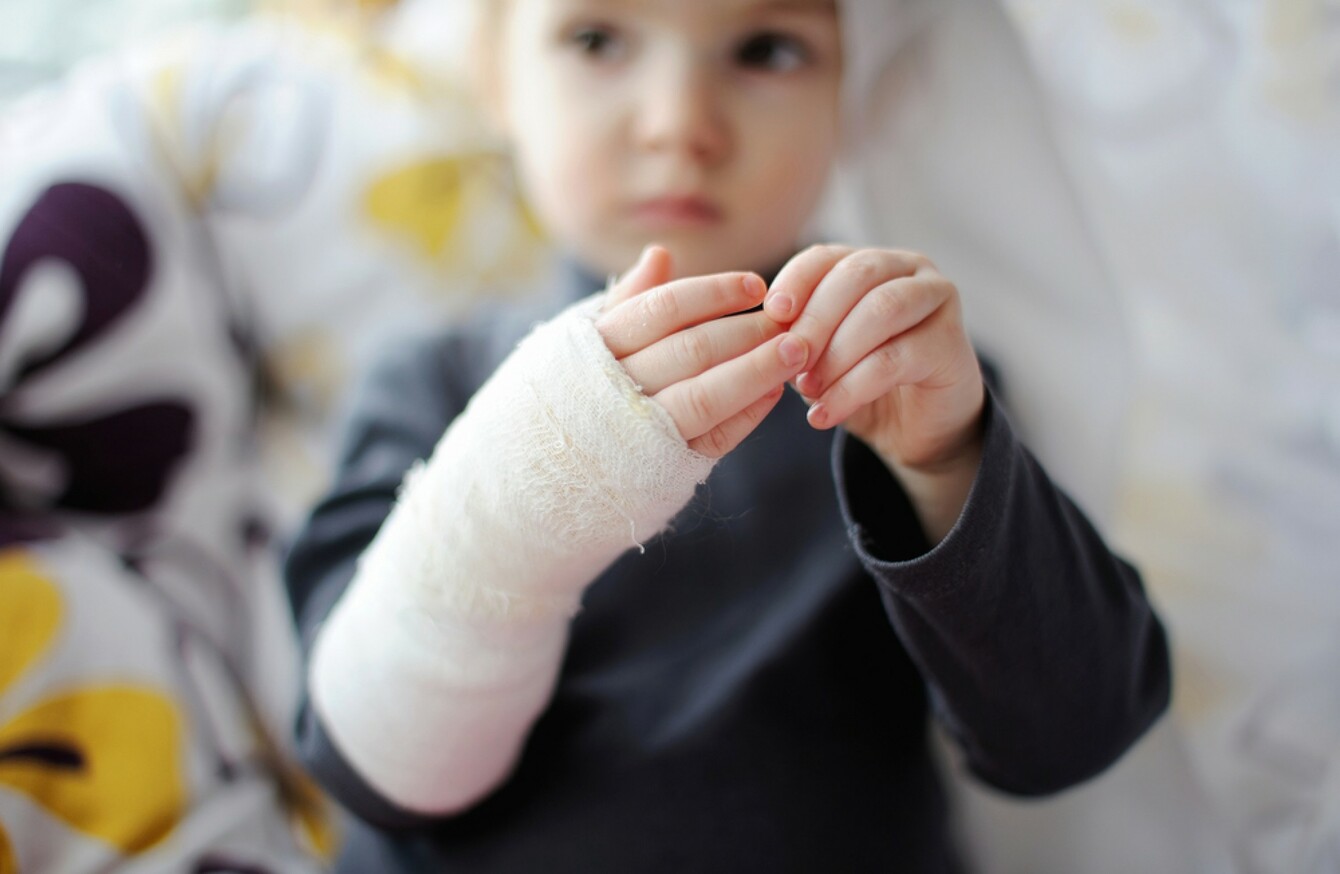 Image: Shutterstock/MNStudio
Image: Shutterstock/MNStudio
A NEW REPORT estimates that more than 11,200 three-year-olds in Ireland have had an accident or injury that required hospital treatment or admission.
The study is being released today by the Institute of Public Health in Ireland (IPH).
The prevalence of injuries and accidents were found to be higher among:
Boys compared to girls;
Children whose primary carer had a longstanding health condition;
Children in households with other children and one parent;
Children whose primary carer had attained lower levels of formal education.
When these characteristics were combined, they resulted in much higher rates of injury. The estimates are based on analysis of results from the Growing Up in Ireland study (2011).
Jude Cosgrove, IPH senior statistical analyst, said the figures released today "show that injuries that required hospital treatment or admission are relatively common among three-year-olds in the Republic of Ireland".
Children with a primary carer with a longstanding health condition are disproportionately affected. The results also show a higher prevalence and risk impact on boys.
"The report recommends a comprehensive review of data on childhood injuries and suggests the need for targeted injury prevention measures that take into account children's home and local environments."
Here are the unadjusted* injury rates for certain groups:
Boys: 14.4%, Girls: 17.7%;
Carer with longstanding health condition: 20.8%, carer without longstanding health condition: 15.2%;
One-parent households: 15.1%, two-parent households: 21.8%;
Homes with other children: 15.5%, homes without other children: 16.2%;
Primary carer formal education: degree 14.7%, post-second level 17.7%, second level 15.7%.
*When each characteristic is examined individually
The adjusted rate of injuries ranged from a low of 11% (among girls whose primary carer did not have a longstanding health condition, two parents at home, a parent with university education and no other children at home) to a high of 45.6% (among boys whose primary carer did have a longstanding health condition, one parent at home, a parent with post-second level education, and other children at home).
Girls vs boys
The study notes that gender differences in injury rates "tend to appear during the first year of life and are consistently higher among boys".
#Open journalism No news is bad news Support The Journal

Your contributions will help us continue to deliver the stories that are important to you

Support us now
World Health Organisation research shows that injury rates are about 24% higher among boys than girls aged 0-15 years.
The report states:
Various explanations have been put forward for these gender differences, common ones being gender differences in activity levels and risk-taking behaviour, gender socialisation, and gender-related patterns of parental or adult supervision.
It also notes that injuries are the leading cause of death among children and place a large burden on health systems.
EuroSafe (2013) estimates that 28% of all deaths across the European Union among children aged 0-14 years are due to injuries. Injury occurrence is disproportionately
higher among children compared to the rest of the population.
For example, across the EU, it is estimated that 7.9 million children (aged 0-14 years) are treated in hospital for injuries. This represents 19% of all hospital injuries, while this age group represents only 16% of the total population.