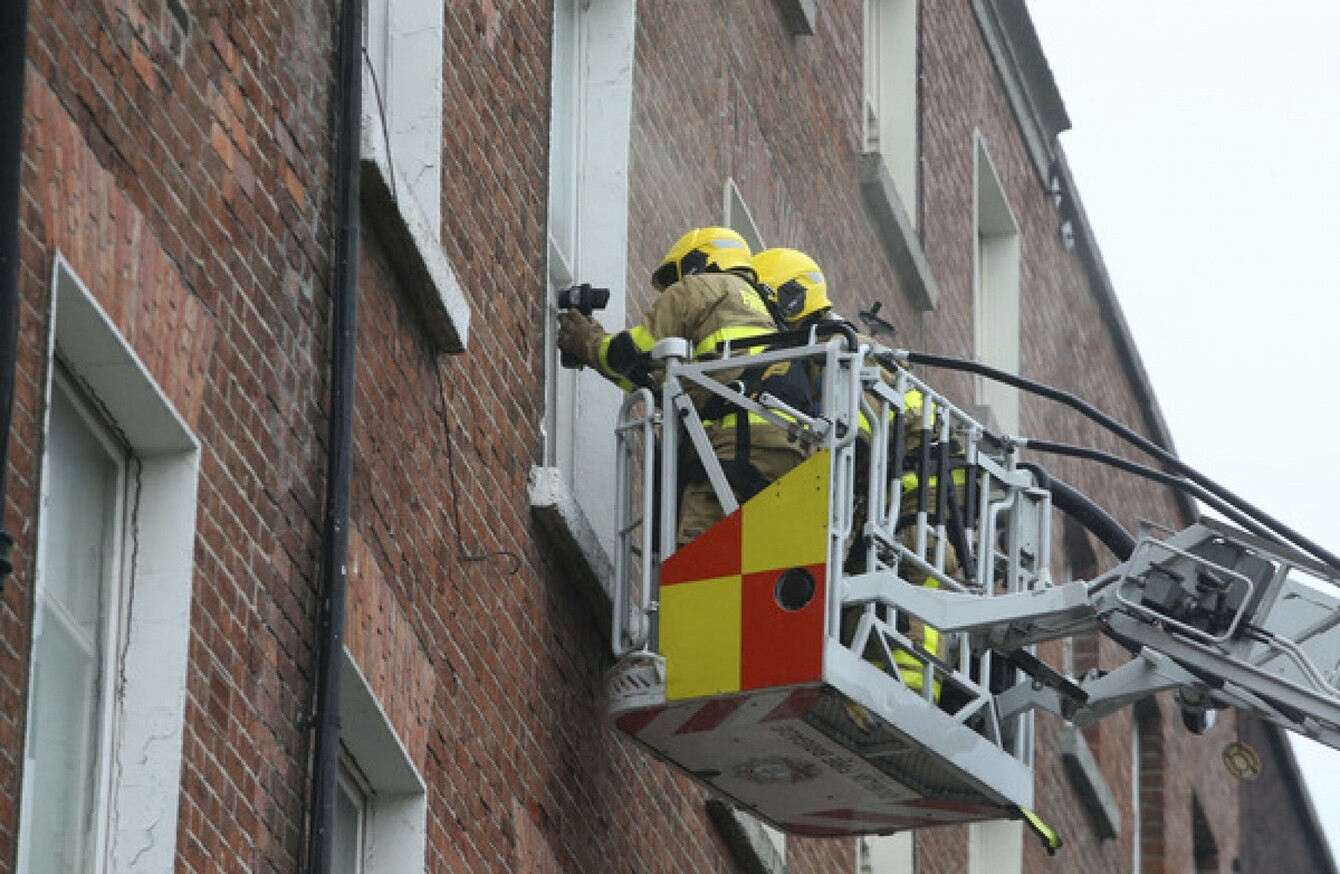 Members of Dublin Fire Brigade at the scene in MountJoy Square on Tuesday.
Image: Sam Boal/Rollingnews.ie
Members of Dublin Fire Brigade at the scene in MountJoy Square on Tuesday.
Image: Sam Boal/Rollingnews.ie
Updated 5.25pm
THE GREEN PARTY has said an inquiry should be made into the safety of buildings in Dublin's Mountjoy Square area, saying that this week's fire in was "near identical" to a fire in the same area 10 years ago.
Councillor Ciarán Cuffe has submitted a motion to be heard by Dublin City Council, saying that fire concerns need to be addressed at the buildings, and questions on what action was taken after the fire in December 2006 need to be answered.
Eight people were rescued after a fire at 12 Mountjoy Square in Dublin's north inner city earlier this week, while 35 people escaped without serious injury when No's 1 and 2 Mountjoy Square went on fire on 27 December 2006.
The buildings in the area have been predominantly converted into residential flats, and Cuffe is seeking clarity from the council on what they've done to ensure fire safety in the area.
Councillor Cuffe said: "It is a miracle that no one was killed in either fire. I will be seeking a full report from our Chief Executive Owen Keegan on what actions were taken by the City Council subsequent to the 2006 fire, and whether statutory notices were issued, or complied with."
Cuffe added that locals had raised concerns about these, and other, buildings in the past and that landlords in the area needed to be reminded of their responsibilities in this area.
He said: "We need to ensure that all landlords are fully aware of, and compliant with, their statutory responsibilities, and ensure in particular that over-crowding does not occur.
I want to be reassured by City Council officials that they have responded appropriately to these concerns, and that they will redouble their efforts to tackle planning and fire safety concerns in the future.
The motion submitted calls for an inquiry to give details of all complaints received relating to the building, investigate whether the building was over-crowded and provide details of any Section 59 Endangerment Notices issued under the Planning and Development Acts.
A statement on behalf of the management of the owners of the building was sent to TheJournal.ie and said that reports of up to 150 people living in the building where the recent fire took place as "not accurate".
The statement said: "The company can confirm that he Management Company has signed leases on 34 apartments with 64 tenants
"The quality of the apartments and of the living conditions for tenants were very good as all the apartments were refurbished over the last number of years.
The Management Company takes its responsibility for tenants' safety and welfare very seriously and is pleased that the fire prevention measures in place operated correctly.
"The Management Company has engaged very closely with all of the tenants, paying for temporary accommodation for them for a number of days after the fire, and refunding them all of their rent from the date of the fire."