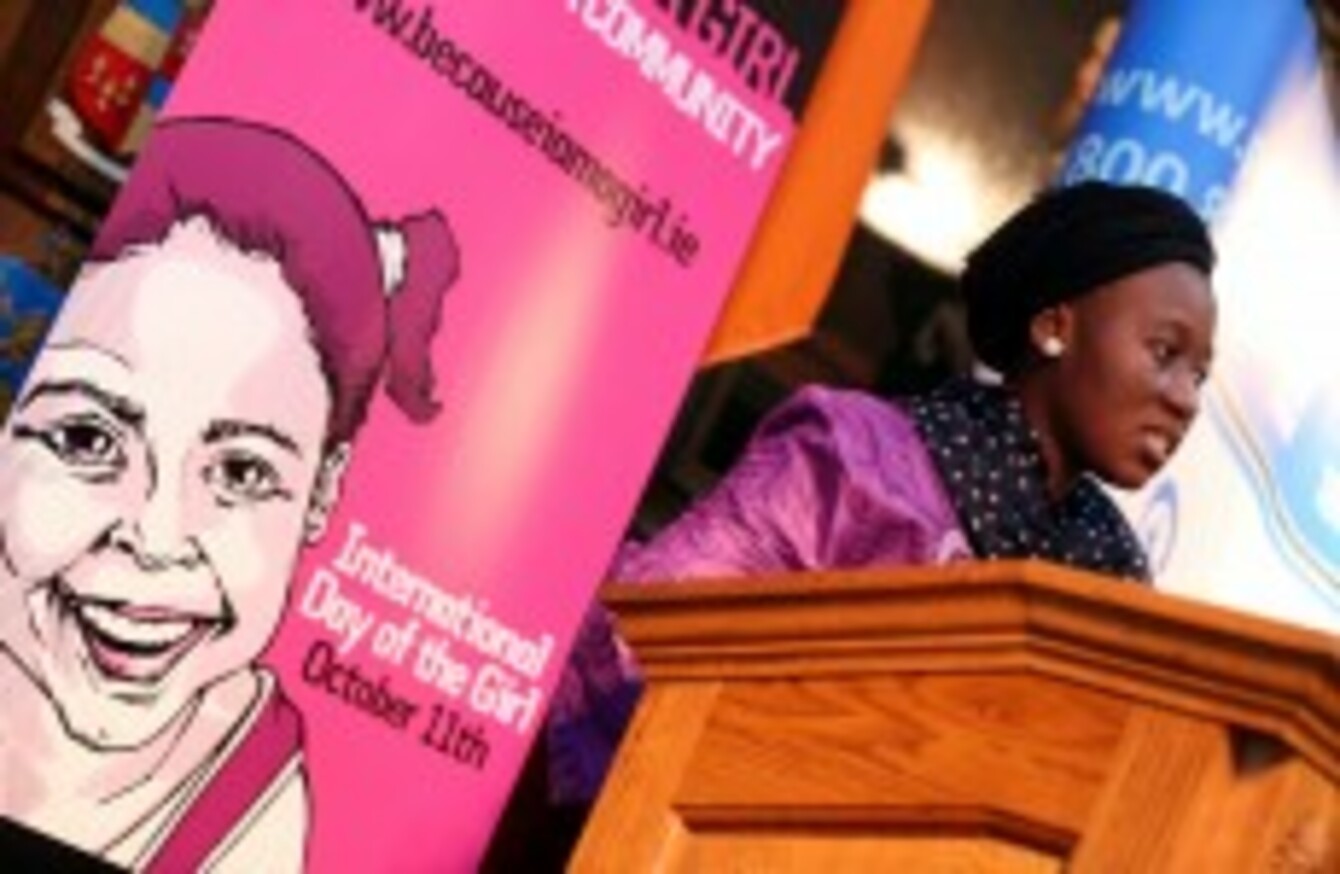 Mariama Kamara speaking at today's launch
Image: Jason Clarke Photography
Mariama Kamara speaking at today's launch
Image: Jason Clarke Photography
TODAY MARKS THE first ever International Day of the Girl, a 24-hour period set aside to celebrate girls and to highlight, discuss and advance their lives and opportunities across the globe.
UNICEF says the day aims to focus the world's attention on the challenges girls face in achieving their rights. The inaugural day also champions the individuals, organisations and governments working to empower girls.
One such group is Plan Ireland which is marking the occasion by calling for quality education for girls to be made an urgent priority in the fight against global poverty.
The charity claims the estimated 75 million girls missing from classrooms around the world is a major violation of rights and a "huge waste of young potential".
"It is indefensible that globally so many girls are still denied the right to education," CEO David Dalton said at the group's annual report launch today. "This absence from school is not only unjust but is an enormous waste of potential which has a tragic and long-lasting impact upon the lives of so many girls and should no longer be tolerated."
Plan Ireland's Because I am a Girl campaign, which launches today, hopes to help four million girls living in poverty worldwide, including adolescents who are pushed out of education by child marriage, violence, discrimination and poverty.
An educated girl is less vulnerable to violence, less likely to marry and have children while still a child herself and more likely to be literate and healthy in adulthood. For each year a girl stays in school her annual income rises by 20 per cent. She can break a cycle and actually go on to create a virtuous circle where entire communities come out of poverty.
As part of its campaign, Plan is recommending a minimum of nine years of schooling for both boys and girls. For this to happen, world leaders would need to make it a priority and funding would have to increase.
Sierra Leone teenager Mariama Kamara travelled to Dublin today to help launch the State of the World's Girls' report.
"When I was 15-year-old, my family arranged a marriage for me without my consent," she told the audience at the Mansion House this afternoon. "They put a lot of pressure on me to marry but I refused. Because of my involvement with Plan's Because I am a Girl projects, I understood my rights and knew about the importance of education. Many girls my age and much younger in Sierra Leone must leave school once they are married to take care of the home and to have children. I want to stay in school. To me, an education is the most important thing to have."
As part of today's celebrations, Plan has broadcast a special TV ad entitled Mass Construction on both TV3 and Sky.