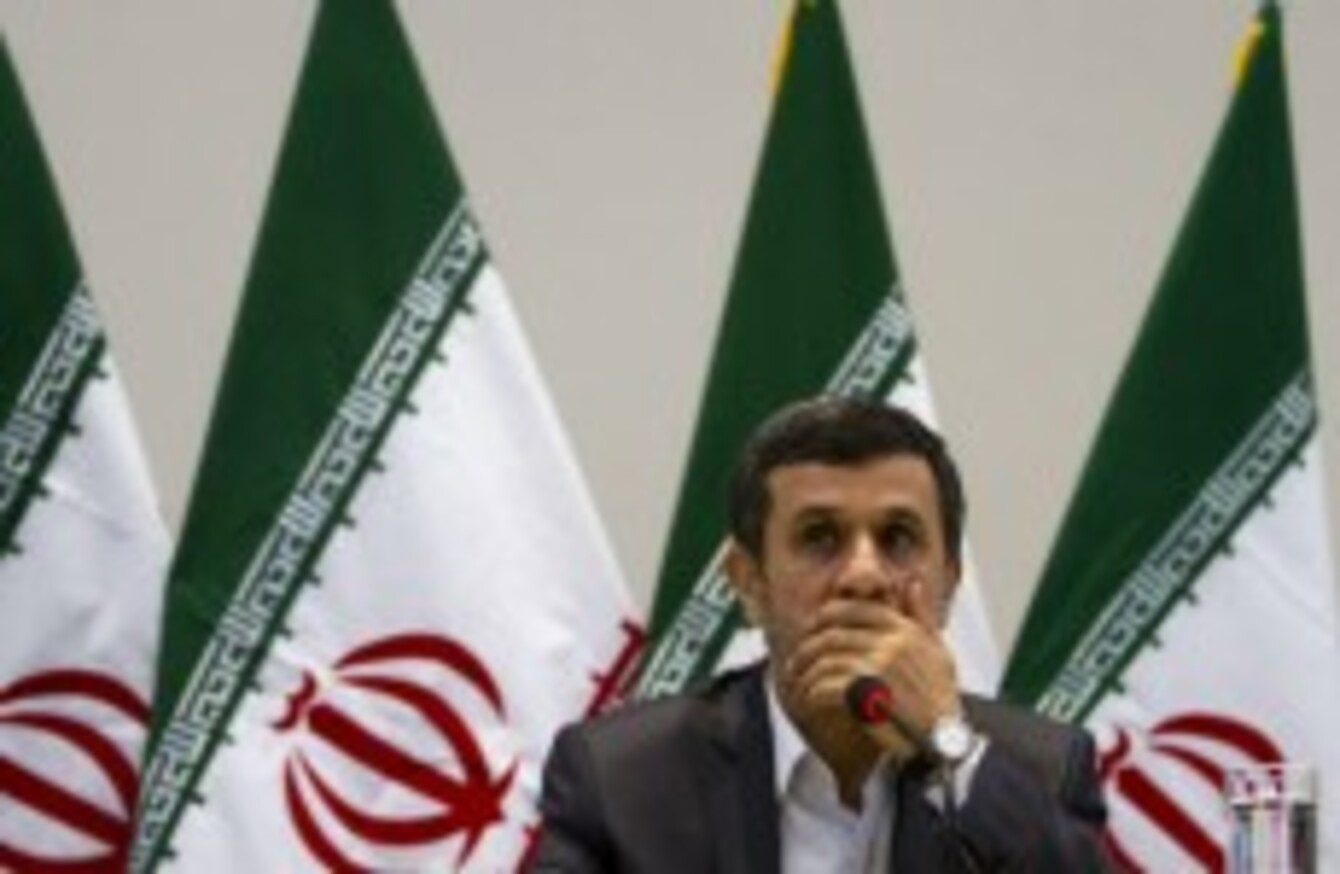 Iran's President Mahmoud Ahmadinejad at a Rio+20 event last month.
Image: Victor R. Caivano/AP/Press Association Images
Iran's President Mahmoud Ahmadinejad at a Rio+20 event last month.
Image: Victor R. Caivano/AP/Press Association Images
IRAN SAID TODAY that it was readying ballistic missile war games simulating a counter-attack against US or Israeli targets in the region in the event of air strikes on its nuclear facilities.
The three-day drill in Iran's central desert region was starting days after the European Union and the United States imposed severe new sanctions, and on the eve of another round of negotiations with world powers seeking to curb Tehran's nuclear ambitions.
"All units and missile bases have commenced their preparation and movement to the designated areas," the Revolutionary Guards, Iran's powerful elite military force conducting the exercise, said in a statement published by the official IRNA news agency.
It said the "tens of different missiles" to be used included the Shahab-3, a ballistic missile with a range of 2,000 km capable of hitting Israel.
The other ballistic missiles it said would be used – the Fateh, Tondar, Zelzal, Khalij Fars and Qiam – have lesser ranges of 200 to 750 km.
The exercise, dubbed Great Prophet 7, was to target a "replica air base" in the Kavir Desert, the statement said.
Brigadier General Amir Ali Hajizadeh, the head of the Guards' aerospace division handling missile operations, announced the war games Sunday by saying they showed Iran "will decisively respond to any trouble" caused by "adventurous nations".
He intimated the mock air base was modelled after US military bases in neighbouring Afghanistan, Bahrain, Kuwait and Saudi Arabia. Iran has previously warned it would target those US bases if Israel or the United States made good on threats to attack it.
IRNA quoted Hajizadeh as saying: "If they (the Israelis) make a move, they will give us a pretext to obliterate them from the face of the Earth."
He asserted that Israel needed US help for any military action against Iran, adding: "Since the US bases are within the range of our missiles and weapons, they (the Americans) definitely will not be pressured to go along with this regime (Israel)."
Exercises
The manoeuvres will take place during negotiations in Istanbul on Tuesday between representatives from Iran and from the P5+1 group comprising the five permanent UN Security Council members, the United States, Britain, France, China and Russia, plus Germany.
The talks have faltered through three rounds held this year, with it becoming clear that a vast distance divided the two sides. As a result, they have now been downgraded from a political director level to that of experts.
Iran chafes under the West's "carrot and stick" approach aimed at rolling back its nuclear programme through bargaining in the negotiations, and through the harder tactics of sanctions and the US threat of military action if all else fails.
Tehran has defiantly forged on with its atomic activities, particularly its highly sensitive uranium enrichment programme, while repeatedly denying Western suspicions that it is seeking a nuclear weapon "break-out" capability.
A sanction regime imposed by the UN Security Council and extended through punishing additional Western sanctions was reinforced last week.
The United States on Thursday bolstered restrictions on foreign companies doing business with Iran's central bank, unless their nations were granted exemptions on the basis of reduced Iranian oil imports.
And the European Union on Sunday enacted a bloc-wide embargo on Iranian crude that also blocked EU companies from providing insurance for tankers carrying Iranian oil anywhere in the world – a move affecting 90 per cent of that market.
Iran disputes data from the International Energy Agency that suggest the Western sanctions have already cut its vital oil exports by around 40 percent.
- (c) AFP, 2012