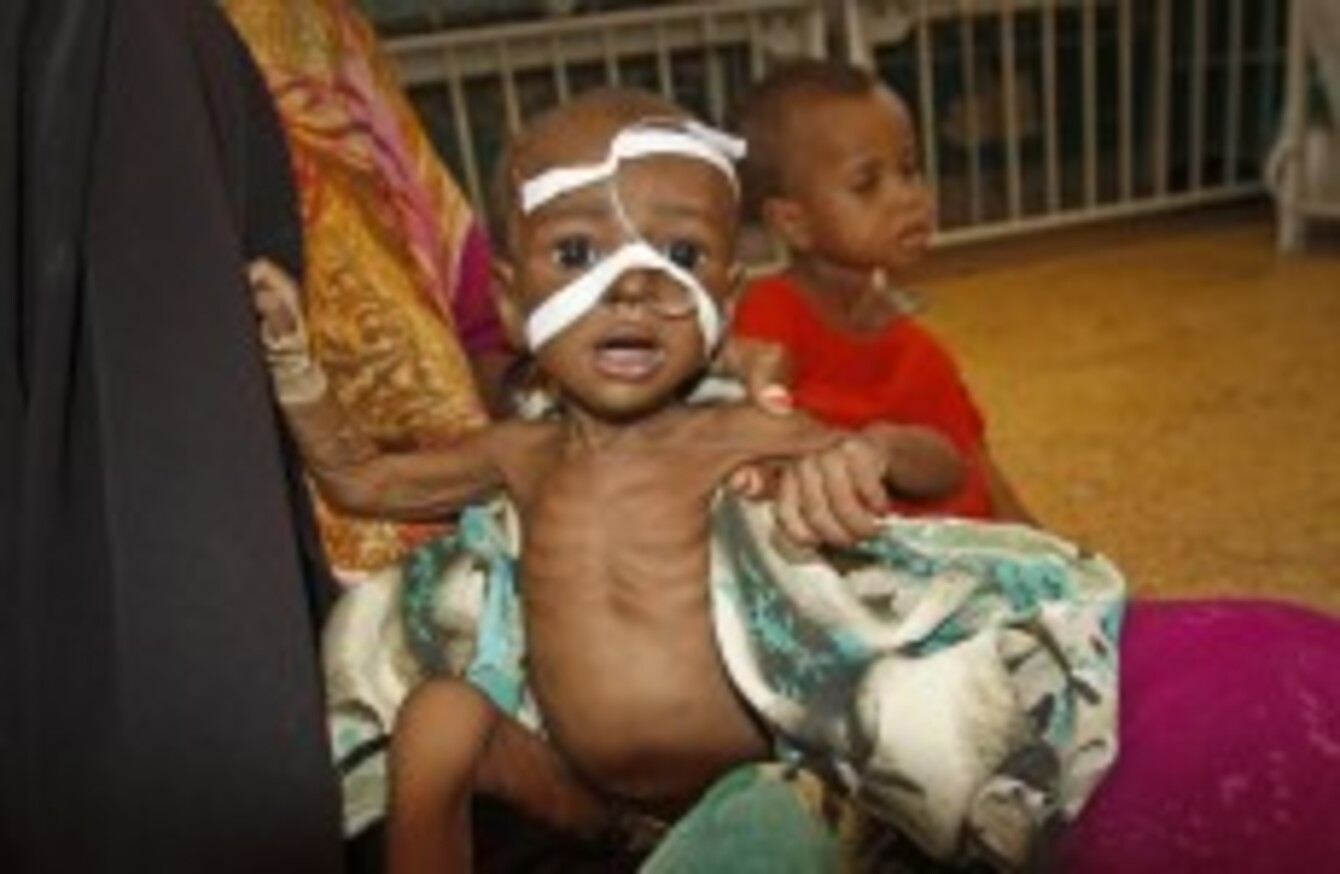 A malnourished two-year-old boy at a hospital in Somalia.
Image: AP/Press Association Images
A malnourished two-year-old boy at a hospital in Somalia.
Image: AP/Press Association Images
THE MAJORITY OF countries are failing to meet their donation pledges to developing countries.
A new report conducted by the ONE Campaign found that the EU fell short on aid commitments by almost €42 billion in 2012.
'Financing Africa's Future: The Fight Against Poverty' also found that only one third of life-saving aid goes to the least developed countries (LDCs).
Increasing this amount to 50% would see an additional €17.5 billion reach what the report's authors describe as "the most vulnerable people".
Ireland is the only donor country to allocate half (52%) of its total aid to LDCs in 2012, while nine donors allocated less than a quarter. Ireland donated about €650 million to African countries in 2013, down from €665 million in 2012.
The EU donated approximately €14.5 billion in 2012 and €12.6 billion in 2013.
The ONE Campaign is an international advocacy and campaigning group that was co-founded by Bono.
Sara Harcourt, co-author of the report, said that both donors and African countires must "play an equal part in meeting their commitments and empowering those on the frontlines of poverty".
The report noted that the World Health Organisation found that from 2010-2012, on average, only six of 43 African countries met their own spending goals on health, and only eight met their goals on agriculture.
Health and Education
Speaking about the report, Dr Sipho Moyo, Africa Executive Director at the ONE Campaign, said that "public spending by African governments should be targeted towards the fight against poverty".
In this regard, spending on agriculture is critically important for unlocking value chains, thus creating decent jobs and viable business opportunities, helping to secure a future for millions through inclusive economic growth.
"Equally important is the need to increase public investments to build resilient health systems that will save lives and help countries prevent crises such as the Ebola outbreak devastating West Africa today," Moyo stated.
The report found that countries such as the UK, Japan, Germany, and Norway had stepped up their efforts in recent years, while others such as France, Canada and Australia had shown "marked declines".