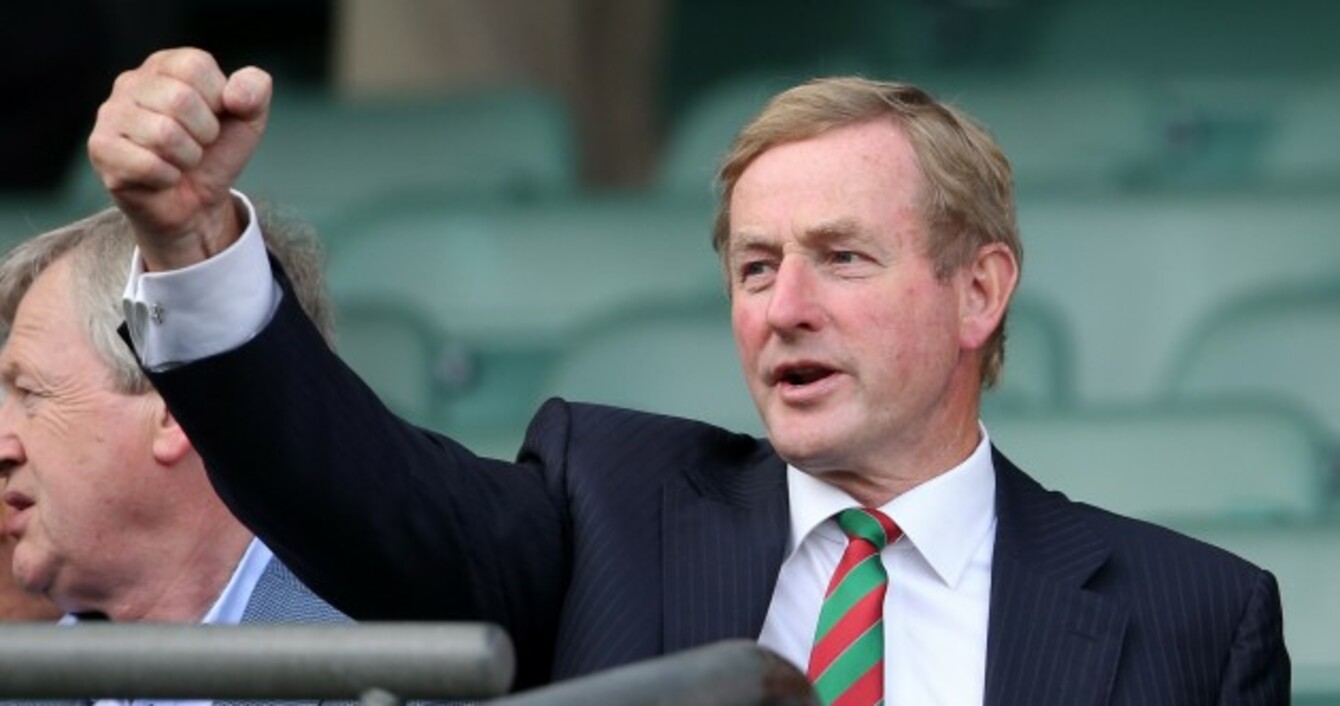 There'll be plenty of fist-pumping in Government Buildings today
Image: ©INPHO/Cathal Noonan
There'll be plenty of fist-pumping in Government Buildings today
Image: ©INPHO/Cathal Noonan
THE GOVERNMENT HAS today decided to go it alone and not avail of a precautionary credit facility when it exits the bailout programme next month.
In recent weeks the decision which faced the government and particularly Finance Minister Michael Noonan, who's been seeking out the views of the EU and IMF, was whether or not Ireland should have funding available to it in the event that its cost of borrowing rises when the bailout ends on 15 December.
If the Irish government was to have accepted funding, or 'a line of credit' as it has been referred to, there would have been concerns about the conditions attached to having this funding available.
We have been given no detail on what those conditions might have been, but given that the government has had to operate under strict guidelines as part of the EU/IMF bailout programme in the last three years it's fair to say that some of these conditions would have continued.
Equally it might have left the government open to accusations of bringing Ireland into a second bailout programme, which would have been a very easy and productive line of attack for the opposition parties.
So with all that in mind here are a few reasons why the government has made the decision it has…
It's looking good out there
Unlike this statue, Irish bond yields are not creeping up
The yield on a 10-year Irish bond – i.e. the cost of borrowing money on the normal lending markets – is around 3.5 per cent which is pretty good when you consider that at their peak these bonds had a yield of nearly 15 per cent and were at around 8 per cent when we entered the bailout.
Ireland has been steadily returning to the the lending markets since 2012 with the NTMA holding a number of bond auctions that have seen high demand from investors.
For example in March, the NTMA hoped to raise €3 billion through the issuance of new 10-year bonds but actually sold €5 billion worth with lenders willing to offer up to €12 billion.
We have a bit of a back-up already
Through bond auctions and other measures the people who look after the money at the National Treasury Management Agency, the NTMA, have built-up a stockpile of €20 billion in cash reserves.
We can use this money to meet our commitments and funding costs until early 2015 which leaves Michael Noonan looking like this…
We're hitting our targets
Having imposed a series of severe, austerity-laden budgets in the last few years the government has brought the deficit closer towards the 3 per cent of gross domestic product (GDP) target that is laid down under new EU rules.
The government is now targeting a deficit of 4.8 per cent in 2014 which is below the mandated target of 5.1 per cent.
This will ensure a primary balance and even a small surplus when the cost of servicing our loans is stripped out.
Ministers can also point to a raft of other economic data including the numbers on the Live Register falling, the economy growing (slightly) and jobs being created. That said, there are still major issues with household debt and particularly mortgage debt.
Angela Merkel and everyone else is okay with it
Michael Noonan has been touring the various offices of our Troika partners including the ECB, the European Commission and the IMF in recent weeks and all of them have given tacit endorsement to Ireland pursuing this course.
Even more importantly the German chancellor said "this was a decision for Ireland to make" according to the Taoiseach and the Germans are even hoping to help out by offering the assistance of a German development bank, KFW, to look at ways of lending to Irish SMEs.
#Open journalism No news is bad news Support The Journal

Your contributions will help us continue to deliver the stories that are important to you

Support us now
It's a good political move
This is perhaps one of the main reasons why the government decided to go it alone.
Politically this looks great for the Fine Gael/Labour coalition in being the two parties in government that led us out of "the mess" that Fianna Fáil dragged us into, in their words.
"Historic day", "sovereignty regained", and "standing on our own two feet" will be just some of the terms we will hear in the coming weeks before 15 December when the programme ends.
When we wake up on 16 December nothing will have changed from a practical point of view for Irish citizens.
Mortgage debt will not disappear, those who are unemployed will not suddenly have jobs, those who have decided to emigrate won't suddenly cancel their plane ticket.
"It won't mean that our economic and financial challenges are over," Kenny said today.
But don't expect the government to let 15 December pass without noting that the Troika are gone (even though they're not really) and Ireland has regained its sovereignty.
Pics: Photocall Ireland