Updated 11.55
NIGEL FARAGE CLAIMS there would be "zero threat" to trade between the UK and Ireland if Britain voted to leave the EU.
The leader of the eurosceptic Ukip party's comments came as Taoiseach Enda Kenny told a London conference of business leaders that the UK leaving the union was a "major strategic risk".
Farage told RTÉ Radio 1′s Morning Ireland he expected a concerted push from European politicians, the heads of multinational corporations and "unelected commissioners" ahead of a possible UK referendum on a so-called Brexit.
"Indeed, just as Ireland had in the run-up to the Nice referendum, when of course we should remind ourselves that the Irish people said no, only to be told that really isn't good enough Ireland – you're a little country you must rethink this and vote again and you were bullied into submission the second time around," he said.
Economic think-tank the ESRI last week said bilateral flows in goods and services could be cut more than 20%, putting the potential cost to the Irish economy at €3 billion a year.
Kenny today raised the spectre of job losses in both countries with the re-introduction of trade barriers between Ireland and the UK, adding that Northern Ireland would be the worst-affected region in the event of a Brexit.
Taoiseach Enda Kenny speaking in London today Source: Dominic Lipinski/PA Wire
"Ireland's commitment to the European Union is unqualified … I have no doubt that continued British membership of the European Union is good for Ireland and for relationships on these islands," he said.
Moreover, I believe that continued British membership of the EU is in Britain's own best interests. But that is for the British people to decide."
An earlier report from the London-based Open Europe think-tank suggested the cost to the Irish economy would be anywhere between 1.1% and 3.1% of GDP by 2030.
Extra costs would also include securing a border between Northern Ireland and the Republic to stem the free flow of EU citizens and goods into the UK. A European Movement/Red C poll earlier this year found 77% of Irish people wanted to stay in the EU, even if the UK left the union.
Kenny and British Prime Minister David Cameron Source: Eamonn Farrell/RollingNews.ie
'Zero threat'
But today Farage claimed there would be "absolutely zero threat to Irish trade" in the case of a Brexit.
When asked if Ukip had worked out what would happen to the Irish border, he said the two governments had a deal that predated the EU by "nearly 7 decades" and there was "absolutely no desire" in the UK for that to change.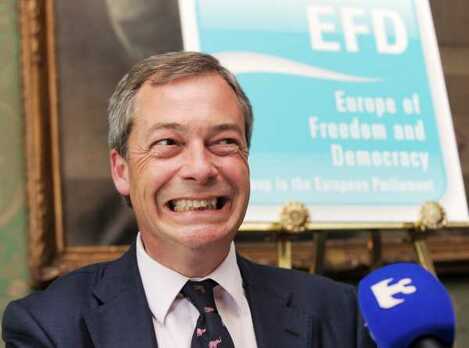 Farage in Dublin, 2012 Source: Laura Hutton/RollingNews.ie
"I think what's really interesting is that there is hardly a eurosceptic voice in Ireland, in politics, or in the media and yet twice in the last 15 years the Irish people have voted no to European treaties," he said.
Yes there are huge issues about the free movement of people from southern and eastern Europe, of course there are, and in many ways this might dominate the British debate in a referendum, but that has absolutely nothing to do with the relationship with Ireland that has been around for 70 years."
Taking back control
Farage pointed to Switzerland as being a non-EU member which had more free-trade deals than member states and added there was nothing in international law to stop the UK striking its own agreements.
"What we are going to see in the United Kingdom, if it votes to leaves, it takes back control of its fisheries, whose Supreme Court once again becomes supreme," he said.
Tomorrow British Prime Minister David Cameron is expected to set out in more detail what reforms he wants to keep the UK in the EU. They are broadly expected to cover areas including sovereignty issues in the face of an ever-closer union and access to benefits for migrants.
Ukip scored over 12% of the vote in the last UK election, but that was enough to deliver it only one MP in the 650-seat parliament. Farage lost his own bid for election in the Kent seat of South Thanet.
First published 10.20am
As the clock ticks down, get all the best Brexit news and analysis in your inbox