Updated Jan 31st 2020, 8:23 PM
THREE IRISH CITIZENS evacuated from the coronavirus-hit city of Wuhan in China have been quarantined in a UK hospital. 
The Irish people arrived at the Brize Norton RAF base in Oxfordshire this afternoon on a Wamos Air flight alongside 83 Britons and 24 non-UK nationals, mostly from EU countries.
The Irish and UK citizens have been brought to Arrowe Park Hospital in Merseyside, Liverpool where they will stay in quarantine for two weeks.
The convoy of six coaches arrived at the hospital shortly after 7.15pm this evening.
The vehicles were led by a police escort to the rear of the hospital and on to a side road leading to the accommodation block.
A medic wearing a white specialist suit was sitting next to the coach driver of each vehicle.
There have been two confirmed cases of the novel virus in the UK with a number of other cases confirmed in other European countries, including France and Germany.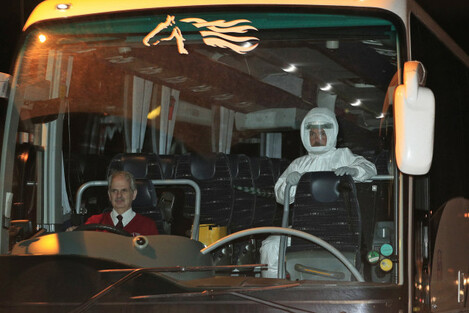 Source: Peter Byrne/PA Wire/PA Images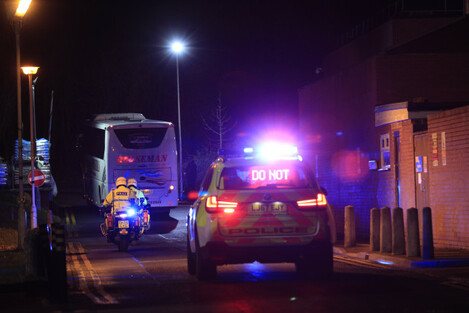 Source: PA Wire/PA Images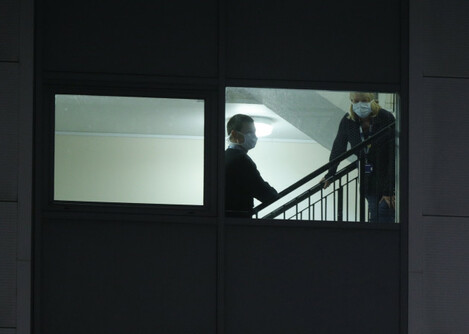 Medical staff at Arrowe Park Hospital in Merseyside pictured ahead of the arrival of British and Irish nationals from Wuhan. Source: Peter Byrne/PA Wire/PA Images
Patients disembarked from behind barriers covering the accommodation entrance, but some could be seen inside wearing masks as they walked upstairs to their rooms for the next fortnight.
They are being given fully-furnished rooms, food, laundry facilities and have access to a team of medical staff who will closely monitor their condition.
Kitchens are available for those who wish to self-cater, and families are being kept together, with games consoles, toys and cots provided.
Driver Liam Musgrove passed the convoy as it travelled up the M6 motorway.
"The experience was harrowing and quite surreal," the 28-year-old told the PA news agency.
"Seeing such an organised operation in place it really puts into perspective what a deadly virus this could be."
The World Health Organization yesterday declared the outbreak a global health emergency, but said it was not recommending any international trade or travel restrictions.
Chinese health officials said this morning that the death toll in the country from the virus had risen to 213, with the number of known cases rising from 7,711 to 9,962.
No deaths have occurred outside China, although cases have been confirmed across at least 23 countries.
The number of coronavirus cases worldwide has surpassed that of the Sars epidemic, although death rates are lower.
Many other countries, including Australia, South Korea, Singapore and New Zealand, have said they plan to quarantine evacuees for two weeks to avoid spread of the virus.
- With reporting from PA
TheJournal.ie's coronavirus newsletter cuts through the misinformation and noise with the clear facts you need to make informed choices. Sign up here