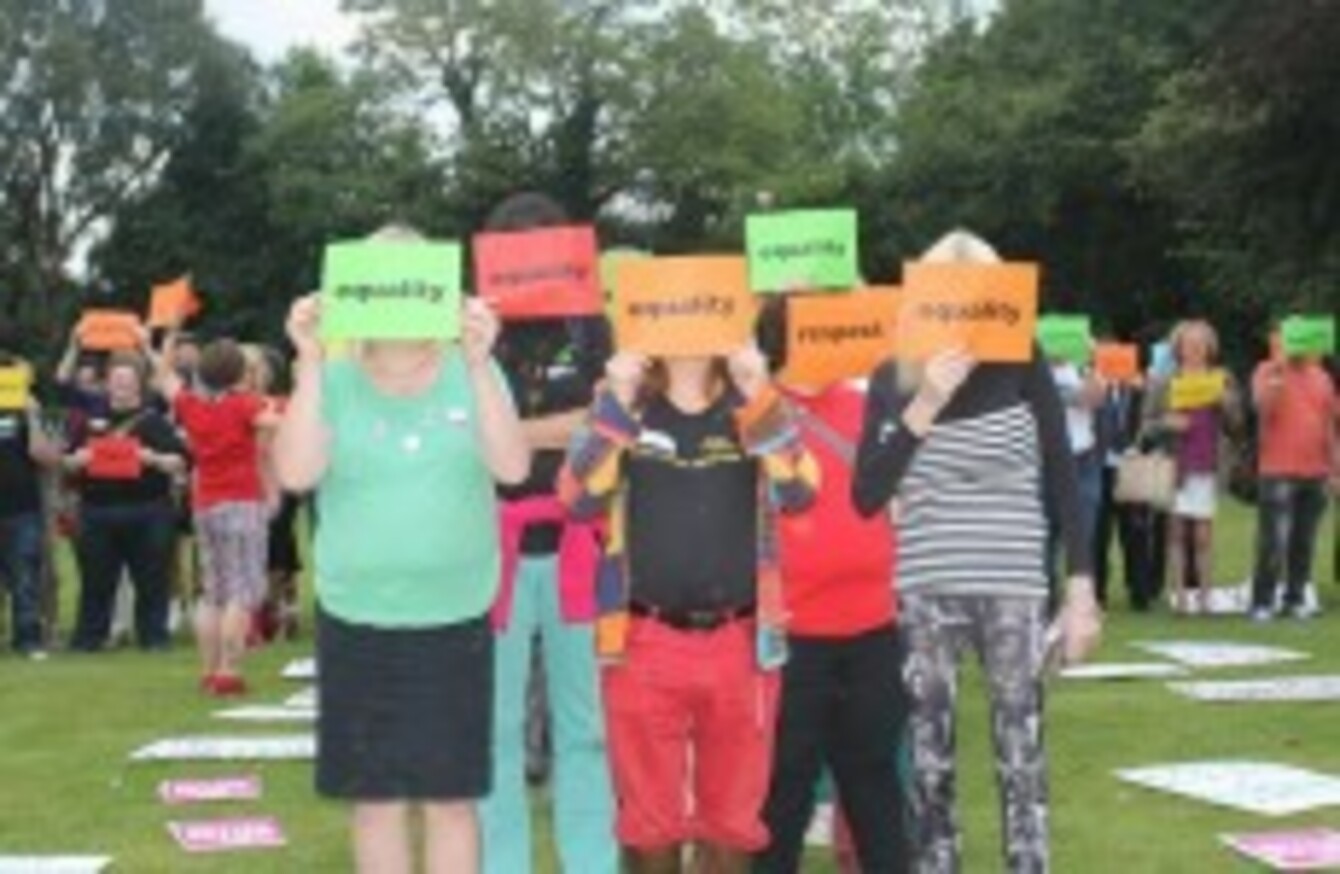 Supporters of TEA
Image: Alison McDonnell
Supporters of TEA
Image: Alison McDonnell
UP TO 300 people are expected to attend Ireland's first public transgender rally outside the Dáil later today.
Activists want to raise awareness that being transgender is still classified as a mental disorder, and not an identity as they believe.
A spokesperson for one of the group's involved, Trans Education and Advocacy, told TheJournal.ie that the the people attending the Rally for Recognition will be urging politicians to introduce inclusive and respectful Gender Recognition legislation that will not enshrine pathologisation of trans identities into Irish law.
A report by a government advisory committee passed to Social Protection Minister Joan Burton recently outlined recommendations for legislation to allow transgender people to change the gender marker on their birth certificate but only if they fulfil the medical criteria of a Gender Identity Disorder diagnosis or present evidence of reassignment surgery.
If pushed through, the move would set Ireland two steps back from international best practice on what has been described as a human rights issue.
"Currently many countries are fighting to remove that clause from their gender recognition legislation but Ireland is considering putting it in," said Leslie Sherlock. "As it is, Ireland is one of the last countries in Europe to get gender recognition laws.
"The identity of trans people is really problematic and we see it as a human rights issue.
It is like being gay, which is not an illness or a mental disorder. That is why we are fighting for its depathologisation.
"We would argue that although it can still be a medical condition, it is not a mental illness."
Argentina has been cited as a country to emulate when it comes to transgender issues.
In the South American nation, trans people can change the gender marker on their birth certificate by simply signing an affidavit.
"That is all that should be required," remarked Sherlock. "There is enough stigma attached to the identity without having more enforced by the State's unnecessary legal hoops."
There should also be a separation of the legal and medical issues, according to TEA.
Organiser Cat McIlroy added, "Although the lesbian, gay and bisexual communities have experienced significant progress in Irish legal and social spheres, trans people have been left behind.
Our main goal is to provide a space for trans people and allies to be visible and engage in action that will empower them to speak out about the right of trans people to be recognised without pathologisation or further delay by the Irish State.
Today's demonstration, due to begin at 2.30pm, has been organised to mark International Day of Action for Trans Depathologisation. Activists from across Europe will be in attendance at the event coincides with the European Region of the International Lesbian, Gay, Bisexual, Trans & Intersex Association (ILGA-Europe) annual conference which is taking place in Dublin.
Speakers at the Rally will include representatives from ILGA-Europe, Amnesty International, Gay Doctors Ireland, BeLonG To Youth Services, Union of Students Ireland (USI), LGBT Noise, Transgender Europe (TGEU) and Transgender Equality Network Ireland (TENI).