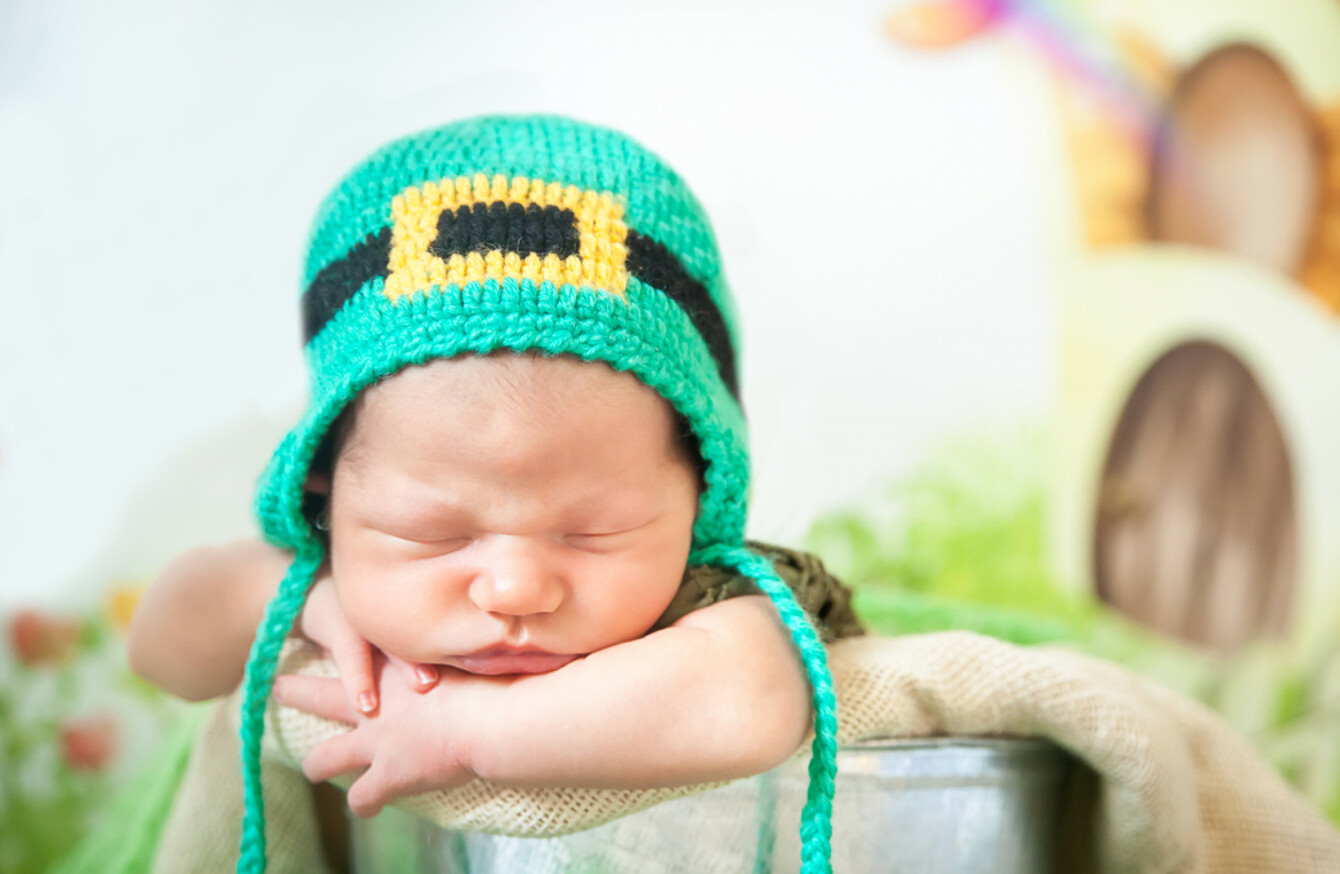 Wonder what this little guy is called?
Image: Shutterstock/Olga Gorchichko
Wonder what this little guy is called?
Image: Shutterstock/Olga Gorchichko
IRISH BABY NAMES are making their mark across the world.
We're used to looking at lists of what baby names are popular in Ireland, but what about the Irish names that are making waves overseas?
It's a tricky thing to do because not every country releases a list every year, and even from those that do sometimes it's difficult to say exactly where a names comes from.
Celtic names, Latin names and even English language names have been mixed for centuries now, but there are some names that certainly our own.
So without being extensive about it, here are some Irish names that are representing us abroad.
(We're leaving out the UK by the way because there's far too much overlap, both name wise and with Irish people living there.)
United States
It doesn't require much explanation to know why Irish names are popular in the US, all that emigration and the whole English-speaking connection doesn't hurt either.
In the US, the Baby Center website is a good resource for having a good nose through the list of names and it throws up some good Irish names.
One theme internationally is the popularity of the name Liam.
It's been a well-known name for some time and the fact that it's a derivative of the ever-popular William also helps. In the US, Liam was second most-popular boys' name this year, behind only Jackson.
Three other names of Irish-origin made the top 50. They were Aiden, (#9) Logan (#10), Connor (#34) and Owen (#38).
Among the girls, there are a few names that have English origins but could also be considered Irish, they are Evelyn (#12) and Riley (#23).
Canada
Okay, so the above singer might pronounce her name 'See-air-a', but it's spelt Ciara so we're claiming that. Pronounced either way, the name is in 44th place in the top 100 list of girls' names in Canada.
On the boys' side, the aforementioned Liam takes the top spot as the most-popular boys name in Canada. There's also a few others to make the top 100, Declan (#84) and Finn (#88).
Australia
Moving to the southern hemisphere, but keeping it in the English-speaking world, our Australian cousins have been busy choosing Irish names for their babies.
Irish boys' names appear to be more popular than girls with four making the list, Liam (#25), Lachlan (#30) and Connor (#31) all featuring quite high.
For girls, there's one inclusion further down the list. Quinn may be more known as a surname in Ireland buts it's #78 on the first-name list for girls.
We might even claim Kiara (#99) as it sounds the same as the Irish Ciara.
#Open journalism No news is bad news Support The Journal

Your contributions will help us continue to deliver the stories that are important to you

Support us now
New Zealand
The final English language country is among the most Irish-prone of the list here. In New Zealand's top 100 baby names they have one Irish girls' name and no less than seven boys' names.
Again, Quinn (#47) features for the girls while for the boys there is Liam (#11), Connor (#29), Finn (#34), Austin (#41), Logan (#50), Quinn (#79) and Patrick (#90).
Europe
Finally, for the hell of it, we took a look at two European countries, France and Germany, to see if the Irish influence and Gallic history has seen Irish names make an appearance in their lists.
Shock of shocks, Liam is among the most popular names in both countries, it's in 8th place in France and 17th in Germany among the boys.
France's top baby names are published in a book every year called L'Officiel des prénoms and website enfant.com gives a bit of background about the name Liam.
First name to Celtic origins, Liam is the Irish form of William, himself derived from Guillaume. It is celebrated on 10 January with Saint Guillaume, a relative of the Counts of Nevers at the beginning of the 13th century, who was Archbishop of Bourges.
There's one more on the French list, Nolan breaks into the top 20 of male baby names in 15th place.
As the same website points out, Nolan: "Is a Celtic derivative of Neil, Niall, meaning 'the young hero, the young champion'."