IRELAND'S JUDICIARY HAS offered its strong support to Poland's judiciary, after a retirement "purge" came into effect this week which forced 27 judges to retire.
The European Network of Councils for the Judiciary (ENCJ) expressed "grave concern" about developments taking place in relation to Poland's judiciary.
Today, Ireland's judges backed that concern, saying it was another attempt by the Polish government to bring their judiciary under the control of the government.
"We, the Judiciary of Ireland, strongly support the ENCJ statement regarding the Polish judiciary, and we express our grave concerns about the reported situation in Poland and the likely impact on judicial independence."
Earlier this week, the ENCJ offered moral support to Poland's disputed Supreme Court chief justice, after she showed up for work in defiance of the retirement law she argues is unconstitutional.
Fifteen Supreme Court judges, including its chief justice Malgorzata Gersdorf, received retirement notices from President Andrzej Duda yesterday.
Gersdorf, 65, has refused to comply with a new law that took effect on Tuesday at midnight and reduces the retirement age for Supreme Court judges from 70 to 65.
She argues that the constitution sets her term as chief justice at six years, overriding the law, which the EU has slammed as a threat to judicial independence.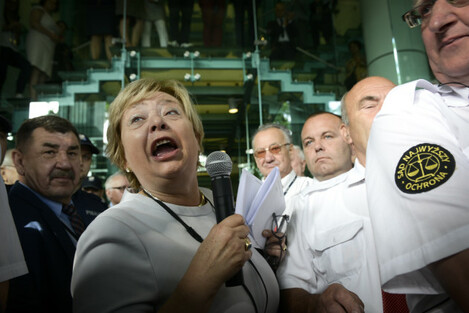 Chief Justice Malgorzata Gersdorf arrives at the Supreme Court building in Warsaw. Source: SIPA USA/PA Images
Although they contest the retirement law pushed through by Poland's right-wing Law and Justice (PiS) government, the 14 other judges have complied with it, court spokesman Michal Laskowski said.
"We have no doubt in our mind that we have just met with the Supreme Court chief justice," Kumi Naidoo, Amnesty International's incoming secretary general, told reports following talks with Gersdorf.
Dutch Supreme Court chief justice Maarten Feteris and Kees Sterk, president of the ENCJ and Marc de Werd, from the Consultative Council of European Judges at the Council of Europe, also met with Gersdorf.
"All three of us have the same message; we are all very worried about the rule of law in Poland, worried about separation of powers and the independence of judges and we strongly hope that judicial independence will be restored very soon," Marc de Werd told reporters following the talks.
The PiS government has refused to back down despite the EU legal action, insisting the reforms are needed to tackle corruption and overhaul a judicial system still haunted by the communist era.
The EU launched legal action against Poland on Monday over the retirement rules that could end up in the European Court of Justice (ECJ), the bloc's top tribunal.
Brussels in December triggered Article Seven proceedings against Poland over "systemic threats" to the rule of law in connection with sweeping judicial changes introduced by the PiS government, which could eventually see Warsaw's EU voting rights suspended.
© – AFP, 2018, with reporting from Gráinne Ní Aodha