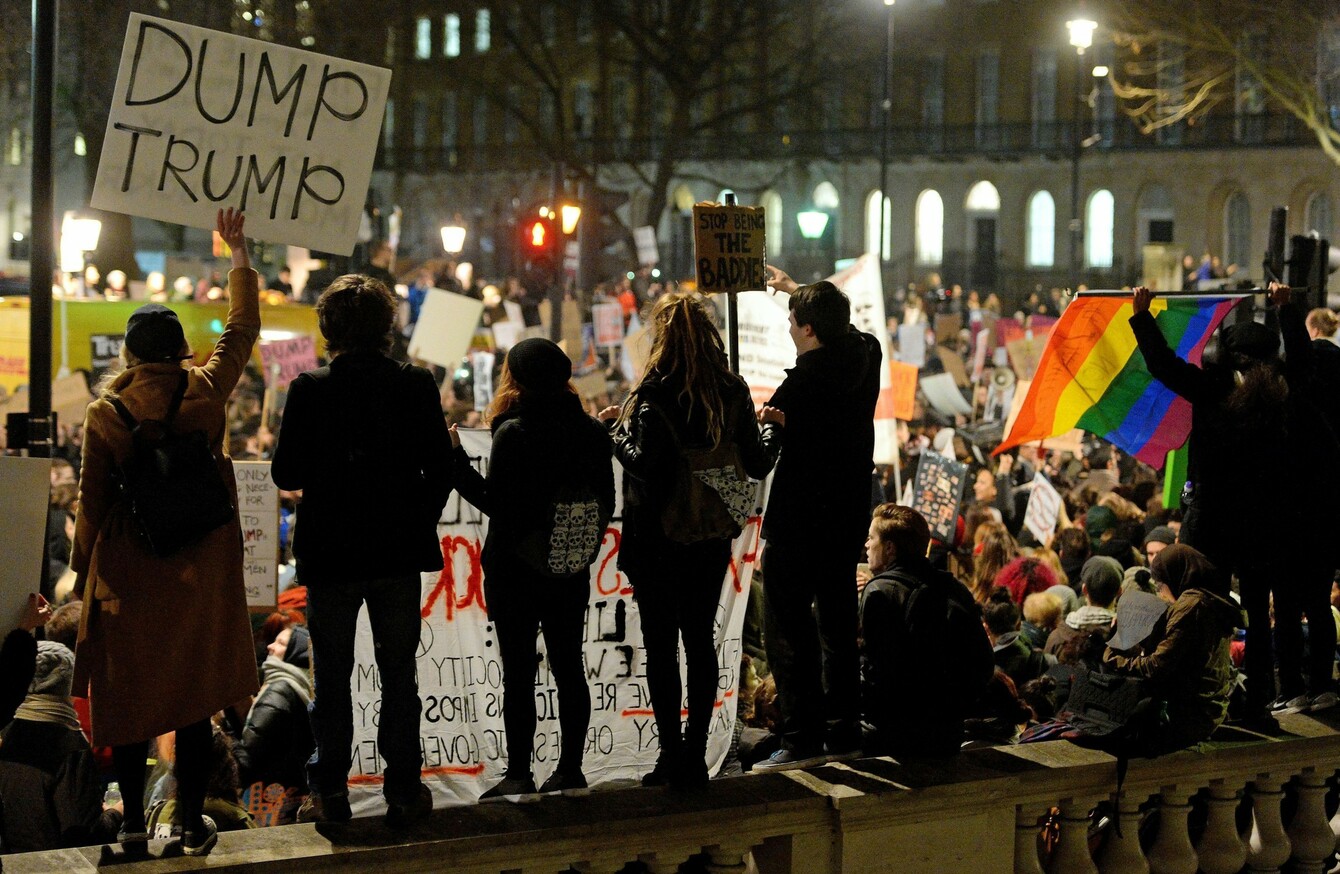 London demonstrations to the announcement of Trump's travel ban on citizens from seven predominantly-Muslim countries.
Image: Victoria Jones/PA Images
London demonstrations to the announcement of Trump's travel ban on citizens from seven predominantly-Muslim countries.
Image: Victoria Jones/PA Images
US PRESIDENT DONALD Trump's bold changes are already having a negative effect on immigrants – but they're also prompting a positive response, this time, in the form of Irish lawyers offering free advice to those affected by the ban.
Over the weekend, Trump signed an executive order to stop people from seven countries from entering the US (even if they have visas), and yesterday, he fired Attorney General Sally Yates from her position after raising questions about the ban.
In the wake of the Executive Order banning citizens from Iran, Iraq, Sudan, Libya, Yemen and Somalia from entering the US for three months, and citizens from Syria indefinitely, people outlined their outrage at what seemed to be an extreme and sudden action.
Canada offered to take in more refugees; Starbucks offered to hire 10,000 refugees worldwide, AirBnB offered to house immigrants for free, and Irish politicians voiced their opposition to the ban.
For some Irish lawyers, voicing opposition to Trump's travel ban wasn't enough – they wanted to offer their help to those affected by Trump's ban.
And it is a confusing mess: those who are dual citizens of both America and one of the banned countries are allowed to return; but those who have an appointment with the American Embassy in Ireland for a US visa shouldn't turn up for their appointment because they won't be processed.
There are multiple other scenarios that's confusing for people who want to travel – so Irish lawyers are offering to counsel and advice on what they are entitled to and legally able to do.
Professor Fiona de Londras is an Irish academic and chair in Global Legal Studies at Birmingham Law School. She compiled a list of Irish solicitors, barristers, legal experts and academics who are offering to help those affected by Trump's travel ban.
She explained the thinking behind the list to TheJournal.ie:
We wanted to make sure there was an easy-to-find online resource for people who might be within the pre-clearance area in the airport, and in need of advice but who are unfamiliar with Irish law and lawyers.
The list is not a group, but individual lawyers "who were happy to be listed as offering fee-free advice on the website", as de Londras says.
She said that the motivation to sign up will differ for each law expert.
"For me, as an academic, what prompted me to ask for volunteers, together with preparing template letters for people to write to their TDs, was a concern with ensuring that Ireland would not facilitate what I consider to be the unlawful Executive Order being applied on Irish soil."
Dr Darius Whelan is a lecturer of law at University College Cork, says that even as a 'generalist' he thought he could help by helping them find the right specialist. He's also concerned that "the importance of truth and the rule of law are under threat in the USA".
"President Trump is making executive orders which are of questionable legal validity. Relevant members of his cabinet do not appear to have been consulted.
There appears to be some doubt as to whether the organs of the state are abiding by court orders. The Department of Homeland Security issued an ambiguous statement which claimed to be abiding by President Trump's order while also abiding by court orders.
When the Acting Attorney General failed to support the executive order on immigration due to legal concerns, she was not only dismissed but rebuked for "betraying" the Department of Justice.
"I believe concerned lawyers have a duty to help out as best we can."
View the list, which will be updated regularly, here.