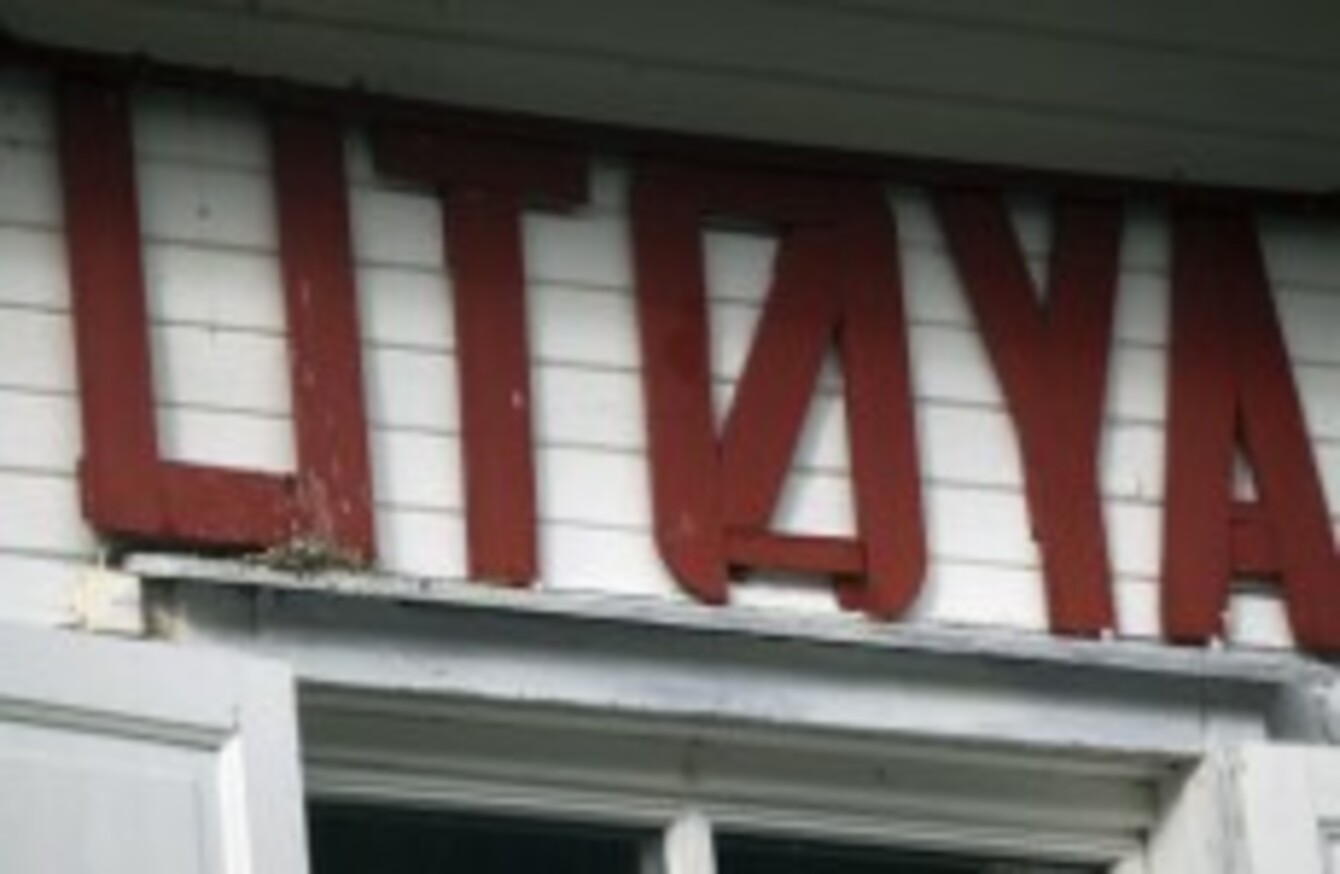 A sign on a building on Utoya island in Norway, where
Image: Darko Bandic/AP/Press Association Images
A sign on a building on Utoya island in Norway, where
Image: Darko Bandic/AP/Press Association Images
A WOMAN WHO survived the Utoya island atrocity will speak in Dublin today.
Elin L'Estrange, whose father is from Dublin, will speak to more than 150 young Irish pupils at Tallaght Stadium today about the Show Racism the Red Card campaign.
Speaking to TheJournal.ie, the member of Norway's Labour Youth said her own experiences on Utoya island on 22 July this year had shown her how important it is to fight racism.
"It is a grassroots campaign and targets kids and will make a difference," she said of the Show Racism the Red Card campaign.
And it reaches young people where they are in a simple way. It portrays how racism isn't good. I am hoping this campaign will be successful and people can think about their attitudes.
L'Estrange, who is 24 years of age, was one of the Labour Youth members on Utoya for a conference when killer Anders Behring Breivik rampaged through the island, killing at will.
Breivik was a right-wing extremist whose his attacks on Oslo and Utoya island were racially motivated.
The Labour Youth party has an anti-racist message, said L'Estrange, who added:
Mine is a terrible story about a terrible event – that is one aspect of racism. But everyday racism is a big problem.
She explained that the Labour Youth summer camp was for people aged from 13 to 30 years old, which included L'Estrange, her brother, and many of their friends.
L'Estrange described her experiences on Utoya island as "a terrible thing that can't be explained" and said she finds it impossible to put into words exactly how she feels about what happened.
You rarely think that you could die.
But she said if anything good can come out of it, it will be that people become aware of racism and take a clear stand against it.
She was on her fifth visit to Utoya island and "was having a great time until it happened".
"I saw a lot of stuff," she said softly.
I heard gunshots… I was with my brother and hid in an office with him. We ran to the water and tried to hide there. But there are not really many hiding places there, so we ended up just swimming. We went far… we were very lucky to just get out of it without being shot at.
Speaking about what happened that day can be difficult for the young woman.
I've found it is impossible to explain.  There is no way to explain how frightened you become.
Sixty-nine people were shot and killed on Utoya island, but at one point L'Estrange and her friends believed 80 people had been killed.
"You just have to get through it, don't you," she said.
But even after suffering through such an atrocity, she says that if a new camp took place on the island, she might go.
I went back out to the island afterwards. It was very uncomfortable but it was good to be able to. We walked around, we found our hiding places, and we laid down flowers for the dead. We listened to Labour Party member speak – that what was going to happen before [the shootings].
L'Estrange said that having such a horrific thing happen to her makes her more determined to spread the anti-racism message.
"I'm still interested in smaller issues," said L'Estrange, who is currently studying political science at the University of Oslo.
She said she hopes she can make a difference just by telling her story, and that people will think about their attitudes to racism.
During this visit, she has been able to meet up with her Irish relations, which was emotional experience.
It is very special. You rarely think that you could die. It gives you a lot of perspective.
Co-ordinator for Show Racism the Red Card Garrett Mullan said:
Show Racism the Red Card produces education resources which harness the role model status of leading sports personalities to convey the anti-racism message to young people throughout Ireland.
Elin lost a lot of her friends who had attended the summer camp and the experience has been traumatic.  We salute her courage and the courage of others in responding to the attacks by promoting the anti-racism message in Norway.