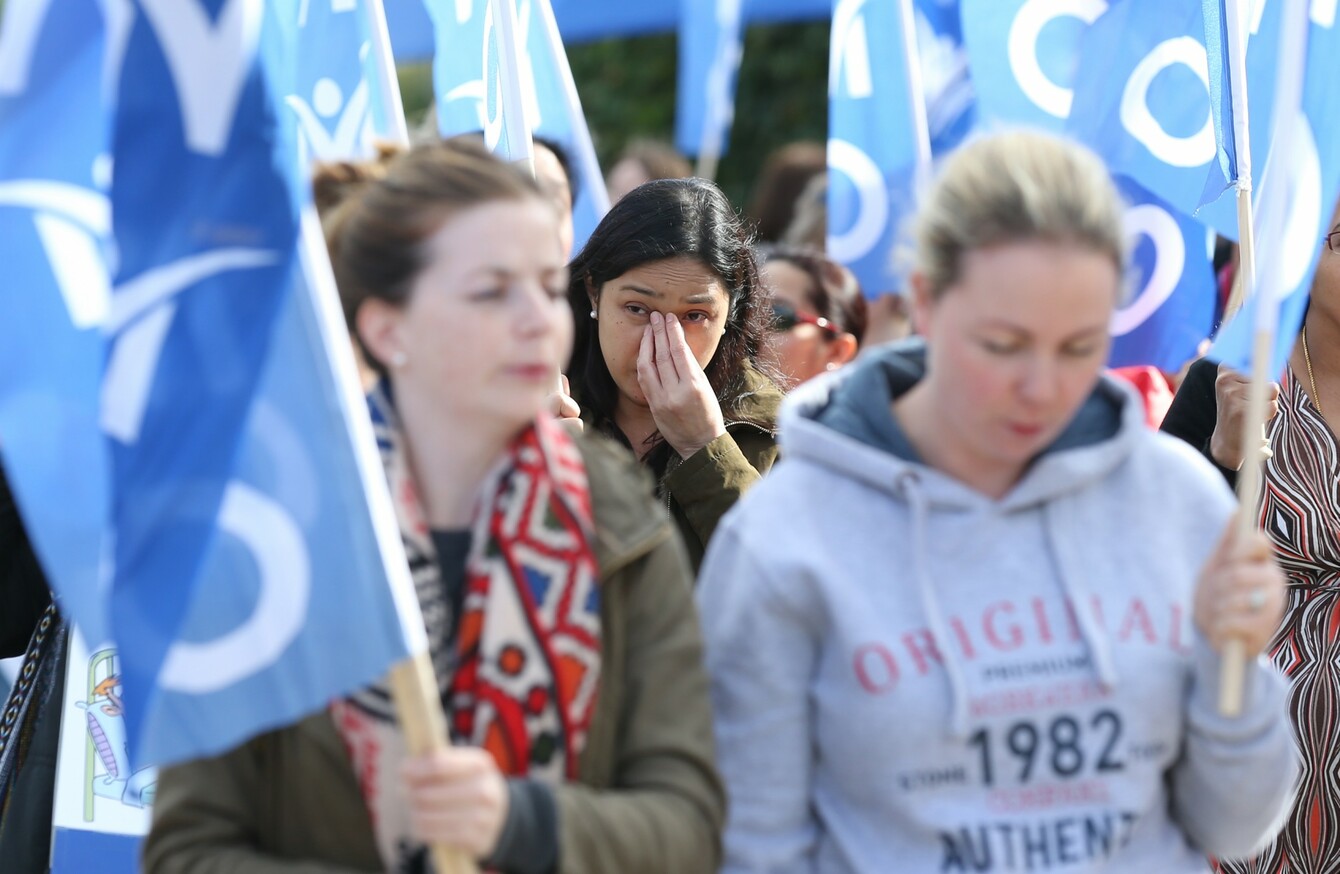 Image: Photocall Ireland
Image: Photocall Ireland
THERE HAS BEEN a lot of talk about the conditions nurses and midwives must work under. But although some consider working abroad because of these conditions, the reasons for nurses travelling to places like Australia is multifaceted.
This is according to Margaret Cox, the director of ICE Jobs – a training organisation which sends professionals to Australia and links them with companies looking to hire.
"There are better opportunities, and a greater respect for the nurse's role," says Cox. "The work and pay conditions are better, and the lifestyle plays an important part too – they have bright evenings and be able to go for a walk after work."
Anecdotally, the nurses tell her that the director of nursing are much more accepting and open to the type of things nurses can do, giving them more recognition and opportunity for career development. There is also a lower nurse-to-patient ratio, meaning that nurses are less stressed at work and feel freer to do the job they want.
Nurses [in Ireland] are stressed because of a lack of beds and a lack of staffing. They feel they are constantly in this pressure cooker of having to deliver quality service.
Cox says the doctor and nurses partnership roles are more developed in Australia, and that the training is more structured because of the greater number of nurses available.
She also says that the focus of work-life balance is integral to the system; "the Australian culture means that they make things fit around your home life".
Irish nurses' reputation
The agency, which was set up in Ireland in 1972, was initially contacted by companies from abroad that contacted them because of the high demand for Irish and UK nurses – a demand that is still there today.
"Nurses in the past worked through the hospitals to learn what they needed to know. But once it was brought in that you had to undertake a degree, education was realigned to meet international standards and there were greater opportunities abroad."
Cox also says there is a great respect for Irish and UK nurses: this is because of a great sense of caring and vocation, and a clear focus on the health of the patient.
"You might have other nurses that have the same technical ability and training, but that same sense of kindness and care isn't there."
#Open journalism No news is bad news Support The Journal

Your contributions will help us continue to deliver the stories that are important to you

Support us now
Budget 2017
INCE Jobs have organised three recruitment campaigns with Australian employers since 2007, and this year, the number of days it will be held for has increased to five – which means more days spent by Aussie recruiters here than in the UK
In this week's budget, it was announced that up to 7,500 nurses and midwives will see an extra €1,000 in next year's total pay as certain increments are to be restored from 1 January 2017.
She said that although this announcement was welcomed, it would not address the "underlying problem in healthcare in terms of nursing care".
The ratio issue and the structure needs to be reviewed and frontline staff be able to contribute, increase the number of beds, and create a better system of admission.
"There's huge initiative and drive in Irish nurses, but sometimes you just get tired of battling."