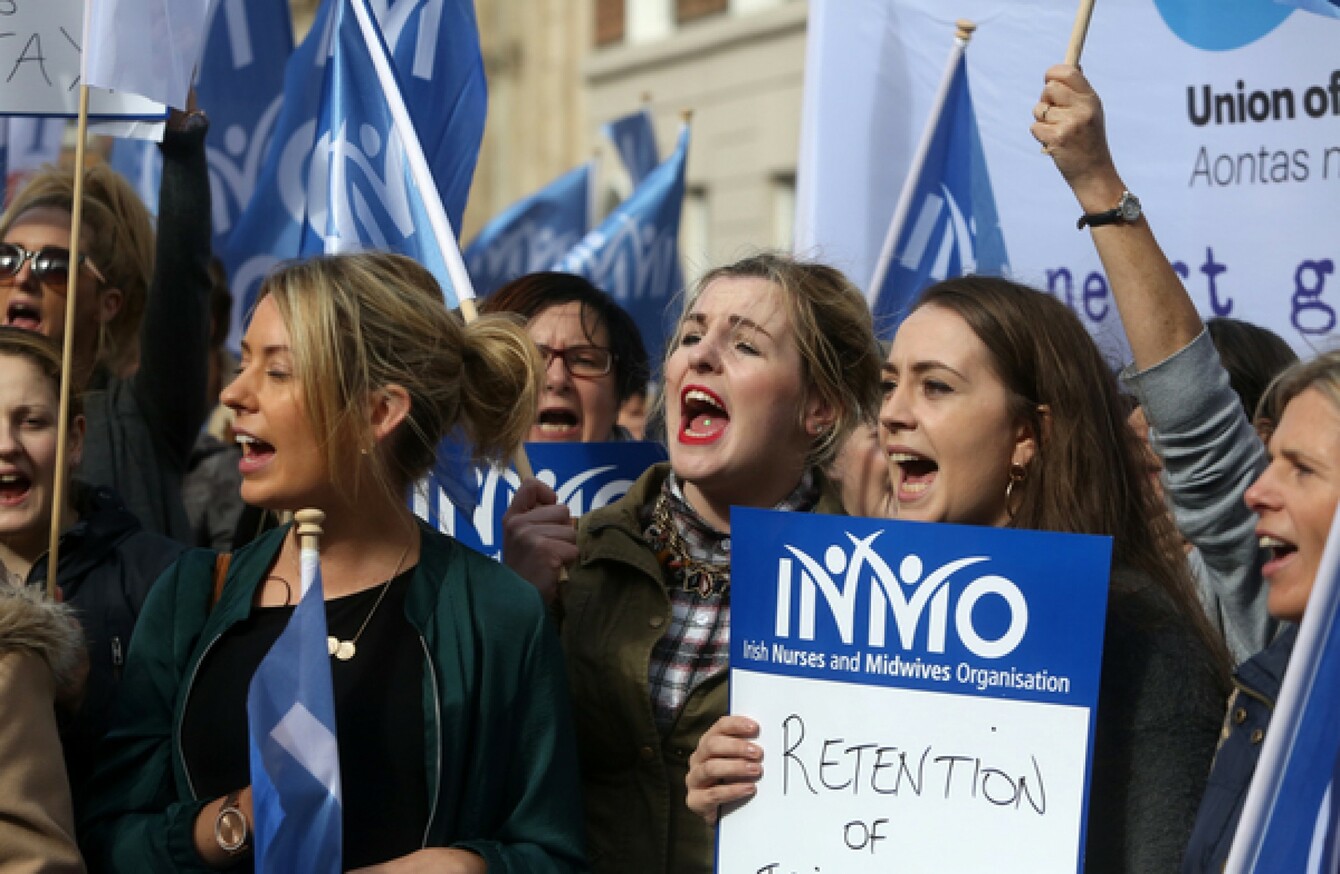 Image: Sam Boal/Rolling News.ie
Image: Sam Boal/Rolling News.ie
IRISH NURSES AND midwives have tonight rejected government proposals to deal with retaining and recruiting staff – meaning industrial action is on the way.
The proposals were criticised by the INMO as "too little too late" and "still not competing with that being offered in the private sector and in other countries".
Nationwide industrial action is set for Tuesday 7 March in the form of a work-to-rule involving nurses and midwives working to contract. This means there won't be overtime, cross cover and redeployment as a result of the work, which nurses must do to make up for a lack of staff.
If the dispute is not resolved, a series of 'rolling stoppages' will begin.
INMO president Martina Harkin-Kelly said that nurses and midwives are "unable to provide full care to their patients, working beyond the end of their shift without pay, unable to take meal breaks and facing unmanageable workloads because of the appalling conditions".
INMO General Secretary, Liam Doran said:
"All areas are understaffed and the services are at breaking point which will require radical solutions to take the pressure off struggling nurses and midwives.
We need to attract and retain nurses and midwives in sufficient numbers to provide safe care and the current proposals contain no adequate remedies for this.
Minister for Health, Simon Harris, and Minister for Public Expenditure and Reform, Paschal Donohoe released a joint statement this evening saying they were "deeply disappointed" with the outcome of the INMO meeting this evening.
A Lansdowne Road Agreement Oversight Group will meet tomorrow to discuss the consequences of the proposed industrial action by the INMO.