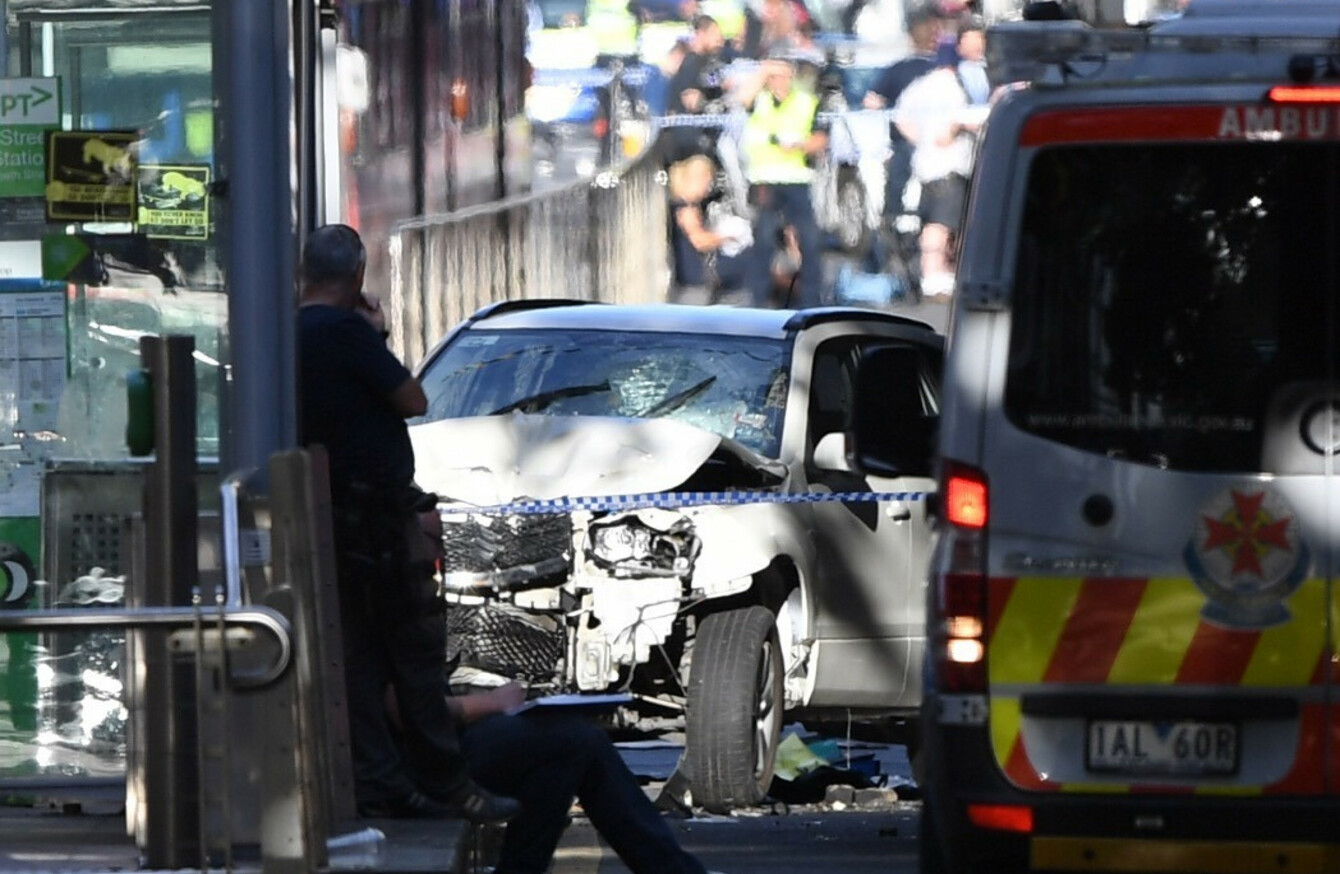 A damaged vehicle is seen at the scene of an incident on Flinders Street
Image: AAP/PA Images
A damaged vehicle is seen at the scene of an incident on Flinders Street
Image: AAP/PA Images
AN IRISH PERSON was injured when a car was driven into a large group of pedestrians in Melbourne, Australia earlier today.
The Department of Foreign Affairs confirmed that it is providing consular assistance in the case.
At least 19 people were injured in the incident which police believe was deliberate but not terrorism related. Four of the wounded are said to be in a critical condition.
The condition of the Irish person is not yet known.
An off-duty police officer is among those who were seriously injured. A four-year-old boy was injured, but not critically.
Witnesses said people were thrown through the air after being hit by the vehicle, which did not appear to be trying to stop as it "mowed everybody down" at a busy intersection in the city's downtown.
Victoria state police said the 32-year-old driver, an Australian of Afghan descent, was known to authorities for traffic and "minor assault" offences and had mental health issues.
The car was driven "intentionally" at the intersection between Flinders and Elizabeth streets and collided with a "large number" of pedestrians, Acting Chief Commissioner Shane Patton told reporters in Melbourne.
The driver "has a history of drug use and mental health issues".
"At this time we do not have any evidence or intelligence to indicate a connection with terrorism or extremism," he said.
The man was arrested after a tussle with an off-duty police officer.
Investigators were waiting to interview the driver, who was in hospital under police guard.
In a tweet, police appealed to members of the public to upload any images they might have of the incident to help assist with their investigation.
With reporting by AFP