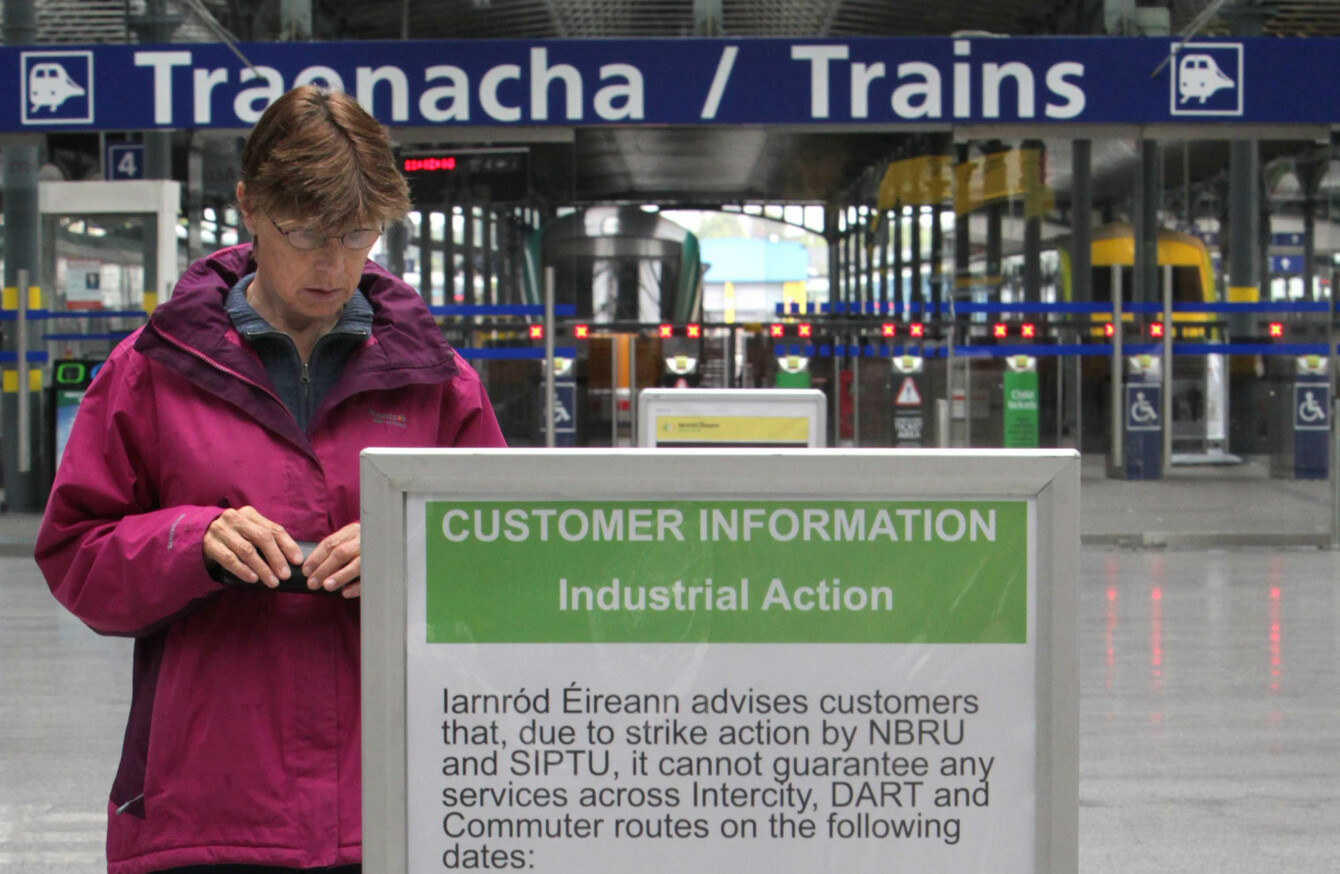 Image: Mark Stedman/RollingNews.ie
Image: Mark Stedman/RollingNews.ie
THE SECOND OF five rail strikes will take place tomorrow, and is expected to impact on over 150,000 commuters.
A further three strike days by Siptu and National Bus and Rail Union (NBRU) members are planned for 14 and 23 November and 8 December.
Siptu members at Irish Rail had voted by 84% in favour of industrial action. National Bus and Rail Union (NBRU) members, meanwhile, voted 92% in favour.
The National Bus and Rail Union (NBRU) says that the strike revolves around a lack of pay rises for staff over the last decade. It has also claimed that members have not received a pay rise in the last 10 years.
No trains will operate on the Iarnród Éireann network tomorrow. Irish Rail said today it is not possible to provide alternative transport on dates of industrial action. Other transport operators do not accept rail tickets on dates of industrial action.
Refunds
If you've booked your travel online for these dates, Irish Rail will cancel the booking and automatically refund you seven days before your date of travel.
Customers with monthly and annual season tickets can apply for a refund for the days impacted by the industrial action. These will be processed at the end of the industrial action in a single process. Irish Rail said a form will be available on its website at the conclusion of the industrial action.
Customers who purchase their tickets at the station who were impacted by the industrial action should collect a refund form at the station or on the website and return to the address outlined.
Impact of the action
Management said today that it regrets the decision by unions to schedule five strikes during November and December.
It said there will be disruption to customers and employees will lost pay for days of industrial action.
"Our precarious finances will be weakened further, in a situation where accumulated losses are €160 million, and the company is dangerously close to insolvency," it said in a statement today. "Our ability to address the pay claim will be reduced."