CONCERN HAS BEEN raised over the funding of Ireland's secret services as new figures show how the budget is not being spent in full.
Social Democrats TD Catherine Murphy has said she is concerned that the monies, which are available to gardaí and the Defence Forces, are not being used in full at a time where the potential for an attack on Ireland is rising.
In a parliamentary question, Murphy asked to see how much was going unspent every year. Last year, €309,000 was handed back to the Exchequer as it was not used. In 2015,  €365,000 was not spent and the year previously, that figure stood at €407,000.
Ireland's secret service operates not as a single entity but instead as part of both the garda and Defence Forces intelligence teams. The money is used for expenses which are difficult to budget for. In some instances, the money is used to pay for information which could help tighten security.
The service's funding is paid into a bank account controlled by the Department of Public Expenditure, with funding then released whenever the ministers for Defence and Justice ask for it to be drawn down.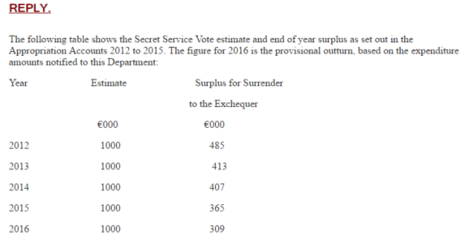 The breakdown of how much was handed back to the State as it went unspent.
Speaking about the unspent cash, Murphy said: "I find it unusual that such large amounts have gone unused by the Secret Service given that we are now hearing talk about an initiative similar to COBRA in the UK being established to deal with is a credible concern regarding terrorist activity and organisation in Ireland.
"The PQ reply shows there has been an underspend on intelligence services over the last number of years and I have to ask how wise that is given the current international context."
Responding to the figures, Minister for Public Expenditure, Paschal Donohoe, said that "to date in 2017, on foot of requests for funding, €300,000 has been transferred to the relevant authorities to fund secret services.
"As set out in the appropriation account each year, where the surplus to be surrendered differs from the amount of the Exchequer grant undrawn, this is shown as an amount due to or from the Exchequer. This is then reflected in the Exchequer Issues in the following year."