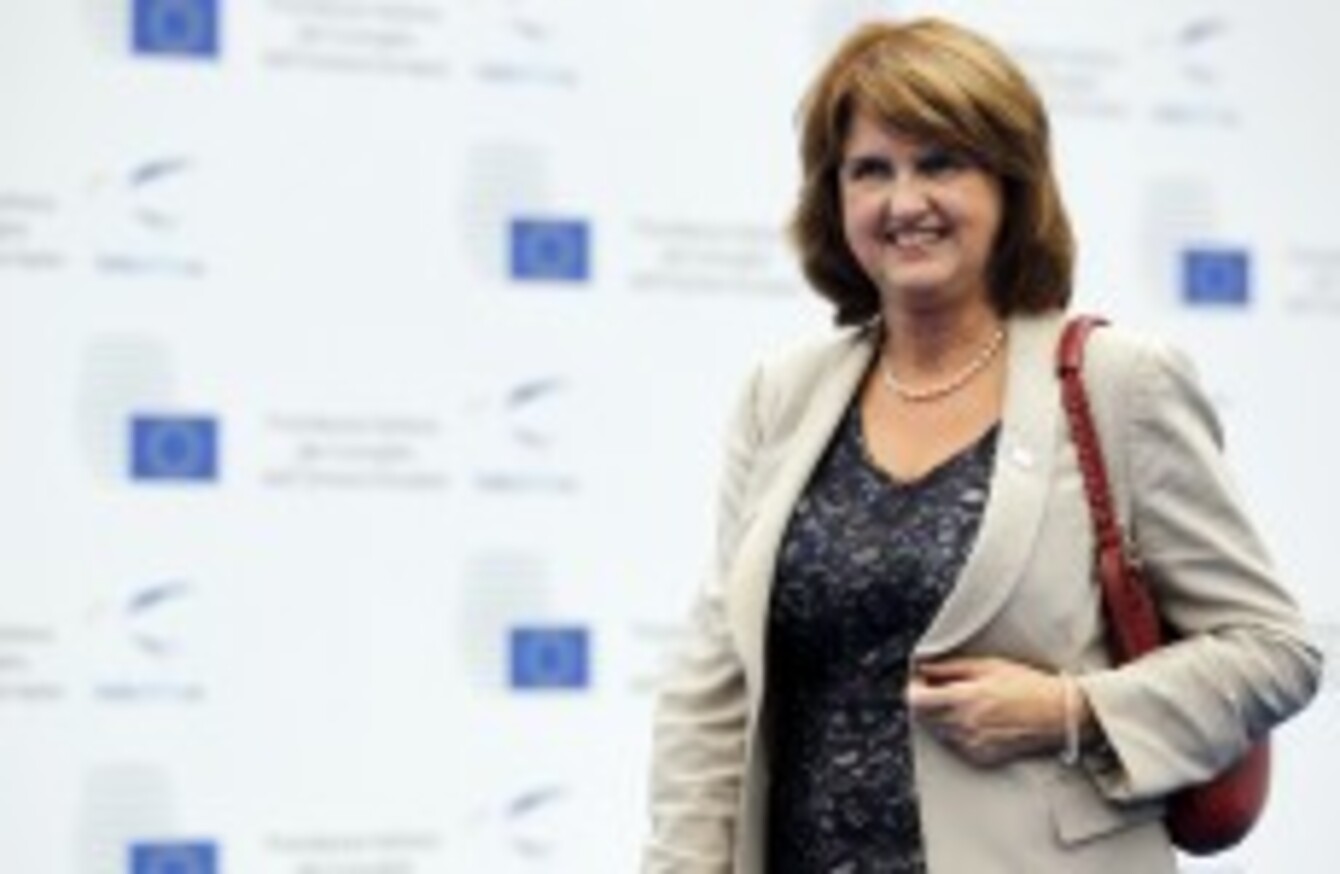 Image: AP/Press Association Images
Image: AP/Press Association Images
Updated 6.35pm 
TÁNAISTE JOAN BURTON has said that a family of four, including two adult children, will likely face an Irish Water bill of less than €200.
However, a spokesperson for Burton has since said that she was expressing her own view and that work on the exact amount of water charges families will face remains "ongoing".
During social protection questions in the Dáil earlier, Burton gave a strong indication that a family of four including two children aged 18 and 19, would face a bill of less than €200.
When Socialist TD Joe Higgins raised the possibility that such a family would face a bill of just under €500, Burton responded:
"I am perfectly happy to say that it is my view that the type of family or type of household you've indicated will be below €200."
Her spokesperson later said it was important to note that the €200 figure would be the "net cost in her view after water supports are taken off the bill". Water supports include social welfare payments and tax credits.
"The issue hasn't been settled and there's some work to be undertaken," the spokesperson added.
A spokesperson for the Taoiseach said that "no figures have been decided on" and "there are no final decisions" amid increasing certainty as to just how much householders can be expected to pay when their Irish Water bills arrive next year.
The Taoiseach's spokesperson admitted "we have one shot" at getting the issue right after a series of errors in relation to Irish Water.
The spokesperson added: "People haven't understood what they're going to pay. We haven't explained it properly. What we're determined to do is outline the maximum that people will have to pay."
Revenue involvement
Earlier, Environment Minister Alan Kelly refused to rule out that Revenue could be used to chase up people who are refusing to pay water charges.
Kelly was speaking whilst on a tour of a water processing plant in Ringsend in Dublin.
Asked whether Revenue could be used as a method of targeting those who don't pay, Kelly would not discount the possibility:
Well, all issues are being discussed in relation to that at the moment and I'm not going to breach confidentiality. Yesterday I said the same thing, I'm not ruling it in or out but issues like that are broader than my own ministerial area.
The spectre of people being chased up by Revenue has been a live one among those opposed to the charge, particularly in light of the requirement to provide a PPS number as part of the completed Irish Water pack.
On this issue Kelly also stressed that the Government was not for turning.
"In order to get the allowances and ensure that allowances are given out, the PPS route was the route that was chosen and there are no plans to change that," he said.
"Ensuring that those allowances are going to the right people and aren't being double claimed or claimed by the wrong people."
Kelly said that he "wouldn't tolerate the privatisation of Irish Water" but that he's unsure whether a referendum to enshrine this in the constitution is necessary.
"I don't have an ideological issue with this, but I can see the problems. If you have a referendum on Irish Water are you going to have one on CIE? Are you going to have a referendum on ESB? I could list off another 30 things, where does it stop?," he said.
Calls to scrap charges
During Leaders' Questions in the Dáil, Enda Kenny noted that there had been issues in the setting up of Irish Water, stating: "Obviously there are times when you have to look at how things can be improved and this is one of them."
#Open journalism No news is bad news Support The Journal

Your contributions will help us continue to deliver the stories that are important to you

Support us now
The Taoiseach said that the Government was listening to the 150,000 people who marched in anti-water charges protests across the country last Saturday.
Sinn Féin leader Gerry Adams said that recent Government talk of of flat charges, changes to the Irish Water board, and improvements in the body's communication strategy was "ignoring the main point".
He called on Kenny to scrap the charges altogether – something the Taoiseach said would not be happening.
One thing is out of the question though, with Kenny stating:
Irish Water is never going to be privatised.
Fianna Fáil leader Micheál Martin criticised the lack of debate that has taken place in the House about water charges and called on Kelly to come before the Dáil for questioning on how he plans to improve Irish Water.
- additional reporting by Órla Ryan and Hugh O'Connell