THE EXTRADITION HEARING of an Irishman alleged to be the "largest facilitator of child porn in the world" will not begin until June after the High Court heard he has been diagnosed with Aspergers syndrome.
Eric Eoin Marques, who is alleged to be the owner and administrator of an anonymous hosting site known as Freedom Hosting, is wanted by the US authorities to face charges relating to conspiring to distribute and advertise child pornography and advertising and distributing child pornography.
The 28-year-old with an address at Mountjoy Square in central Dublin, has been in custody since his arrest in August 2013, after he was refused bail over concerns he represented a flight risk and that he may abscond or interfere with evidence in the case.
The extradition hearing was due to open today before the High Court. However, counsel for Mr Marques, Michael P O'Higgins SC, said that his client had been assessed by a psychiatrist and that a diagnosis of Aspergers had been confirmed.
"My understanding is as follows. The respondent was assessed by a psychiatrist Patricia Casey," said Mr O'Higgins.
Ms Justice Aileen Donnelly inquired as to why submissions had not been filed for the court prior to today's date.
Mr O' Higgins explained that the failure was due to an oversight that they had not been filed, saying:
Ms Casey assessed the respondent on March 9th 2015 in the Midlands Prison - prior to that there was difficulty with her gaining access.
The court heard that Mr Marques had seen a psychiatrist in the Mater Hospital fifteen years ago but at that point, a diagnosis had not been reached.
"There are now two separate affidavits from Patricia Casey and a report from a psychologist dated today's date. My task is to ask this court to exercise its discretion to admit these documents in circumstances that are unsatisfactory," said Mr O'Higgins.
"The diagnosis has been confirmed," he said.
'Delaying tactic'
Ms Justice Aileen Donnelly then asked if the failure to put matters on the record at an early state was a delaying tactic.
Taking to the stand, solicitor for Mr Marques, Karen Egan told Mr O'Higgins that she had urged Professor Casey to provide a report.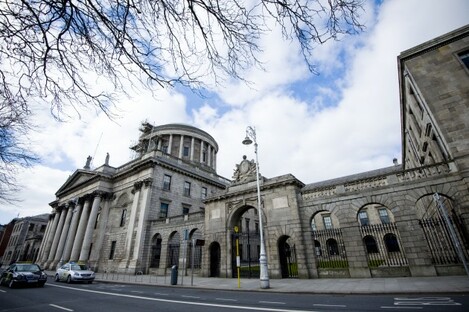 Source: Laura Hutton/Photocall Ireland
Mr O'Higgins told the court that concerns had arisen that Mr Marques might be
suffering from an autism related disorder but that he had never been diagnosed with suffering from Aspergers.
Ms Egan confirmed that she contacted Professor Casey in February of this year.
"Professor Casey indicated to me she wouldn't be able to carry out an examination until late April – she re-scheduled matters and March 9th was the earliest she could go," said Ms Egan.
"Professor Casey asked me to give time to allow her to liaise with an expert in Aspergers syndrome attached to Trinity College," she said.
Ms Egan told Mr O'Higgins that tests requiring observation were necessary and that they were not something you could do in a hurry.
'Entirely unsatisfactory'
When asked by Mr O'Higgins if there was a delaying tactic involved, Ms Egan replied:
Absolutely not. If I hadn't persisted Professor Casey said she wouldn't have done it for several months – I urged her.
Counsel for the State Mr Patrick McGrath asked when it had first become apparent that there could be an issue to which Ms Egan replied:
I'm not a medic – I can't say a precise date when it was decided that he should be assessed.
Ms Justice Donnelly said it was "entirely unsatisfactory" to have arrived at a hearing involving complex issues of fact and law where no written submissions had been filed.
"It's taking the court for granted, it's unfair to the court and it's simply wrong," she said.
"From what you said, it sounds like issues in relation to the Aspergers were anticipated – even if I am to admit the affidavits they will require time," she said.
I am prepared to allow affidavits to be received and points of objection are to be filed in the central office. It would be more appropriate to deal with matters on 29 June.
The role of the DPP
In 2013 the extradition court heard the DPP had decided not to bring proceedings against Mr Marques with respect to the alleged offences.
The court heard that a detailed letter had been submitted to the DPP, in which it was indicated that Mr Marques would enter a plea of guilty were the alleged offences to be prosecuted in this jurisdiction.
Mr Marques had sought judicial review of the DPP's decision but was refused leave to challenge the decision not to prosecute him.
In November 2014 the Supreme Court heard that, after a ruling in the case of Ali Charaf Damache, the State accepted Mr Marques should also be granted leave for judicial review.
Ms Justice Donnelly remanded Mr Marques in custody until 29 June and put the matter in for mention on 16 June.
More from the courts: