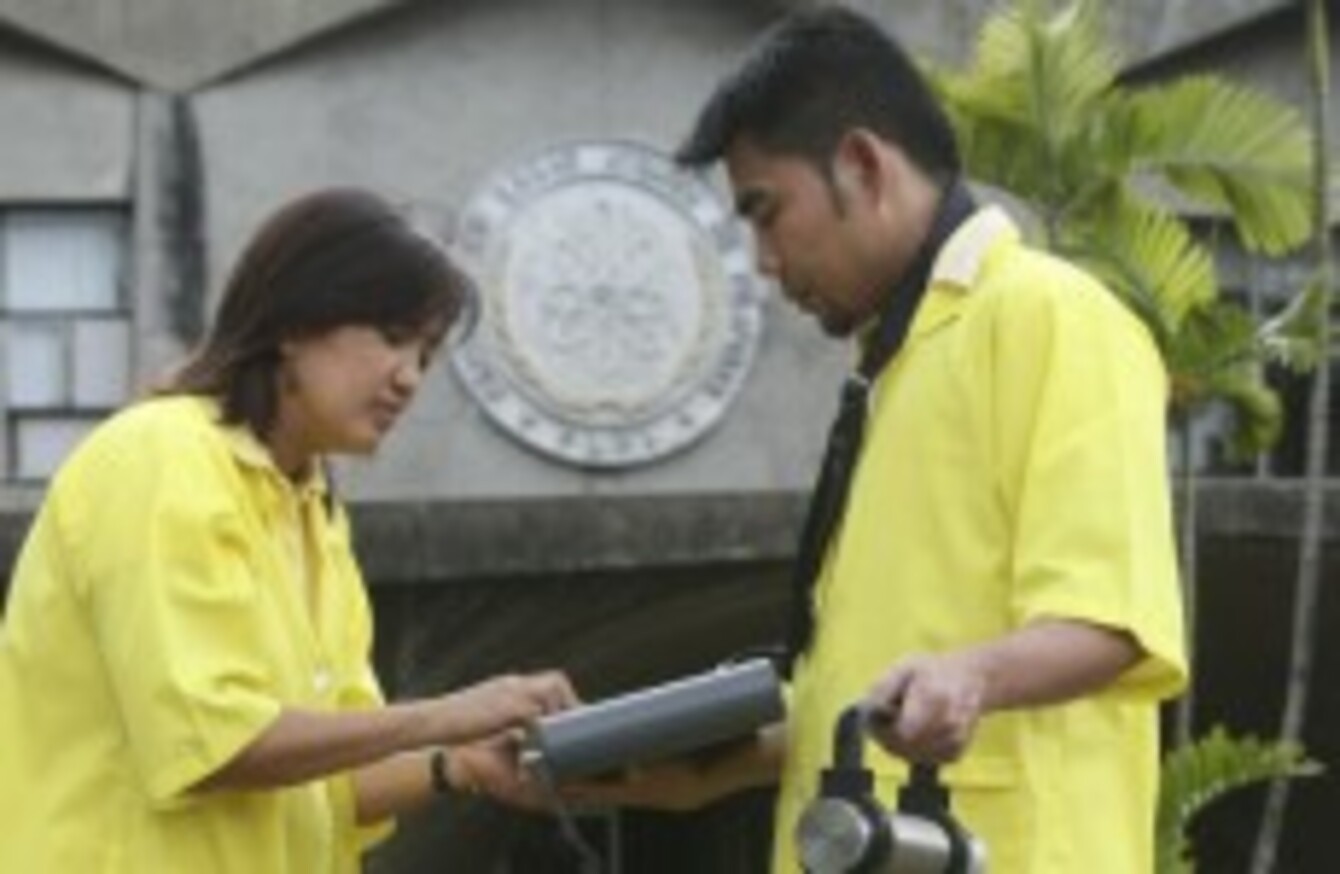 Filipino scientists at the Philippine Nuclear Research Institute monitor the gamma radiation levels in the atmosphere using a SAM portable Gamma Spectrometer
Image: AP Photo/Bullit Marquez via PA Images
Filipino scientists at the Philippine Nuclear Research Institute monitor the gamma radiation levels in the atmosphere using a SAM portable Gamma Spectrometer
Image: AP Photo/Bullit Marquez via PA Images
RADIATION FROM THE Fukushima plant in Japan has been picked up in Glasgow – and now it seems minute levels have also been picked up in Ireland. But what does this mean for Ireland?
To get beyond the fear-mongering and into the facts, TheJournal.ie spoke to David Dawson, spokesperson for the Radiological Protection Institute of Ireland.
What do you think of the radiation levels picked up in Glasgow and in Ireland?
The are certainly nothing to be worried about. The levels of radiation detected in Europe are miniscule.  There are no health implications from them. The levels are only a reflection of the sensitivity of the equipment people are using and they are detecting extremely tiny amounts.
What is happening to the radiation that is being released from the Fukushima nuclear power plant? Is it being distributed by the wind?
Yes, it is being distributed by the wind, and it will eventually be distributed throughout the northern hemisphere, but it poses no threat to Ireland.
Though the Japanese workers are toiling around the clock at the reactors in Fukushima, some people may wonder, what would happen with regard to Ireland if there was an explosion at the site?
Even if there was a large explosion, the amount of radiation that would reach Ireland would be tiny and would have no health implications.
#Open journalism No news is bad news Support The Journal

Your contributions will help us continue to deliver the stories that are important to you

Support us now
Earlier this month, David told TheJournal.ie that the Radiological Institute had stepped up its monitoring for radioactive particles and pointed out that the weather would play a part in the detection of any fallout. He also explained that there are different forms of radiation and that any dangers depend on the dose and period of contact.
The Radiological Institute confirmed this afternoon that it had detected "the presence of trace amounts of radioactivity from the Fukushima accident in Ireland". The sample was collected on the RPII's high volume air sampler in Dublin. Dr Ann McGarry, Chief Executive of the RPII, said:
The levels which have been identified are extremely low, are not a matter for concern and do not require any special actions to be taken.