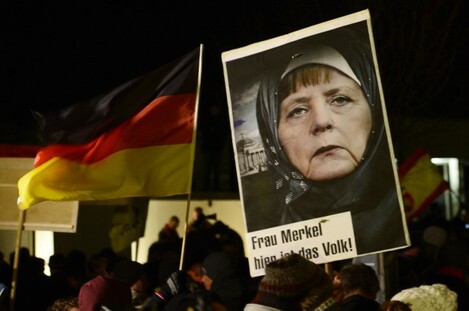 A protestor holds a poster with an image of German Chancellor Angela Merkel wearing a headscarf in front of the Reichstag building. Source: Jens Meyer
CHANCELLOR ANGELA MERKEL is set to join a Muslim community rally later today to promote tolerance, condemn the jihadist attacks in Paris and send a rebuke to Germany's growing anti-Islamic movement.
President Joachim Gauck will address the vigil starting at 5pm Irish time at Berlin's iconic Brandenburg Gate, organised by the Central Council of Muslims in Germany under the banner "Let's be there for each other. Terror: not in our name!"
Merkel, to be joined by most of her cabinet at the event, has spoken out against the right-wing populist "Patriotic Europeans Against the Islamisation of the Occident", or PEGIDA, and stressed that "Islam belongs to Germany".
PEGIDA yesterday drew a record 25,000 marchers to its 12th weekly rally in Dresden, located in the former communist east Germany, its flag-waving members holding a minute's silence for the victims of the Charlie Hebdo attacks in Paris last week.
Their latest protest was met by some 100,000 counter-demonstrators nationwide, who accused PEGIDA of exploiting the French attacks by Islamist gunmen, and who voiced support for a multicultural German society.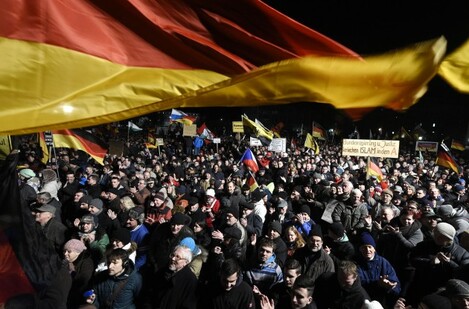 Demonstrators bear flags of several European countries during a rally of the group Patriotic Europeans against the Islamization of the West, or PEGIDA, in Dresden, Germany. Source: Jens Meyer
Merkel yesterday thanked leaders of Germany's four-million-strong Muslim community for quickly and clearly condemning the violence committed in the name of their faith in last week's bloody attacks in Paris.
"Germany wants peaceful coexistence of Muslims and members of other religions" and Tuesday's vigil would send "a very strong message", she said at a joint press conference with Turkish Prime Minister Ahmet Davutoglu.
Merkel and Davutoglu had on Sunday joined French President Francois Hollande and other world leaders at a huge Paris solidarity rally in the wake of the massacre of 17 people at satirical weekly Charlie Hebdo, a subsequent hostage siege and a separate shooting.
 'Islamophobia strengthens terrorists'
Announcing Tuesday's vigil, the Muslim Council and the Turkish Community of Berlin said: "We Muslims in Germany condemn the despicable terror attacks in France in the strongest terms. We want to express our solidarity with the French victims".
There is no justification in Islam for such acts.
With their vigil, they said, they "want to send a message for peace and tolerance, against hatred and violence and for a cosmopolitan Germany which respects and protects the freedom of expression and religion".
The statement added, with a view to the new rise in xenophobia expressed on German streets, that "those who voice racist and Islamophobic slogans strengthen the agitators, arsonists and terrorists".
A commentary on German news site Spiegel Online commended Merkel, who is known to often sit out tricky issues, for finding clear words against Islamophobia, even at the risk of losing voters at the fringes of her conservative party.
"The chancellor is not playing tactical games but in her New Year's address placed herself at the forefront of the anti-PEGIDA movement," said the commentary, after Merkel condemned the group's leaders as having "prejudice, coldness, even hatred in their hearts".
She has shown a gratifying clear line against Islamophobia.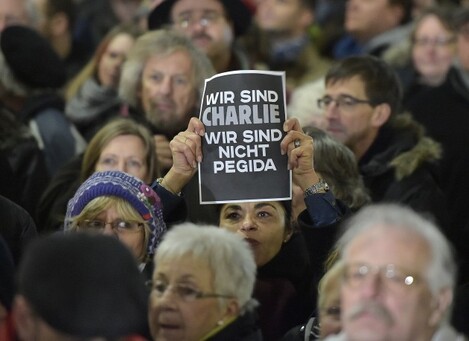 A woman shows a banner reading 'We are Charlie, we are not PEGIDA' during a demonstration of thousands against the right wing PEGIDA movemen in Duesseldorf. Source: AP/Press Association Images
PEGIDA, launched in October, has grown to set new attendance records week after week and spawned smaller copycat groups nationwide, provoking much soul-searching in a country haunted by its history of Nazi terror and the Holocaust.
The protests have been fuelled by a sharp rise in refugees seeking political asylum in Germany, which has been scrambling to house the newcomers in converted schools, office blocks and container villages.
Germany last year received more than 180,000 asylum applications, a 57-percent spike from 2013, mostly from war-torn Syria, Afghanistan, Iraq, Eritrea and Somalia but also from several Balkan countries.