ISRAEL HAS PLEDGED a tough response to any further attacks in Jerusalem as police flooded flashpoint Arab neighbourhoods after a Palestinian rammed his car into a group of pedestrians and killed a three-month-old baby.
The second deadly incident involving a Palestinian vehicle in three months, Wednesday's attack prompted a sharp warning from Prime Minister Benjamin Netanyahu.
"Jerusalem is united and was, and always will be, the eternal capital of Israel. Any attempt to harm its residents will be met with the harshest response," he said.
Police dubbed as a "hit-and-run terror attack" Wednesday's incident in which 21-year-old Abdelrahman Shaludi drove at high speed into a crowd of Israelis, killing an infant and injuring another six people.
Shaludi, from Silwan in east Jerusalem, was shot as he fled on foot and later died.
Israel said he was a Hamas activist, but while relatives confirmed he was the nephew of a top-Hamas bomb-maker killed in 1998, it was not clear whether he belonged to the Islamist movement.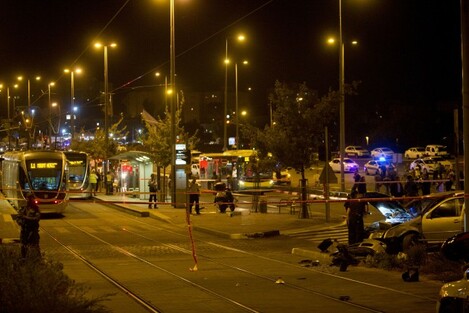 An Israeli police officer inspects a car at the scene of an attack in Jerusalem. Source: AP/Press Association Images
The incident triggered clashes between police and stone-throwing Palestinians across east Jerusalem.
By this morning, on Netanyahu's orders, police surged into flashpoint neighbourhoods in a bid to stamp out persistent unrest.
Unrest has gripped east Jerusalem on an almost daily basis for four months, and Israeli commentators said it was being fanned by recent acquisitions of homes in the area by Jewish settlers.
Washington denounced Wednesday's attack as "despicable" and called for both sides to demonstrate restraint to "avoid escalating tensions," but did not confirm reports the infant who was killed had US nationality.
During another incident in August, a Palestinian rammed a bus with an excavator, killing one Israeli and injuring five. Police shot the driver dead.