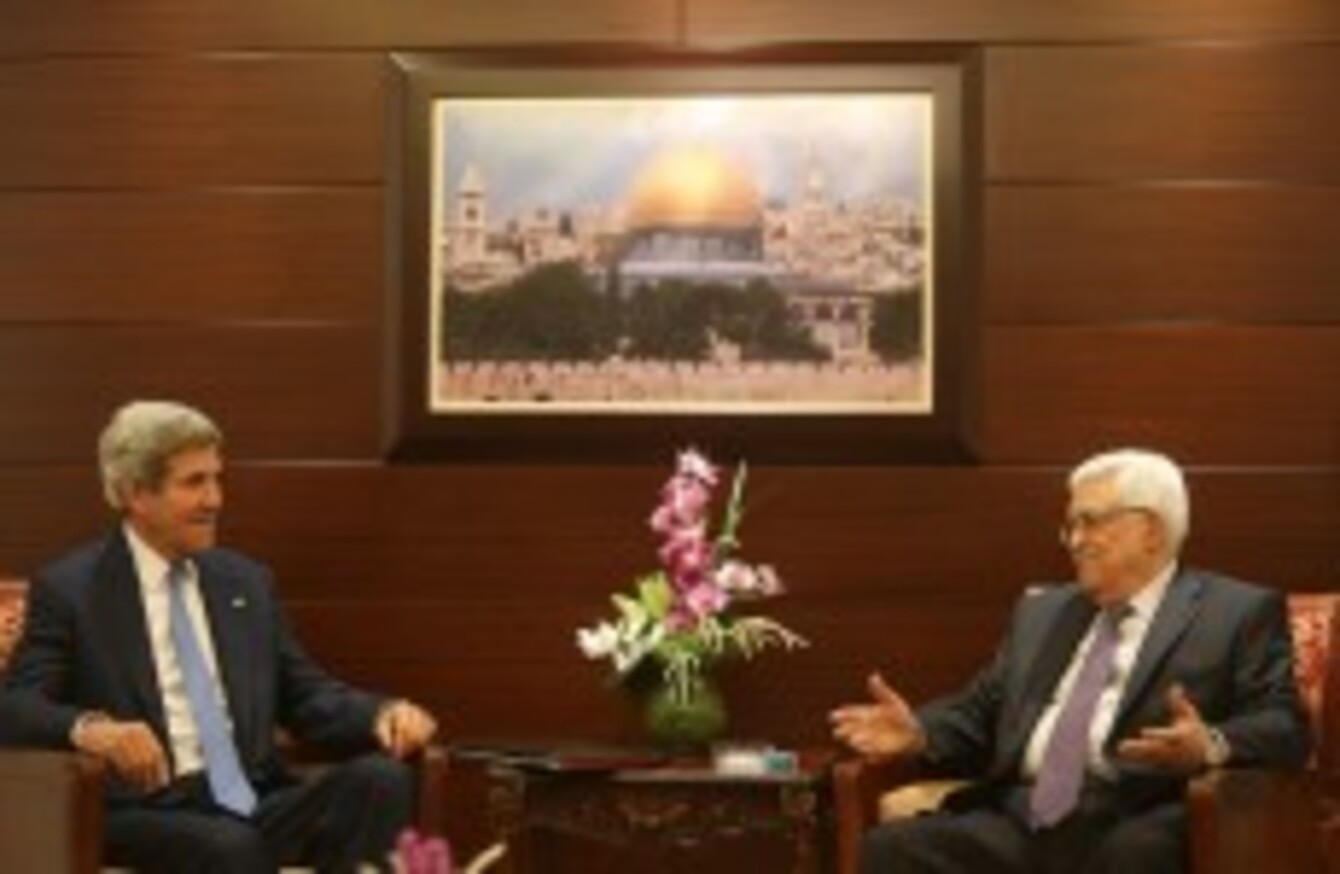 John Kerry with Mohamoud Abbas in Jordan today
Image: Fadi Arouri/AP/Press Association Images
John Kerry with Mohamoud Abbas in Jordan today
Image: Fadi Arouri/AP/Press Association Images
US SECRETARY OF STATE John Kerry has said that Israeli and Palestinian negotiators will meet in Washington within "the next week or so" after an agreement on the basis to resume peace talks.
Both Israel and the Palestinian presidency welcomed the development, but the Islamist Hamas movement rejected a return to talks.
Kerry's announcement came after he spent four days consulting the Israeli and Palestinian leadership – and a last-minute helicopter dash to Ramallah in the West Bank.
"I'm pleased to announce that we've reached an agreement that establishes a basis for resuming final status negotiations between the Palestinians and the Israelis," Kerry told reporters in Amman, Jordan.
"This is a significant and welcome step forward. The agreement is still in the process of being finalised so we are absolutely not going to talk about any of the elements now."
A US State Department official said: "They have agreed on the core elements that will allow direct talks to begin".
Kerry said Palestinian negotiator Saeb Erakat and his Israeli counterpart Tzipi Livni would meet him in Washington "to begin initial talks within the next week or so".
The announcement came at the end of four days of intense diplomacy by the secretary of state as he consulted Israeli and Palestinian leaders from his base in the Jordanian capital.
Mixed reaction
The Palestinian presidency hailed Friday's development. "Abbas's meeting with Kerry in his headquarters in Ramallah on Friday evening achieved progress, and will facilitate an agreement on the basis of a resumption of talks," spokesman Nabil Abu Rudeina said.
But he also stressed there were still "specific details that need to be resolved," without elaborating.
Hamas, which rules the Gaza Strip, told AFP the movement "considers the Palestinian Authority's return to negotiations with the occupation to be at odds with the national consensus".
Its spokesman Sami Abu Zuhri said Abbas had no legitimate right to negotiate on behalf of the Palestinian people. But Livni, who is also Israeli justice minister, issued an optimistic statement.
"These were long months of scepticism and cynicism. But now, four years of diplomatic stagnation are about to end," she said. "Alongside the opportunity, I also know that the moment negotiations start, they will be complex and not easy."
Kerry's last-minute whirlwind diplomacy came after the Palestinian leadership in Ramallah rejected his proposals for a framework to guide the relaunch of peace talks with the Israelis, stalled for nearly three years.
Talks have stuttered and started for decades in the elusive bid to reach a final peace deal between the Arab world and Israel. But they collapsed completely in September 2010 when Israel refused to keep up a freeze on settlement building in Palestinian territories.