"MY TASK WAS to make the characters and the language as clear as we could. The last thing I wanted to do was make the experience feel like a 242-year-old play."
That was the challenge set down for director Liam Halligan, who says he auditioned "over 60 people in all" to find actors who could provide the particular lightness of touch needed for Richard Brinsley Sheridan's The Rivals, currently running at Smock Alley in Dublin.
In the end, Halligan went with a compact cast of eight actors, three of whom take on two roles each. "It's not like a play where they're playing loads of characters, it's two substantial roles each. It really does add to the theatricality of it and fits the style," he explains.
Sheridan famously re-wrote The Rivals in just 11 days after a catastrophic opening night, ditching his lead actress for another alternative. In the end, his hard work paid off – the play was a hit, and continues to charm modern audiences even now.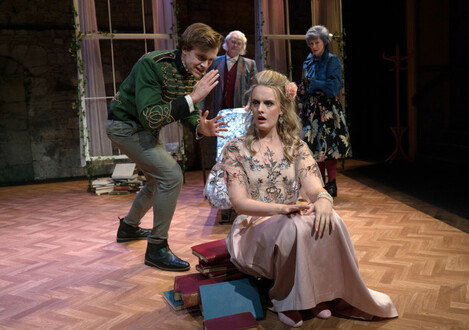 Tom Moran, Seamus Moran, Ashleigh Dorrell and Deirdre Monaghan in The Rivals. Source: Smock Alley
The comedic script, about a young, wealthy Lydia Languish and her disastrous hunt for a suitor, is getting a homecoming of sorts at Smock Alley. Sheridan's father was a manager of the original theatre in the 1740s, and it hosted one of The Rivals' earliest runs back in 1775.
"It's a real joy getting the opportunity to direct something with much history attached to it, both in terms of the play and the theatre," says Halligan.
The "purely comedic" nature of The Rivals was a departure for him, but he has plenty of experience working with period pieces, having directed both Shakespeare's A Midsummer Night's Dream and Schiller's Mary Stuart in the past.
"Sheridan's script features people disguising themselves in one way or another… and that way of looking at the world is still very much evident today," the director explains. "We can all relate to that situation: people going to certain places in Dublin and parading themselves in their finery to try to attract attention or romance."
It wasn't the 242-year-old storyline that posed the biggest obstacle for Halligan and his cast, but rather, how to make a script written in the 1770s understandable for those watching it today.
The themes are accessible, but the language isn't how we speak now. We've been careful to ease the audience in, not soak it in the period.
For Ashleigh Dorrell, who plays the misguided Lydia, plenty of rehearsal time was dedicated to getting to grips with the period writing.
"Liam is very good at making you feel like you figured a line out, even though he might have known what it meant before you did," she recalls. "It's kind of like Shakespeare, the language, very lyrical and colourful. But the humour in it still rings true after all these years."
Deirdre Monaghan and Tom Moran in The Rivals. Source: Smock Alley
So how have the audience reacted so far? "We've had roars of laughter every night," says Dorrell. "That's one of the reasons I love doing comedy – it's a sort of instant gratification."
Even off-stage, that gratification is still there. "I love sitting in the auditorium and just looking at the audience, watching them engage with the play and enjoying themselves," says Halligan of the run so far.
"As an audience member, once you grasp that heightened language, it's a wonderful play to watch."
The Rivals runs at Smock Alley until September 2nd, with tickets €18/€15 concession. On selected evenings, enjoy a seasonal pre-show dinner with a glass of wine in Smock Alley's Banquet Hall for €30 including ticket price. Ticketholders can also avail of free historical tours of the theatre one hour before every show. Book online here or by calling 01 677 0014.