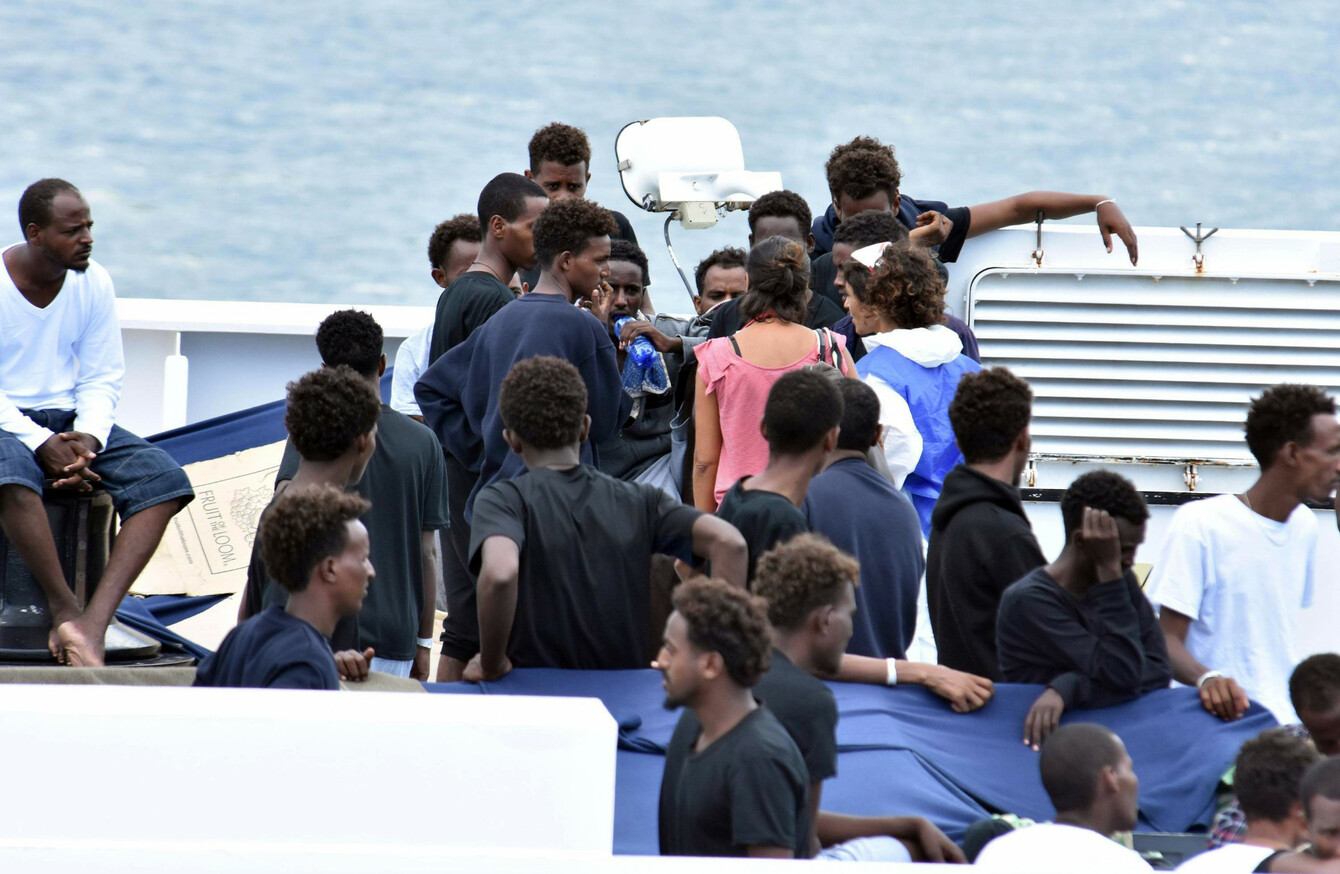 Migrants wait to disembark from Italian Coast Guard ship Diciotti in the port of Catania, Italy.
Image: Orietta Scardino/Associated Press
Migrants wait to disembark from Italian Coast Guard ship Diciotti in the port of Catania, Italy.
Image: Orietta Scardino/Associated Press
IRELAND HAS AGREED to take in some of the 140 migrants who have been stranded on a boat off the Italian coast, following an agreement to relocate them yesterday.
The migrants have been stranded on the boat for more than a week, after Italy refused to let them disembark when they docked at the port of Catania on Monday, saying there was no EU commitment to relocate them.
But following a deal brokered by the Catholic Church on Saturday, Italy's Interior Minister Matteo Salvini agreed to allow the migrants to leave the Diciotti, the Italian coastguard ship that rescued them ten days ago.
There were initially around 180 migrants on board the ship when it arrived at Catania.
Ireland will accept up to 25 migrants under the agreement, announced late on Saturday night by Italian Prime Minister Giuseppe Conte.
However, the Italian government allowed 27 unaccompanied minors to disembark on Wednesday, while 12 women and men left the boat Saturday following a request from health authorities.
Some migrants will also be relocated Albania, which is not a member of the EU, after it offered to take in another 20 of them, becoming the first country to offer to help with the standoff.
It was not immediately clear what would happen to the others, although Italian media reports suggested Rome was in talks with Serbia and Montenegro about taking them in.
The migrants disembarked several hours after Sicilian prosecutors said they had opened an inquiry into Salvini for "illegal confinement, illegal arrest and abuse of power" over his refusal to allow them on shore, according to media reports.
EU migration commissioner Dimitris Avramopoulos welcomed the deal, saying it was the result of "solidarity across borders and communities".
"But we cannot always wait for this type of goodwill solidarity. We need to have structural measures," he said in a statement.
Migration remains a contentious issue in Italy, where hundreds of thousands of people have arrived since 2013, fleeing war, persecution and poverty in the Middle East, Africa and Asia.
Under EU rules, migrants must seek asylum in their country of arrival, but Rome has recently moved to block boats from docking at its ports.
Speaking on Friday, UN High Commissioner for Refugees Filippo Grandi said Europe had "a fundamental moral and legal obligation" to help those fleeing war and persecution.
"The time has come to end the back-and-forth that has seen countries competing in a race to the bottom on who can take the least responsibility for people rescued at sea," he said.
"It is dangerous and immoral to put the lives of refugees and asylum-seekers at risk while states engage in a political tug-of-war on long-term solutions."