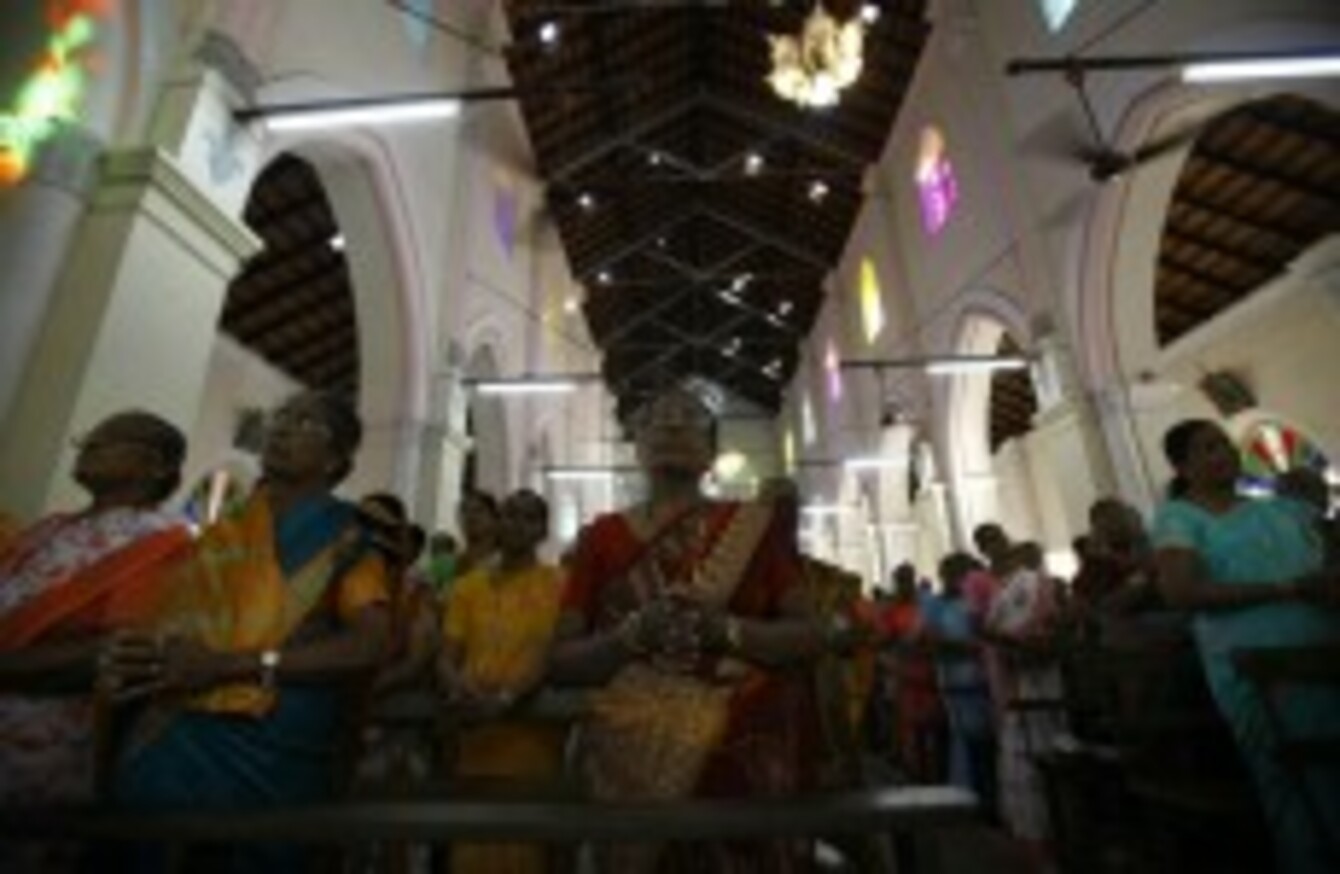 People offer mass prayers at the church where Jacintha Saldanha will be buried today
Image: AP Photo/Rafiq Maqbool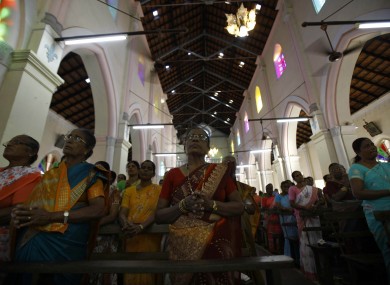 People offer mass prayers at the church where Jacintha Saldanha will be buried today
Image: AP Photo/Rafiq Maqbool
FAMILY AND FRIENDS of the nurse who was found hanged after taking a hoax call to the hospital treating Prince William's wife gathered for her funeral today in a small town in southwest India.
Indian-born Jacintha Saldanha, 46, apparently took her own life after answering the telephone call from Australian radio DJs to the hospital where the pregnant Duchess of Cambridge was admitted with acute morning sickness.
Saldanha's body was flown back from Britain on Sunday and was due to be buried at a cemetery in Shirva, 50 kilometres from Mangalore city, after a funeral in the Catholic parish church at 10.30 GMT.
The coffin was first taken to her mother-in-law's house for prayers and will then be presented in the Our Lady of the Health church for local people to pay their respects, with a large turnout expected.
Members of the nearby Nativity Convent told AFP the community was saddened and confused by the death of Saldanha, who moved to Britain about 12 years ago with her husband Benedict Barboza.
Shirva in India (Image: Google Maps)
"They say she was a strong person, why did she take such a drastic step?" said Sister Benny D'Souza, describing the family as "very generous and kind".
Sister Jyoti, who gave only one name, said Saldanha's mother-in-law was especially close to the nurse and was heartbroken by the news.
"It was a shock for us because she was a lovely person to all," the sister said.
Barboza and the couple's son and daughter, aged 16 and 14, were due to attend the funeral, having arrived from Britain with the body after a memorial mass in London's Westminster Cathedral.
Shirva is Barboza's home town, while several of Saldanha's relatives, including her frail mother, live in the port city of Mangalore.
Workers in the church cemetery began digging a grave for Saldanha on Sunday, marked with a simple black-and-white cross bearing her name and dates of her birth and death.
Barboza, who has spoken of his late wife's "beautiful smile and sparkling personality", visited the graveyard on Monday morning ahead of the funeral.
Family members in the town were unwilling to speak to reporters after a week of intense media scrutiny following the news of her death.
One local journalist, who declined to be named, said people identified with the family since many leave the area to take jobs in Britain or the Gulf countries as nurses, engineers and mechanics, often sending most of their wages home.
"People are curious about it and they want to know what happened," he said.
Benedict Barboza outside Westminster Cathedral in London with son Junal (16) and daughter Lisha (14) and Labour MP Keith Vaz (right) after a mass for Jacintha Saldanha yesterday (Photo: Sean Dempsey/PA Wire)
Hoax call
A London inquest last week heard that Saldanha had been found hanged in staff accommodation on 7 December and there were no suspicious circumstances over her death.
A few days earlier the nurse put the hoax call through to a colleague, who relayed confidential details about the health of Prince William's wife Catherine to the Australian DJs.
Saldanha left three notes, one of which reportedly criticised colleagues over her treatment at the King Edward VII private hospital.
The hospital has defended itself, saying it offered support to Saldanha and had stressed to her she would not be disciplined for being taken in by what it described as a "cruel trick".
Australian police say death threats have been made against Michael Christian and Mel Greig, the DJs from Sydney's 2Day FM radio station who made the call posing as Queen Elizabeth II and William's father Prince Charles.
The presenters made tearful apologies last week.