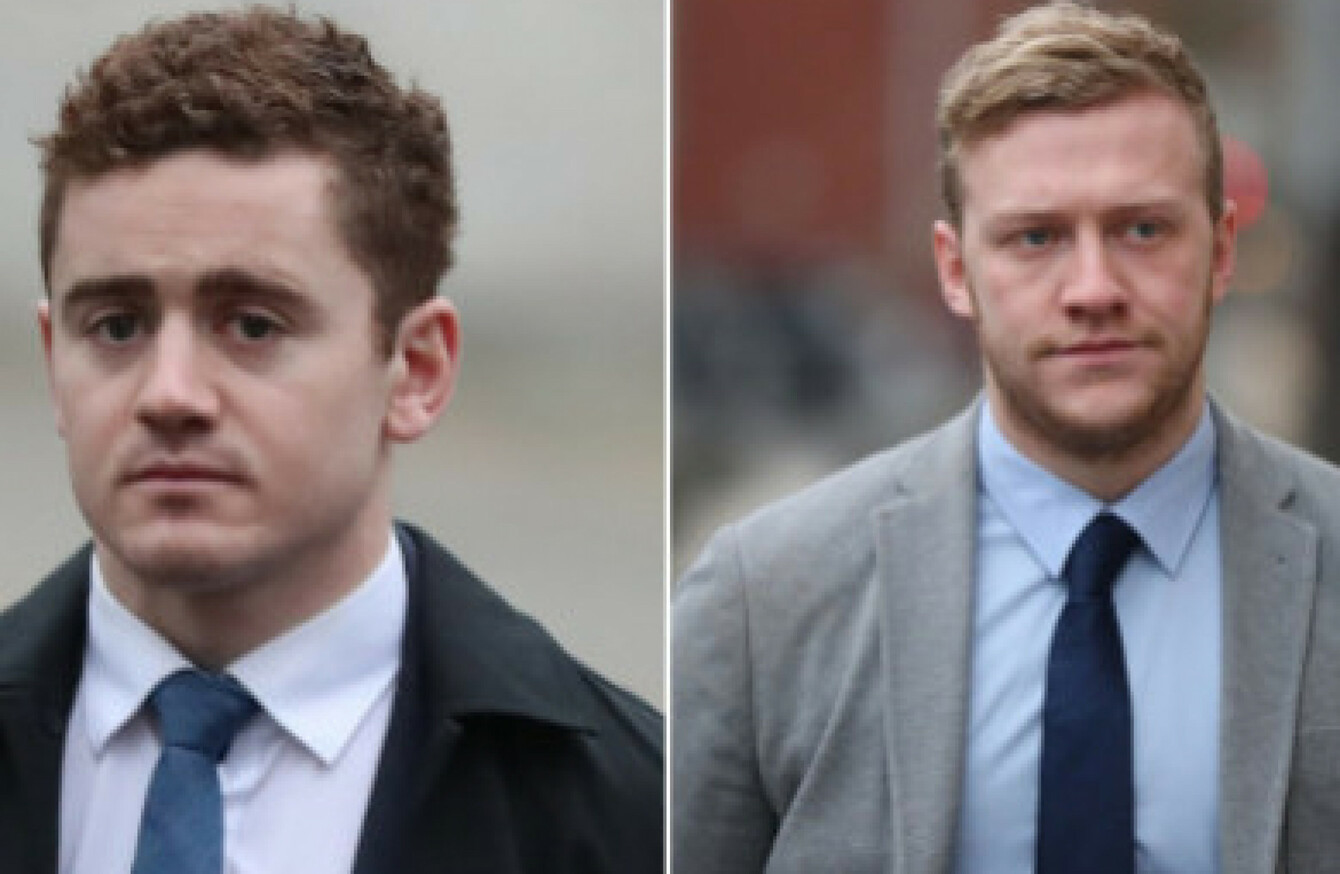 Jackson (left) and Stuart Olding.
Image: PA Images
Jackson (left) and Stuart Olding.
Image: PA Images
Updated 4.35pm
IRISH RUGBY INTERNATIONAL Paddy Jackson told police he was "shocked and horrified" by allegations he raped a woman in the bedroom of his south Belfast home, a court heard today.
The 26-year old was arrested two days after a woman claimed she was raped from behind by Jackson, whilst being made to perform oral sex on his teammate and friend Stuart Olding (24).
Refuting suggestions he raped or sexually assaulted the woman, Jackson told police:
"I didn't force myself on her. I presumed … it was happening and she wanted it to happen. She didn't have to stay. She could have left if she wanted but she didn't."
Both men have denied rape, whilst Jackson has been charged with, and denies, a further sexual assault. The pair both claim any sexual activity was consensual.
Statement to police
As the trial at Belfast Crown Court came to the end of its fourth week, the jury heard police interviews conducted with both men after they were arrested on 30 June 2016 – two days after the alleged sex attack on the then 19-year-old.
While Jackson refuted suggestions he hurt the woman and said she could have left the bedroom at any time, Olding said that when he walked in the room, the woman instigated oral sex on him.
Jackson, from Oakleigh Park, was interviewed four times on 30 June and was questioned a fifth time in October 2016.
In his first interview, Jackson's solicitor read out a pre-prepared statement in which he stated: "I strenuously deny these allegations. I am shocked and horrified these allegations have been made against me."
As the interviews continued at Musgrave Park PSNI station in Belfast, the woman's allegations were put to Jackson in more detail – and at one point during questioning he became upset.
He confirmed to police he had been in Ollie's nightclub with friends on Monday 27 July 2016, and also confirmed people came back to his house in the early hours of the following morning.
When he was asked about the woman at the centre of the case, Jackson said he had never met her before that evening, and was unsure how she ended up back at his house after Ollie's.
Jackson said that whilst back at his, the woman "was being quite forward" with him, and she twice followed him up to his bedroom. He claimed the first time they were upstairs there was kissing, but this ended when she asked if he knew what her name was, and he said he didn't.
He said they went back down to the party and "same again … I noticed she was still looking at me".
A couple of times she came up and kind of touched me. I think she was flirting with me. I was pretty sure something was going to happen between us."
Jackson told police when he went back upstairs, she followed him and they "just kind of picked up where we left off".
In his version of events, Jackson said the women started performing oral sex on him "then the door opened and my friend Stuart who was there came in".
"He didn't know we were up there. He just walked in the room, saw what was happening with me and her."
Jackson claimed at this point "she stopped performing oral sex on me and started on him".
Jackson claimed as she was performing oral sex on Olding he started "using my hands on her". When asked by police to explain, Jackson said, "I was using my hands and she seemed to be enjoying it. Sorry. I just find it a bit awkward talking about it."
Regarding the specifics of the sex acts, when asked by police about the oral sex with Olding, Jackson said, "It wasn't forced on her at all … I presumed she wanted it."
And when asked how she seemed when he was using his fingers on her, Jackson said she seemed "fine" and reiterated his claim: "I didn't force myself on her."
When it was put to Jackson during interview that the woman claimed he used his penis and she was forced to have intercourse, Jackson replied "no" and said this was because there were no condoms.
And when asked what happened when the bedroom activity was finished, Jackson said:
I saw her leaving and going out the door and that was it. It was pretty early in the morning, so after that I just went to bed.
Jackson was also asked if he noticed blood during the incident. He said he saw a "little bit" on his fingers and on the duvet but thought it was "period stuff".
The interviewing officer asked: "At any point did she say it was hurting her", to which Jackson replied: "I don't remember that. If I did I would have stopped. I definitely would have stopped."
He then added: "I don't understand. If she was saying this, if she didn't want to be there, I would never have tried to keep her there. No Way."
During the final interview on 30 June, Jackson was asked how he felt about him and his friend receiving oral sex from the same woman, he said he enjoyed it. He said: "Sorry. It sounds stupid. It felt good."
And when asked about his friend Blane McIlroy, and whether or not he was also in the room "completely naked", Jackson said "not when I was there, no".
McIlroy (26) from Royal Lodge Road, has been charged with, and denies, exposure.
#Open journalism No news is bad news Support The Journal

Your contributions will help us continue to deliver the stories that are important to you

Support us now
Drink taken
Also played to the jury was an audio interview conducted with Olding, from Ardenlee Street, on the same night.
When asked about his alcohol intake between Monday 27 June and the early hours of the following morning, Olding said he had six tins of Carlsberg at McIlroy's house, followed by four pints of Guinness at Cutter's Wharf.
He also said he consumed a further five vodka lemonades in Ollie's, as well as three shots.
Olding told police that before that evening in question, he had never met the woman who later claimed he orally raped her.
In an interview, he was asked by an officer: "This is a very blunt question. Did you rape anybody on Tuesday 28 June 2016?" He replied, "No."
He confirmed that after Ollie's, he and others went back to Jackson's house. He claimed that in the early hours, he went upstairs and walked into Jackson's bedroom, where he saw his friend and the woman on the bed.
Olding said the woman "suggested I stay", she then performed oral sex on him, he ejaculated, then "I got up and left and went to sleep in another room in the house."
When asked to elaborate, Olding said, "I wouldn't say she asked .. when I was about to leave, she hinted to stay."
When the officer asked him, "She put her hand out?", he said "Yes." When asked what happened next, Olding replied: "I went over to the bed and started kissing her." He was then asked, "When you were kissing her, where was Paddy?", with Olding replying, "He was lying beside her."
And when asked, "What made you think she was consenting to this kiss taking place, he answered: "She didn't pull away. She kissed me back."
He was also asked, "How did it escalate from kissing to oral sex?", to which he replied: "I don't really recall. It just sort of happened."
It is Olding's case that the woman performed oral sex on him for around five minutes, and that after ejaculating, he left the room. He also claimed at one point the woman "asked us to go and get condoms". When asked by police who this request was directed at, Olding said "both of us".
Before being sent home for the weekend by Judge Patricia Smyth, the jury members were again warned not to discuss the case with friends of family. She also told the nine men and three women that the trial may last until mid-March.
Warning the jury to "please be very very careful" about not discussing the case and to not carry out any research of their own, the judge told the jury "have a good weekend, ladies and gentlemen."
The trial will resume next Monday, when the jury will hear more police interviews.
Comments are closed for legal reasons