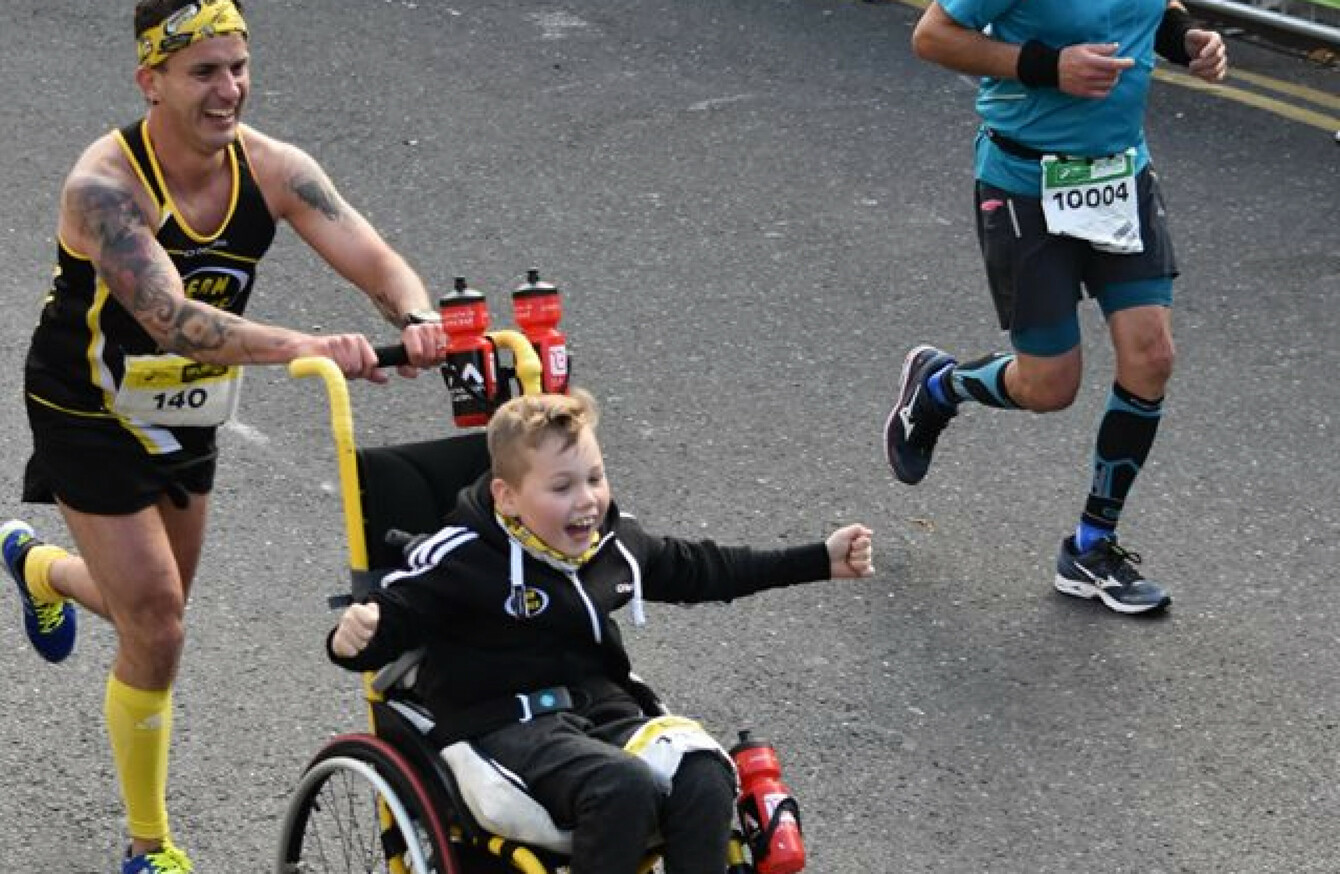 James and coach Mark Lacey competing in their first Dublin Marathon 2016.
Image: TeamJamesDublin/Facebook
James and coach Mark Lacey competing in their first Dublin Marathon 2016.
Image: TeamJamesDublin/Facebook
"I DON'T THINK he realises the power he has to inspire people," says Vicki Casserly about her 12-year-old son James Casserly, who is undertaking the Dublin marathon for his third time in a row.
Diagnosed with cerebral palsy at two years-of-age, and developing juvenile arthritis at age nine, James often uses a wheelchair to get around and can lose mobility on days when his joint pain flares up.
But that didn't stop him from participating in sports activities and suggesting to his family one day that he would like do a 5km run to raise money for Barretstown.
Vicki says the children's charity – that offers specially designed camps and programmes for children living with a serious illness and their families – has done a lot for them.
Barretstown has helped us to get away from that label of being sick, while being sick.
Instead you're being a person and having fun while you're at it.
She adds that the fundraising, for James, was to enable other kids "to get to experience what he has experienced," from his time in Barretstown.
Before very long that 5km run turned into a 10km run, which turned into a half marathon, and finally into James convincing his parents to help him enter the Dublin City Marathon in 2016.
When James went to Dublin City Marathon with his request, Vicki says the organisation welcomed him with open arms, and facilitated assisted running into the marathon (something not allowed in other events, like the London Marathon).
 Vicki says this is part of James' "can do" attitude.
It's his way of showing that there's always a way to do things. It just might be a little bit different for the person to your right or left.
In previous years he asked a local cross-country organisation in their hometown in Lucan what provisions there were for people who have disabilities.
This resulted in races being organised that would include people with disabilities being able to compete in the cross-country competition. 
It's hugely important for James to have inclusion in sports.
Rising to the challenge 
Team James, the group set up to raise funds for Barretstown and named after James, has raised over €100,000 so far from its participation in different events with various runners and people with disabilities becoming part of the team.
Vicki says its great for James to know his campaigning is having an impact, especially when personal challenges enter his life.
This year he was diagnosed with osteoporosis, which when put together with his other conditions, can leave him in a lot of pain. Vicki says James has a way of rising to the challenge though.
For example, when he was six-years-old he had nerve surgery. He wasn't meant to be walking anytime soon. But after eight weeks he was up and about, ready to get on with it.
When she sees him pushing through like that, she thinks:
There is no reason why we in full-health can't find a way to do things either.
Like the previous year, James' father Dan Naughton will push the specially designed racing chair that is used for assisted running.
Over his time, James as participated in various running events across Ireland. Vicki says it's James' dream to complete the five big marathons: Berlin, Boston, Chicago, London and New York City.
But for now James is looking forward to completing the marathon on Sunday where afterwards he'll get to visit the Last Lap Cafe for his now annual tradition of having a hot chocolate with friends and family.
 "Dan said they might take a break next year," Vicki says. "But James told him, 'No Dad, you have to keeping going.'" 
"I can see him going on to do many more marathons and bigger things," she says.
More information about the campaign and how you can donate is on the Team James facebook page.