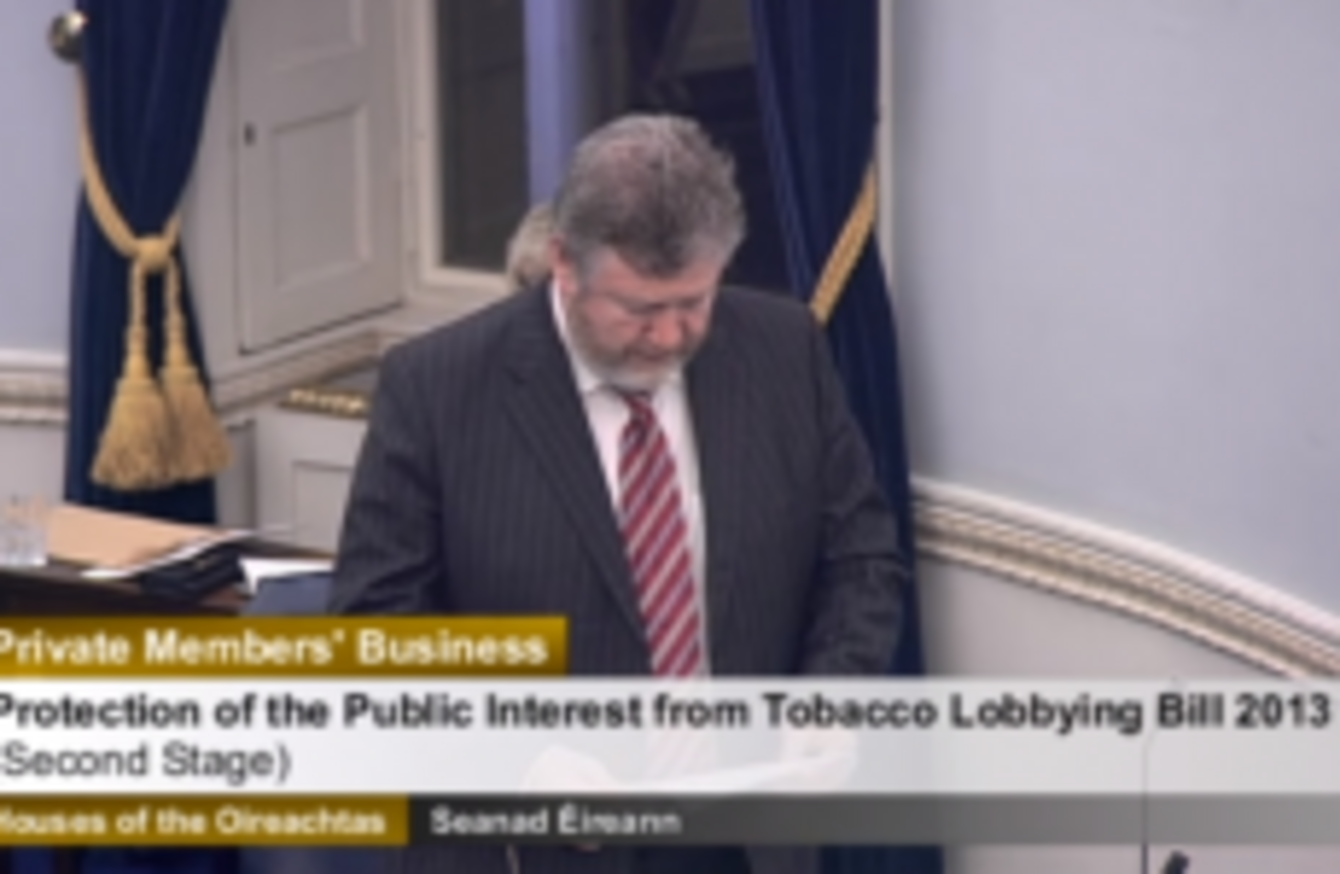 Minister for Health James Reilly speaking in the Seanad tonight
Image: Screengrab via Oireachtas.ie
Minister for Health James Reilly speaking in the Seanad tonight
Image: Screengrab via Oireachtas.ie
MINISTER FOR HEALTH James Reilly has said he expects the tobacco industry to take him to court over his plan to introduce plain packaging on cigarettes.
Speaking in the Seanad tonight, Minister Reilly said he believes tobacco companies will argue that their intellectual property rights are being infringed by graphic photographs being introduced on cigarette packets.
However he said that he believes that the strength of the opposition to plain packaging from the cigarette companies is a sign that it will be effective.
"I'll be astonished if there isn't a legal challenge," he said, adding that it would be an "extraordinary society" which put the intellectual property rights of an industry over the health of its citizens.
He said that if the issue goes to court, the Government will argue that graphic photographs of illnesses caused by smoking are "an appropriate measure to protect public health".
"I believe that we must do what's right, not what's easiest," he said.
The new law will make it illegal for tobacco companies to use colour, text or even packet size to market cigarettes.
Minister Reilly described a recent study by the Irish Cancer Society which found children were disgusted by the proposed packaging of cigarettes and said that the aim is to deter young people from taking up smoking.
The Minister said Ireland is "leading a charge in Europe" in standardisation of packaging of cigarettes, and said many other countries are holding back to see how Ireland gets on with the new rules around branding.
A recent Ipsos MRBI poll found that the vast majority of people in Ireland (71 per cent) support the legislation to take branded packaging off cigarette packets.
In a column today on TheJournal.ie, Senator and oncologist John Crown wrote that the tobacco industry will use "every legal ploy to drag out and delay the implementation of the legislation".