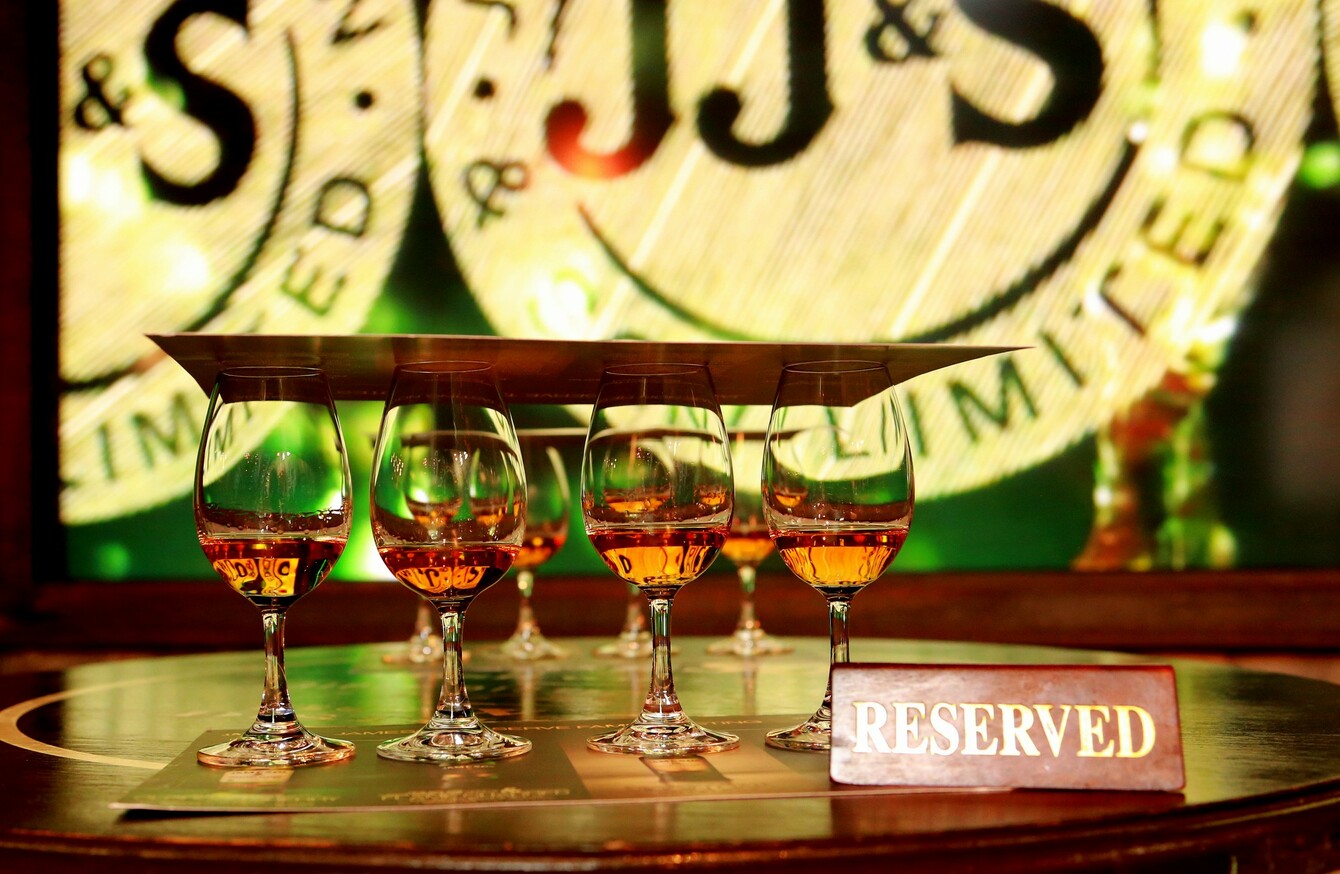 Image: AP Photo/Michelle Locke
Image: AP Photo/Michelle Locke
JAMESON HAS BEEN one of the key drivers of its multinational owner's global business, now accounting for nearly one-quarter of all the company's sales in the giant US market.
The growing thirst for the most popular Irish whiskey brand comes amid a resurgence in the industry as whole, with the category posting double-digit growth for the past half a decade.
The brand's owner, France-based Pernod Ricard, today reported annual results which showed Jameson sales were up 12% by volume and 16% in value over the past year. That compared to only a 2% increase in sales for the company's products as a whole.
Pernod Ricard CEO Alexandre Ricard told analysts the "very strong" Jameson performance had been driven by the USA, but also several other markets – including Africa and the Middle East, where sales were up nearly one-fifth during the year.
Between 2009 and 2014, Irish whiskey was the fastest-growing spirits category globally, recording an average annual growth rate of more than 10%.
Industry analysts IWSR recently predicted consumers' appetites for the spirit were now so strong that distillers may struggle in the short-term to keep up, despite the ever-increasing number of producers coming online.
Ricard today said current stocks for Jameson would "perfectly well" cover the "extraordinary performance of the brand". The company started a €100 million expansion at its Irish Distillers plant in Cork in 2012 to effectively double capacity at the Middleton site.
Challenges
Irish Distillers' new CEO, Jean-Christophe Coutures, said the company planned to continue the brand's growth with new lines in "premium whiskeys".
The company said its "prestige" whiskey brands, such as Redbreast and Green Spot, grew 24% over the past year.
However sales of the spirit in its home market have been lagging the global growth in the industry, with Jameson increasing its sales in Ireland 8% by value over the past year.
Coutures took a swipe at the high excise rates levied on alcohol in the Republic, adding that the domestic market "continues to pose challenges" in spite of the worldwide success of the company's brands.
"Ireland has the third-highest excise rates on spirits in Europe. It is damaging to our reputation that an American tourist can buy a bottle of Jameson in the US for almost half the price of the same bottle in Ireland, the home of Irish whiskey."
Irish Distillers, which was formed in a merger of three smaller firms including John Jameson & Son in 1966, was first taken over by Pernod Ricard in 1988.
Earlier this year it sold the Paddy Irish Whiskey brand to New Orleans-based distiller Sazerac as Pernod Ricard moved to "simplify" its portfolio.
Overall, Pernod Ricard delivered sales of €8.68 billion for the 2016 financial year, up 2% on the previous period, and a profit from recurring operations of nearly €2.3 billion.
Written by Peter Bodkin and posted on Fora.ie